School Closure Star Rises Amid the Ashes... Jonathan Jackson brings personal commitment and resources of Rainbow PUSH on behalf of ghetto schools targeted for closing, 'turnaround'
Jim Vail - March 05, 2010
Out the ashes shall rise a star. Jonanthan Jackson, one of the lesser known sons of civil rights activist Jesse Jackson Sr, has arisen to champion the cause of defending public education. Not only has Jonathan Jackson been present for the high-profile events, such as Board of Education meetings, but he has gone to the schools still facing elimination to provide moral and other support to the people of those schools.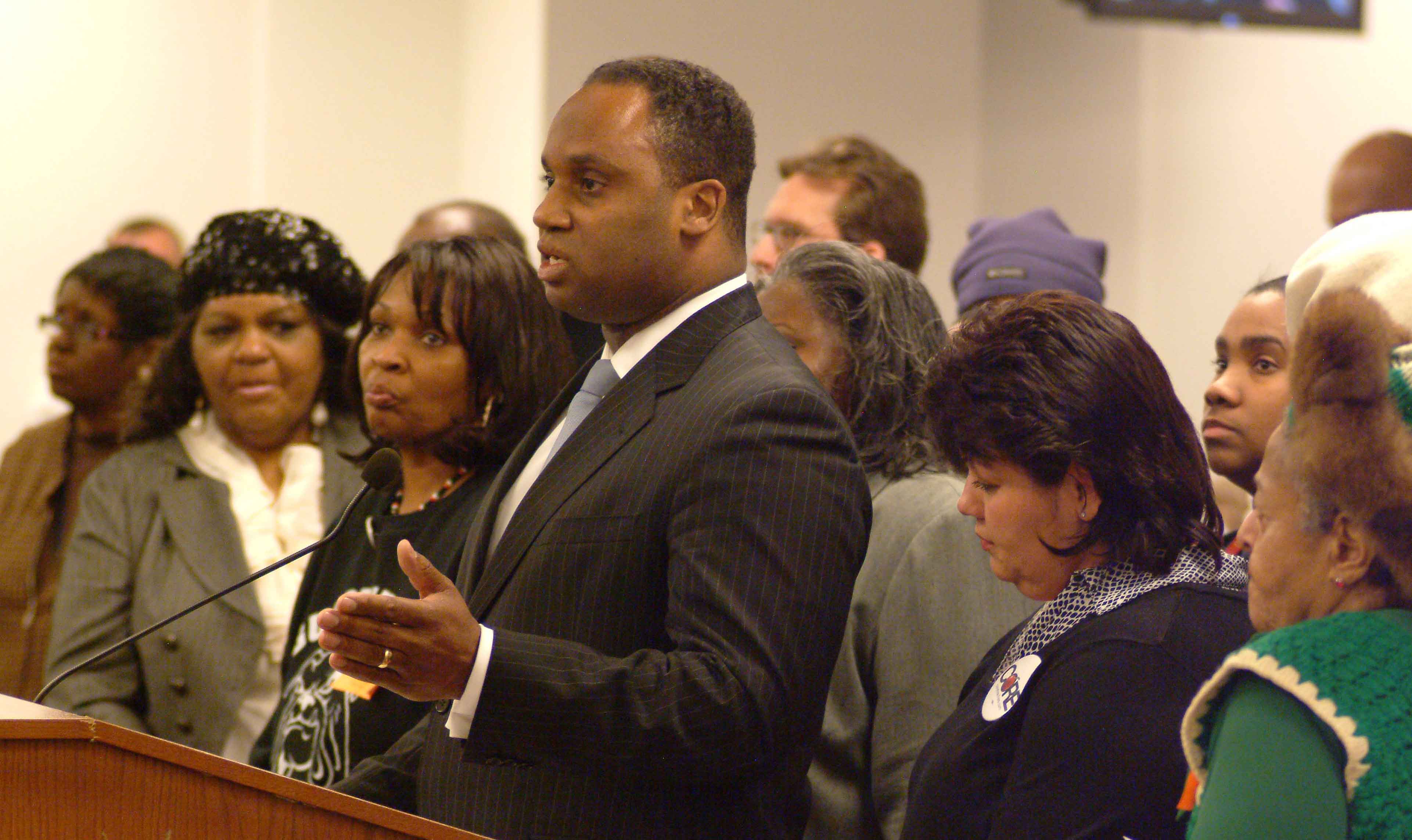 Jonathan Jackson spokes forcefully against the proposals by Chicago Schools Chief Executive Officer Ron Huberman to close, phase out, and "turnaround" schools in both 2009 and 2010. Above, Jackson speaks to the February 24, 2010 meeting of the Chicago Board of Education in opposition to the radical changes, especially the proposed "turnaround" of five schools. Substance photo by Garth Liebhaber.Jonathan Jackson was the only high-profile name to speak out against school closings and privatization at the Chicago Board of Education meeting last year when the Board voted on February 25, 2009, to shutter the doors of 16 public schools after thousands protested.
In a city where the Mayor seems to control everything and limits political opposition to his privatization plans, this is significant. Mayor Richard M. Daley's Renaissance 2010 Plan (that seeks to replace many public neighborhood schools with charters and selective enrollment schools) has resulted in more than a thousand teacher layoffs. It is constantly disrupting communities, most in Chicago's inner city, and undermining the education of the children who most need public schools: the homeless; the children with special needs; and English language learners.
The African American community has been hit especially hard, where the schools closings have been targeted. It is estimated that over 2,000 black teachers have lost their jobs to the Renaissance plan, showing a significant decrease in the number of black teachers teaching black children. In most cases, the teachers had chosen to teach in the community, and then were targeted and scapegoated because test scores for the most challenging children remained "low" while the Board of Education ignored the challenges in the communities and blamed the teachers, principals and schools for social and economic problems.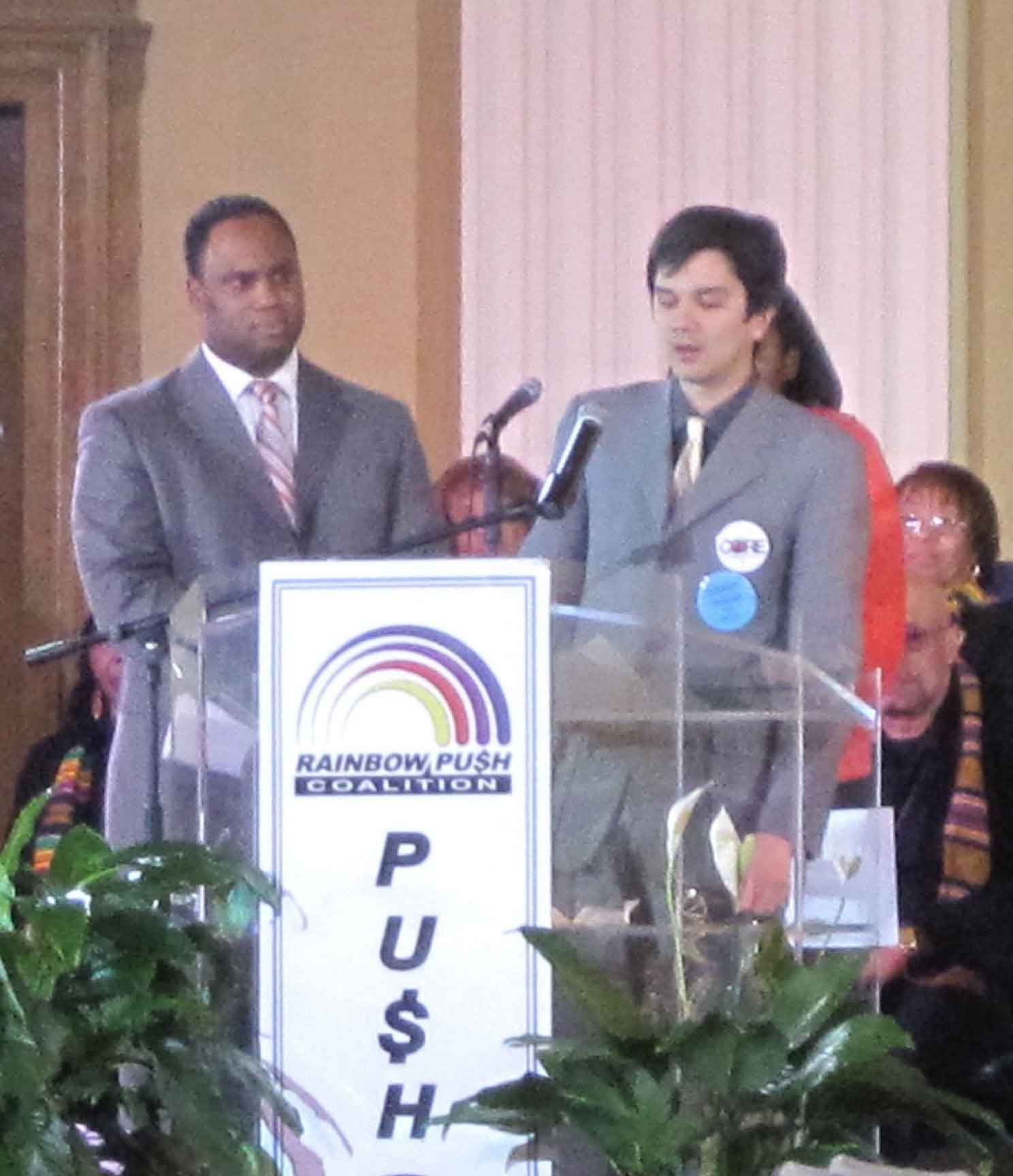 Jonathan Jackson (above left) has been helping activists explain their positions during the Saturday meetings of Rainbow PUSH. Above, Xian Barrett speaks to the February 27, 2010, Rainbow PUSH meeting while Jonathan Jackson and others look on. Substance photo by Kristine Mayle.Violence in many African American schools has also increased due to the school closings as children are forced to attend schools outside their neighborhoods that cross gang boundaries, increasing tensions between the different groups.
Yet not one high-profile figure in the city had dared to challenge the Mayor and defend the public schools and their displaced teachers and students.
But that changed when Jackson was driving down Garfield Boulevard from Midway airport last year and saw a big sign in the Holmes Elementary second story window that read, "Save Our School."
Jackson then met Lara Krejca, the school librarian and fierce teacher activist who rallied the community and Jackson to fight the planned turnaround which would fire the entire staff.
How effective has Jackson been since he's gotten involved to save neighborhood schools? While Alderman Sandi Jackson spoke out at a hearing last year to save South Chicago Elementary School — and this year to support the staff at Bradwell Elementary also facing a turnaround — she lost on both accounts. Her brother-in-law championed the cause of Holmes Elementary School last year and Guggenheim Elementary School this year — and both schools were taken off the Hit List (as activists have been calling the annual Chicago Board of Education list of schools to close, turnaround, phase out, or otherwise eliminate).
His powerful message that the Mayor rather than the communities ravaged by poverty, drugs and violence should be held accountable for the failure to ensure a world-class education has resonated in his speeches throughout the city.
"I find it apalling that the Mayor in 20 years hasn't been to Guggenheim, that the Board members haven't been to Guggenheim and that Ron Huberman hasn't been to Guggenheim," Jackson told the hearing officer before the Board decided to remove Guggenheim and five other schools from the original list of 14 schools targeted to be closed, consolidated, phased out or face turnaround this year.
One of the key selling points of Mayor Daley's plan to destroy the livelihood of many veteran black educators has been the support of key leaders in the African American community.
Many prominent African-American ministers have supported this corporate plan to destroy public education. These leaders have included Rev. Jeremiah Wright, the controversial minister whose Trinity United Church of Christ President Barak Obama once attended, and the Rev. James Meeks, head of the "House of Hope" megachurch, who doubles up as a senator. Rev. Wright has been silent since getting a charter school to operate, while Meeks has been attacking the Chicago Teachers Union, Local School Councils — and promoting vouchers. Even Rainbow PUSH, where Jonathan Jackson serves with his father, has been mostly silent on this issue.
"I come forward as a concerned citizen," Jackson said, stressing he is acting independently from Rainbow PUSH.
But the Jackson name does not come without controversy. The lesser-known son was embroiled for a time in a family scandal connected to the downfall of former Illinois Governor Rod Blagojevich. Media reports two years ago linked Jonathan Jackson with two Indian businessmen who were supposed to raise over a million dollars for Blagojevich in return for him naming his brother Congressman Jesse Jackson Jr. to the senate seat vacated by President Barak Obama, according to the Chicago Tribune. Rep. Jackson denied that he or his brother Jonathan were involved in the kick-back scheme, the Tribune reported.
In 1998, his brother Yusev and Jonathan were awarded Chicago's largest Anheuser-Busch beer distributorship after their father had led a boycott of Anheuser-Busch products to protest hiring and promotion practices.
Jonathan Jackson has slowly but surely built himself up in the world of investment banking, private hedge funds and property development.
He was the first black child born in Lutheran Hospital in 1966, he told a group of Guggenheim students, and attended Pershing Elementary and Whitney Young High School. He then attended the North Carolina A & T before moving out to California to work as a bank analyst, eventually landing at Drexel Burnham, home of the infamous junk bond king Michael Milken. Milken was sentenced to almost two years of prison and fined $600 million for insider stock trading.
"That's a whole other story we could sit down and talk all day about," he said. "Yes, Mr. Milken was a genius in finance. And yes, they were all cheating. But there were reasons he was targeted and not the others."
What led Jonathan Jackson to Milken was his father and his life-long campaign to attract financing for minority-owned businesses, Jonathan Jackson told Substance. According to a 1989 report in Fortune Magazine, many blacks praised Milken for raising millions of dollars for minority-owned businesses when other bankers turned them down. They also remember Milken's millions in personal donations to urban development charities, Fortune reported.
"Banks, S&Ls, and insurance companies have abondoned not just blacks but urban America," Jesse Jackson Sr. said in the Fortune article. "Mike Milken has a genuine interest in making capital accessible to people with ideas."
Jonathan Jackson also worked for Milken's Knowledge University which invests heavily in early education, learning technology and other educational ventures.
While the Milken Institute hands out annual teacher of the year awards in Chicago, much of what the Institute pushes - economic growth that calls for deregulation, privatization and the elimination of capital gains and estate taxes - is certainly against the interests of public education.
But Jonathan Jackson is no longer associated with the Milken Institute, though he continues to use his valuable contacts in the finance world to try to increase minority ownership stakes in the business world.
Just recently he joined a $250 million bid to buy the bankrupt ION Media Networks, according to the Huffington Post. Jackson pulled together a team of minority investors with Cyrus Capital Partners to make the highest bid to buy America's largest group of independent broadcast stations, Huffington reported, but ION's board of directors rejected the offer.
Jonathan currently manages properties in a company called River North Properties with his brother Yusev and teachers business classes at Kennedy King College, he said. He is also the director of Rainbow PUSH which champions civil rights causes such as police brutality.
Today Jackson has thrown his heart and soul into helping the schools get off the closing list. He has invited several schools in addition to Guggenheim to his Rainbow Push forum, spoken to the media and again waited from the early morning hours to tell the Board of Education members and Huberman what they are doing is wrong.
"I think this Renaissance Plan is a failure," he told Substance. "How do you measure success? 50,000 have dropped out, record high deaths. And the state has given the Mayor full authority of the schools and the school board."
The Chicago public schools current budget deficit estimated to be almost a billion dollars is a perfect example of how the Mayor has mismanaged funds to not give the schools the resources they need to perform, he said. He noted that the Mayor controls a TIFF slush fund that freezes the tax base so that future monies go into a pot that he controls and thus limits any opposition to his privatization plans.
"This is a a civil rights issue in terms of access to education, but it's also a business problem because the value in Chicago's future isn't in its roads and buildings, it's in the people," said Jackson, punctuating his points with bowls of incredulous laughter. "Where's the evidence to support school closings? We've gone from the Willis wagons (to relieve overcrowding in the city's schools named after the former Chicago superintendent) to the tallest building called Willis Towers. Big Willie got $200 million of our TIFF tax dollars, a private building. At some point the Mayor has to assume responsibility."
"I can say that Jonathan has always been up front and honest with me," said Holmes teacher Krejca, who continues to work with Jackson and CORE, a faction in the Chicago Teachers Union fighting strongly against the school closings. "I can honestly say that everything I've asked him to do he has done. He has never let me down or any school for that matter. He's committed to doing all he can to help these schools."
And the fight goes on. Jackson continues to host schools that have already been closed or turned around this year. Bradwell, which led a march on Friday from City Hall throughout the city to protest the unfairness of the Board's decision to fire everyone, will attend Rainbow Push on Saturday and hope the star of Jackson will continue to shine and work its magic. 