Ridiculous 'Common Core Standards' give another example of how Arne Duncan's silly Race To The Top has become a mindless attack on teaching, learning, children — and simple common sense
Susan Ohanian - February 25, 2010
[Editor's Note: The following piece was submitted to the Burlington [Vermont] Free Press ("My turn" section) by Substance Resistance News editor Susan Ohanian and addresses how the governors, and specifically Vermont Governor Douglas, is giving uncritical support to some of the more ridiculous programs being pushed by the U.S. Department of Education under former Chicago Schools CEO Arne Duncan. As readers will quickly see, this rush to incoherence in national education policy is not limited to Vermont].
Our [Vermont] Governor's Notion of Education Excellence By Susan Ohanian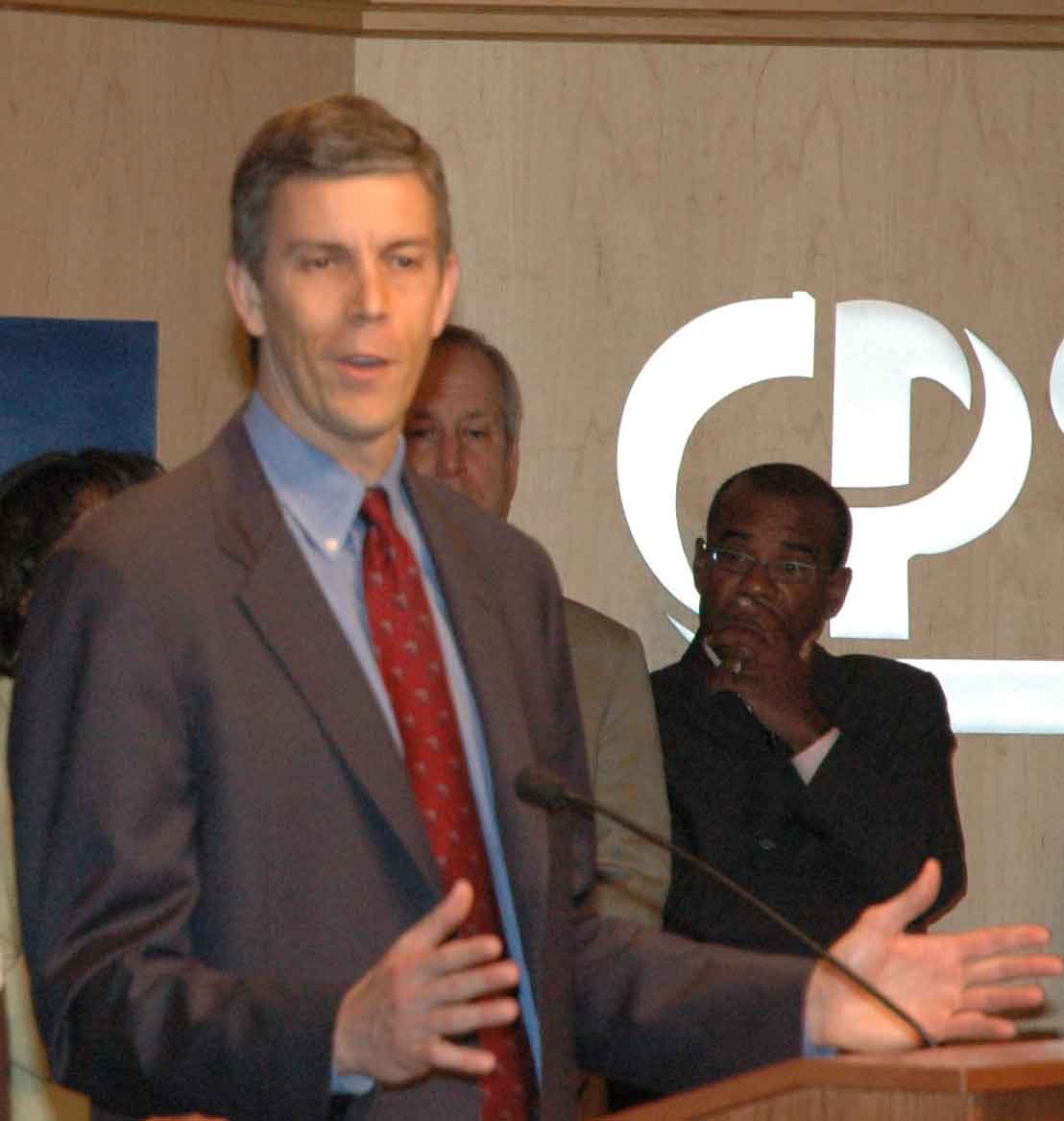 U.S. Secretary of Education Arne Duncan (above) talks to reporters in May 2007 about a non-existent budget deficit in Chicago. Substance photo by George N. Schmidt.I learned from the Free Press ("Dinner at 1600", Feb. 23) that Governor Douglas' close relationship with President Barack Obama was on display when governors and spouses donned tuxedos and gowns for a four-course dinner at the White House. According to their website, the National Governors Association promotes visionary state leadership, shares best practices and speaks with a unified voice on national policy.
Lately, they've been speaking in unison on education. The New York Times reported that the Common Core Standards in math and reading endorsed and promoted by the National Governors Association and the Council of Chief State School Officers is "a bipartisan project at variance with the highly polarized political mood in Washington."
More to the point, it is a unilateral policy leaving out teachers, students, and parents. I'd like to know if Governor Douglas has read these "exemplar novels" listed in the standards for 11th graders: As I Lay Dying and Pride and Prejudice. Maybe a really good teacher can pull students through these novels, but we have to ask how many of these students will never pick up another novel as a result of the experience. I've always thought it was my calling as a teacher to help each student find a book that would knock his socks off, a book that will convince him he wants to read another one.
And how about Wordsworth's Preface to Lyrical Ballads (1800) as Exemplary Text, for 9th graders? How will this make them college- and career-ready? Will the average, or even the way-above-average 14-year-old grasp Wordsworth's great principle of emotion recollected in tranquility, which surely is antithetical to every adolescent psyche? Does Governor Douglas think 14-year-olds will embrace Wordsworth's declarations about the source of the sexual appetite, and all the passions connected with it? And if not, perhaps our Chief State School Officer might offer some ideas for differentiated teaching strategies.
Things are just as dicey for younger students. Here are two selections the National Governors Association and the Chief State School Officers offer as Exemplar Narratives for 6-8 graders: "Allegory of the Cave" from The Republic by Plato (380 BCE) translated by G.M.A. Grube and
"Address to Students at Moscow State University" by Ronald Reagan (1988).
In order to qualify for the pots of money President Obama is eager to hand out, states must accept 100 percent of the Standards document. They cannot pick and choose. Exercising any judgment based on what teachers know about kids is forbidden. To get the Obama bribe, state politicos must promise that schoolchildren will be forced to swallow ALL the Kool-Aid.
The governors, the chief state school officers, and President Obama insist these are "high-quality education standards," drawing on "the most important international models as well as research and input from numerous sources, including scholars, assessment developers, professional organizations, and educators from kindergarten through college. In their design and content, the Standards represent a synthesis of the best elements of standards-related work to date and an important advance over that previous work." I say they're turnips and I say to hell with them.
The Common Core Standards in English Language Arts reveal great disrespect to teachers and disregard for students. Governor Douglas owes us an explanation—and maybe an apology.
www.susanohanian.org
www.StopNationalStandards.org 