CTU ELECTION NEWS: Every CTU caucus now has a Web site (more or less)... Web addresses for Chicago union news
George N. Schmidt - February 15, 2010
Beginning today, Substance will add a topic to our list of regular topics and provide updates as possible. On Friday, February 19, the huffing, puffing, woofing, and pushing inside the Chicago Teachers Union goes to what Arne Duncan might have called a "new level" when the 2010 election petitions finally become available at the CTU headquarters at Chicago's Merchandise Mart. Because every candidate (or caucus) has to get five percent of the signatures from his or her group in order to be nominated, the first serious test of organizational strength begins when the members of the caucuses get their petitions and go around asking people to sign them. There is no limit to the number of petitions a CTU member can sign (it's just a nominating petition). But for union members who are thinking about these things months before the May 21 voting, Substance will begin today updating news from the Web sites of all six caucuses currently in the race (or saying they intend to be in the race).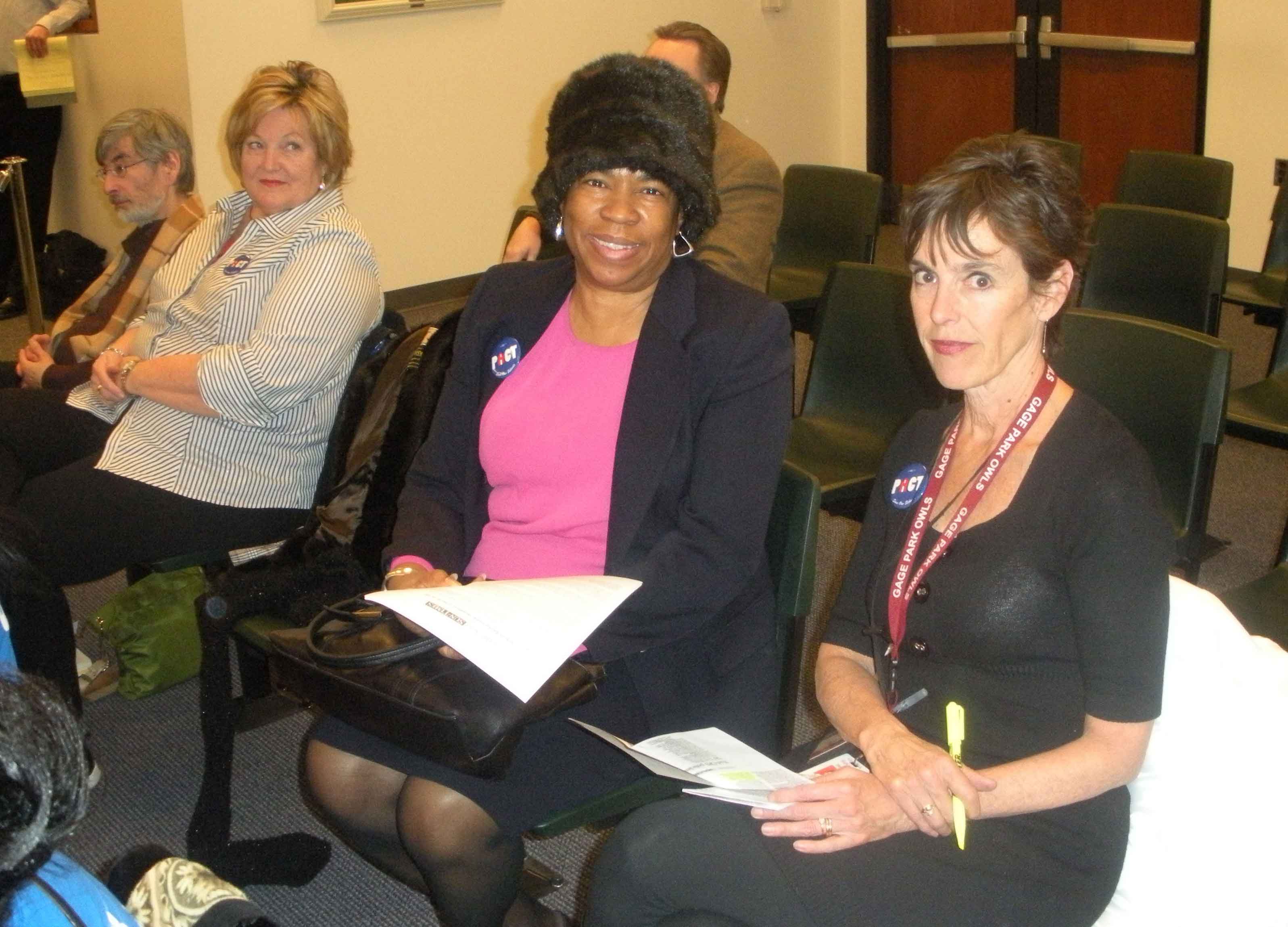 Gage Park High School teacher and former Chicago Teachers Union President Deborah Lynch (right) waited to speak against the proposed turnaround of Gillespie Elementary School on February 4, 2010, but the large number of speakers precluded about half of those who signed up when Hearing Officer Fred Bates announced that the hearing was over. With Lynch above are two of the four candidates for CTU office on the PACT slate: Left to right: Lou Pyster (retired teacher), Maurren Callaghan (clerk at Curie High School and PACT candidate for Financial Secretary); Josephine Perry (candidate for Vice President) and Deborah Lynch (candidate for President). Substance photo by George N. Schmidt.ProActive Chicago Teachers and school workers (PACT) is at
http://www.proactivechicagoteachers.com/
PACT and the United Progressive Caucus (UPC) have been around the longest. The United Progressive Caucus (UPC) headed by the current union President, Marilyn Stewart, is at
The Coalition for a Strong Democratic Union (CSDU) is slating CTU Treasurer Linda Porter for President. Their Web site is at
The Caucus Of Rank and file Educators (CORE) has slated King High School teacher Karen Lewis for President of the CTU. Their Web site is at
Although the "School Employee Alliance" (SEA) caucus has not yet announced its candidate for CTU President, its Web site has been up and running for more than two months at
The Independent Caucus has said it is running Marcia Williams for CTU president. Their Web site is at
http://www.independentcaucus.org/
Never in the history of the American Federation of Teachers has a union local faced this many different factions vying for power. The largest number of caucuses ever running in a CTU election was four (in 2004, when Deborah Lynch ran in a four-way race, ultimately being forced into a runoff which she lost to Marilyn Stewart). If all six of these caucuses gather enough signatures to get their citywide candidates on the ballot for the May 21, 2010 CTU election, the election ballot will be about two feet wide and the longest ballot (for AFT convention delegate) will probably be about three feet long. Substance will try to cover all of the election activity as the races heat up, and we will appreciate hearing from our colleagues with comments on this unique (and historic) event.
The rules of the election, passed by the House of Delegates at its January 2010 meeting, state that in order to win, a candidate has to receive a majority of the votes case for that office. There will be separate ballots for the different functional groups, with all voters casting their ballots for the citywide offices, and the members of the different functional groups getting separate ballots for their voting. If no single candidate has the majority of votes after the count is completed after May 21, there will be a runoff between the top two candidates (of caucuses) for each position.
The union has retained the American Arbitration Association to do the election, removing some of the questions about it from the hands of the current Rules-Elections Committee, which is controlled by members of the UPC. The AAA ran the election in 2004. {Disclosure: I was secretary of the Rule-Elections Committee in 2004 and was active in preparing for that election while I served on the CTU staff as Director of School Security and Safety]. 