Jackson Potter takes himself off CORE ticket because Marilyn Stewart challenged his eligibility based on technicalities
George N. Schmidt - February 01, 2010
Little Village High School teacher Jackson Potter, who helped found and organize Chicago's Caucus of Rank and File Educators (CORE) announced on Sunday, January 31, 2010, that he was taking his name off the CORE slate. Potter had been slated for vice president of the Chicago Teachers Union by CORE after a lengthy and complex slating process that ended on January 6.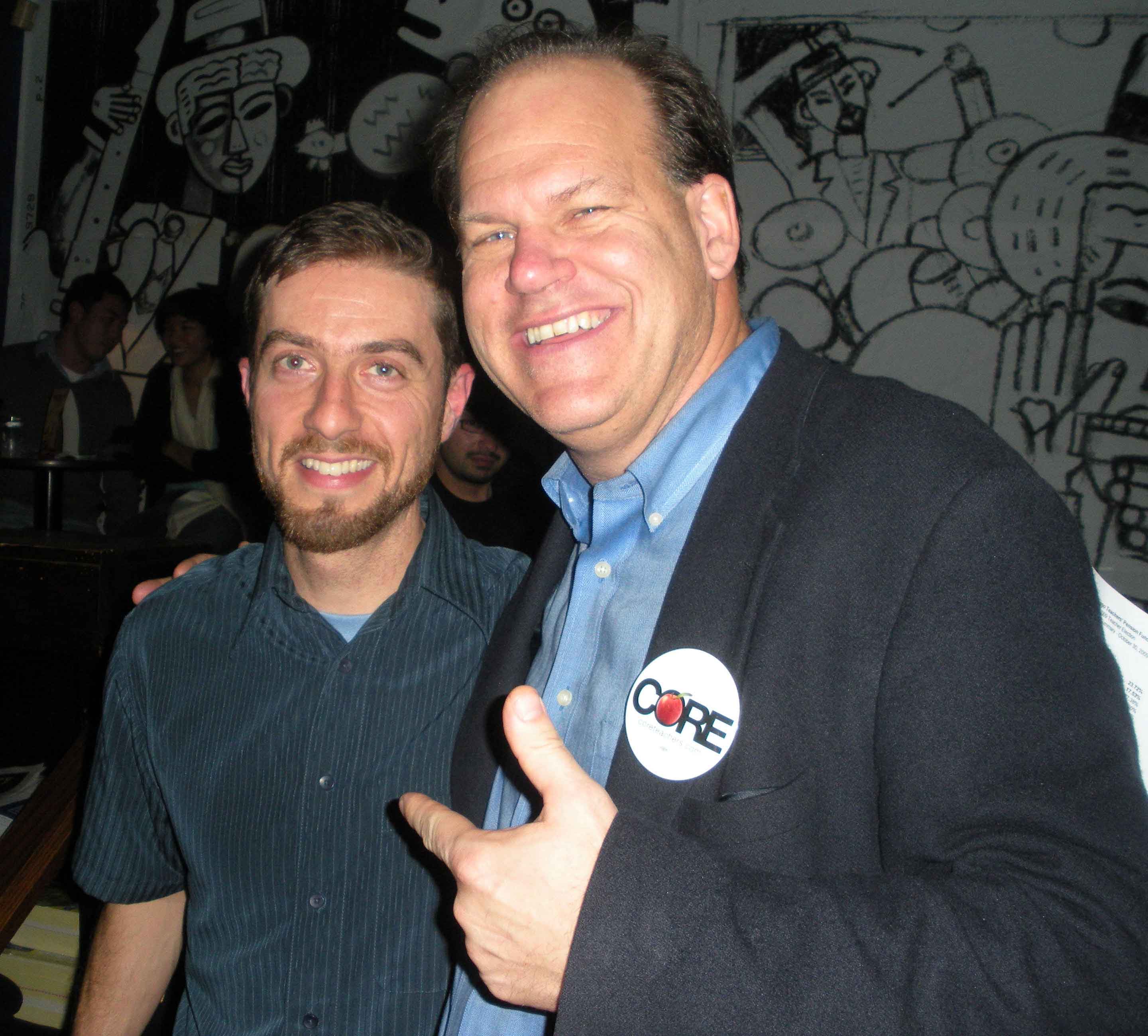 CORE founder and co-chairman Jackson Potter (above left) announced on January 31 that he was withdrawing himself from the CORE nomination for vice president of the Chicago Teachers Union. Potter is in a court dispute with the Chicago Teachers Union over his eligibility to run for citywide office under CTU rules. With Potter (above right) is Whitney Young High School teacher Jay Rehak, who was celebrating his election as trustee of the Chicago Teachers Pension Fund (CTPF) on October 30 at Rosa's Blues Lounge. Substance photo by George N. Schmidt."To all those wonderful CORE folks out there," Potter wrote in an e-mail on January 31, "I regret to inform you that i will be stepping down from the VP slot on our ticket. While we received a favorable timeline from the judge who is hearing the case in state court, the timeline still does not give us sufficient flexibility to ensure a court decision would be made with enough time for us to reconfigure an eligible candidate slate. There are so many strong leaders in CORE that i believe firmly that this will not hurt our chances in the general election. While many caucuses depend upon a central leader to promote their ticket, the strength of CORE lies in our team..."
Potter was fighting a court battle after the leaders of the Chicago Teachers Union declared that he was not eligible for a city-wide office under union rules. The CTU election rules require that candidates for the top citywide offices (president, vice president, recording secretary, financial secretary, trustees, area vice presidents) have three years of continuous union membership. Potter took a study leave to do graduate work at the University of Chicago three years ago, and CTU Financial Secretary Mark Ochoa declared that he had broken his union membership and did not have three continuous eligible years. Potter paid dues while on leave, but invoking a technicality, Ochoa, backed by the CTU's outside lawyers, forced Potter to take the case to court. The case is still pending, with the earliest possible resolution in March.
Petitions for nominations begin on February 19, when all candidates are eligible to pick up nominating petitions at the union's Mechandise Mart headquarters. In order to quality for the ballot, candidates must get the signatures of at least five percent on eligible voters on their nominating petitions. The CTU currently has approximately 28,000 members, which means that citywide candidates need approximately 1,400 signatures on the petitions. The precise number has not been made public by CTU leaders.
Nominating petitions are due at the union's offices by March 23, 2010 at 5:00 p.m. All candidates petitions are reviewed by the union's staff, and eligibility is announced at the April meeting of the House of Delegates. The election will be held in all schools on May 21, 2010.
Potter was one of the founding members of CORE, which began in April and May 2008, and has been leader of much of CORE's activism, including militant protests against the 2009 school closings in January and February 2009. 
EDITOR'S NOTE ON REPUBLICATION USE. This is copyrighted content, news and analysis prepared and published by the staff and supporters of Substance (the print monthly) and Substance News Service (www.substancenews.net). Both are publications of Substance, Inc. Chicago, Illinois. The final edited version of this article and the accompanying graphics were posted at www.substance news.net February 7, 2010, 6:00 a.m. CDT. If you choose to reproduce this article in whole or in part, or any of the graphical material included with it, please give full credit to SubstanceNews as follows: Copyright © 2010 Substance, Inc., www.substancenews.net. Please provide Substance with a copy of any reproductions of this material and we will let you know our terms. Alternatively, please make a donation or take out a subscription to the print edition of Substance (see red button to the right). We are asking all of our readers to either subscribe to the print edition of Substance (a bargain at $16 per year) or make a donation. Both options are available on the right side of our Home Page. For further information, feel free to call us at our office at 773-725-7502. Collegial groups and teachers using this material for class use should simply inform us of the extent of your usage. Anyone utilizing this material for commercial purposes is in violation of U.S. and other international copyright laws. Copyright 2010 Substance, Inc. all rights reserved.