RIP Williams Diaz... One of our favorite students... Dead in a Pool of Blood... Williams Diaz: April 13, 1993 – January 19, 2010
Jim Vail - January 26, 2010
They say millions are a statistic but one is a tragedy. That tragedy for me was Williams Diaz, a 16-year-old former student of mine at Hammond Elementary School in the Little Village area, who was gunned down a few days ago and left alone on a sidewalk in a pile of blood.
Williams Diaz, Hammond School graduate — 1993 - 2010.The killings continue — and we stop and notice yet another young Chicago Public School kid shot down in their prime. The Chicago Tribune keeps count and publishes the number of students' lives cut tragically short. But again those are just statistics.
For Williams it was another media blurb: "Police were called to the 3300 block of West 27th Street where Williams Diaz was found with gunshot wounds in the back. Police are investigating the death as a homicide and say it was possibly gang-related. They could not provide any information about possible suspects."
And usually that's it — we read it so often, and then the story dies, and on to another killing, another tragedy, another statistic.
But this one hit home — our home at Hammond School. His first teacher who could not attend the wake because she starts crying at the mere mention of his name had Williams in 6th grade after he first arrived to this country from Mexico. He and Alphonso, another boy his same age who also just came from Mexico, were sweet and innocent and quiet with little mischievous grins.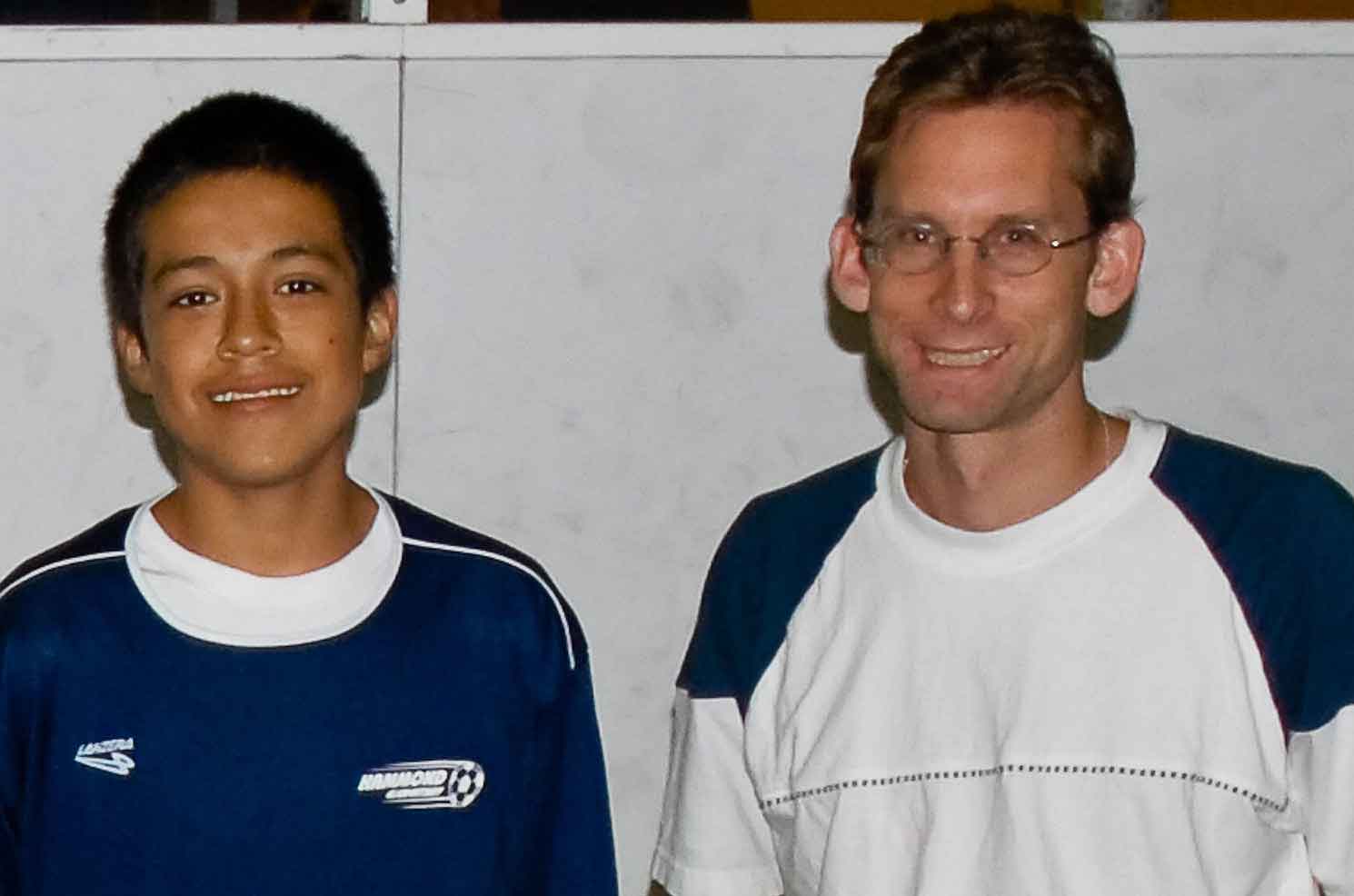 Above, Williams Diaz when he played soccer for the Hammond Elementary School team in Chicago, with teacher and soccer coach Jim Vail. Substance photo by Dan Bartel. I remember she showed me their essays in class – entirely in Spanish. She was so thankful I arrived to help them.
They also both spoke only a little English. I developed a very personal relationship with the two boys as their English as a Second Language teacher. We joked, we wrote, we spoke and we shared learning about America. Williams was a very talented boy as his teachers could attest. He was a meticulous artist who joined the mural club. But soon those talents wove their way into his surrounding environment – etching gang symbols onto his notebooks and arms as his interest in school waned.
Williams was definitely curious and smart. He learned English fast and was eager to read what I gave him, though not always.
But they would say he was lazy and he was. He just wasn't very interested in school.
But a little personal relationship with a teacher goes a long way. He asked me about the school's soccer team which I was coaching at the time and I was surprised to hear he wanted to join. Williams was quiet and showed no signs of wanting to participate further in school. He only asked because he knew me. He had moves, his feet work was quite impressive and I kick myself — no pun intended — to not have gotten him playing when he first entered the school three years ago.
Williams was respectful and no teachers had any real problems with him. Sure he didn't do the work, sure he didn't wear his uniform properly and sure he drew on his arms and other things, but he listened and at times he learned. Especially in a small group environment with me.
Williams – some called him Willie – was my favorite student. He was a character.
This little tall spindly boy who said he crossed the border between Mexico and the U.S. several times was the only student in my seven years of teaching in the Chicago public schools who could engage me in an adult conversation. One day he asks me, "Say, Mr. Vail, how much do you make as a teacher? You make good money. I know teachers can make good money. I'm gonna be a teacher."
Of course, it was funny to hear a lazy but intelligent student say he suddenly wants to be a teacher. But when we started to discuss salary and a union and the hard work involved, he followed me like I was speaking with a colleague. And Williams certainly lived like an adult. They grow up very fast on the southside. My colleague the soccer coach and I traded Williams stories. He told me one time about when he worked at a garage washing cars. He made decent money too until problems with the boss forced him to leave.
One day his teacher went to his home to get a note signed from a parent so he could be in our after-school program to continue learning academic English. It was surreal, my colleague said, because the person who answered the door looked like he just woke up and had no idea where William was. But he promised to get the note signed.
The promise was honored and Williams was in our after-school program.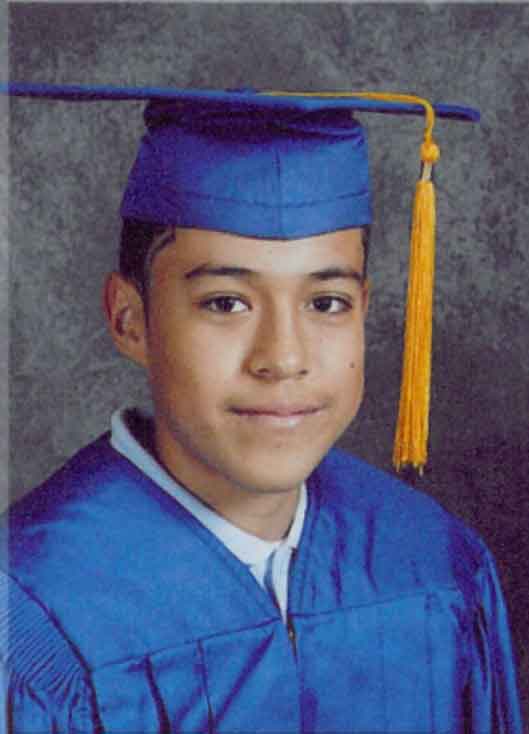 Above, Williams Diaz's eighth grade graduation photo, Chicago's Hammond Elementary School.He drove a car, to my big surprise. But you're only 13 years old. He and Alphonso's eyes lit up when we discussed how they came to this city. They described, their English flowing like water, how they crossed the border. How they traveled a few days in the desert with little water and food. How they were picked up by coyotes and transported in dark vans. How they saw dead bodies along the way. Or how they were caught, sent back, and then tried again. And again. And again. And then they wrote and wrote — I still remember seeing the fire in their eyes as they wrote.
But there was the dark surroundings here, and it quickly closed in on them. The American Dream turned into the American Nightmare.
Alphonso started to hang out with the gangbangers and he took on an air as a tough street kid. He stood up to me one day, his chest puffed out, and I would have been very intimidated if I hadn't known who he was.
Alphonso's mother couldn't read and couldn't control him. She decided to take an action that probably saved his life — before entering the eighth grade, she sent him back to Mexico.
But Alphonso was weak, Williams said with a laugh when I told him how his friend was always getting into trouble before he left. Williams said Alphonso would be the first to run when the police came.
They say it's the quiet ones you should worry about. That was Williams.
He didn't get into specifics, but the gang life was all around him.
He had a brother in Cook County jail. He had a sister learning English and who showed up to his parent report card conferences. His mother worked a lot and was not home. Our security guard said she bought him nice things like brand new sneakers to compensate.
Then came graduation day. His mother was ecstatic. It was one of the happiest moments in her life, said his eighth grade teacher.
We took pictures after the ceremony, me and Williams and Ms. Perez, our wonderful teacher's assistant.
And suddenly it was all over. He attended Farragut High School. He showed up to our school one day in the fall after getting into trouble. He needed to do some community service, but never followed up. I saw him walking down California Avenue about four weeks ago, a few blocks from where his life would end.
Williams was a Latin King, they said. We attended the wake at Petrzika Joseph Funeral Home in Berwyn. His mother choose to honor her son outside the city to avoid gang attraction, just outside the Latin King boundaries.
On Saturday there was another church ceremony followed by a procession to the airport where Williams's body would be flown back to Mexico.
And the next tragedy for someone, a colleague added, will be when his fellow gangbangers go after the gang that shot him. There will be blood to pay for their slain member. Williams died alone in a pool of blood. Another CPS student killed in the beginning of 2010. And sadly, not the last.
Williams — you and all you young Chicago public school students will not be forgotten by those around you who remember you. Forever Young. Williams Diaz: April 13, 1993 – January 19, 2010. 