SUBSCRIPT: With few people still watching 'The Wire' at CPS, why is everyone getting paranoid about real wires...
George N. Schmidt - January 23, 2010
Every morning when you walk into 125 S. Clark St. you should be humming that famous hit, "When you walk through the garden..." Remember? The tune that started every one of the more than 50 episodes of "The Wire" over five HBO seasons? We know: the feds are still under the command of a former Illinois Senator with more "issues" — in the New Age sense — than ideas for how to get health care or decent public schools to all Americans without additional privatization and Wall Street greed.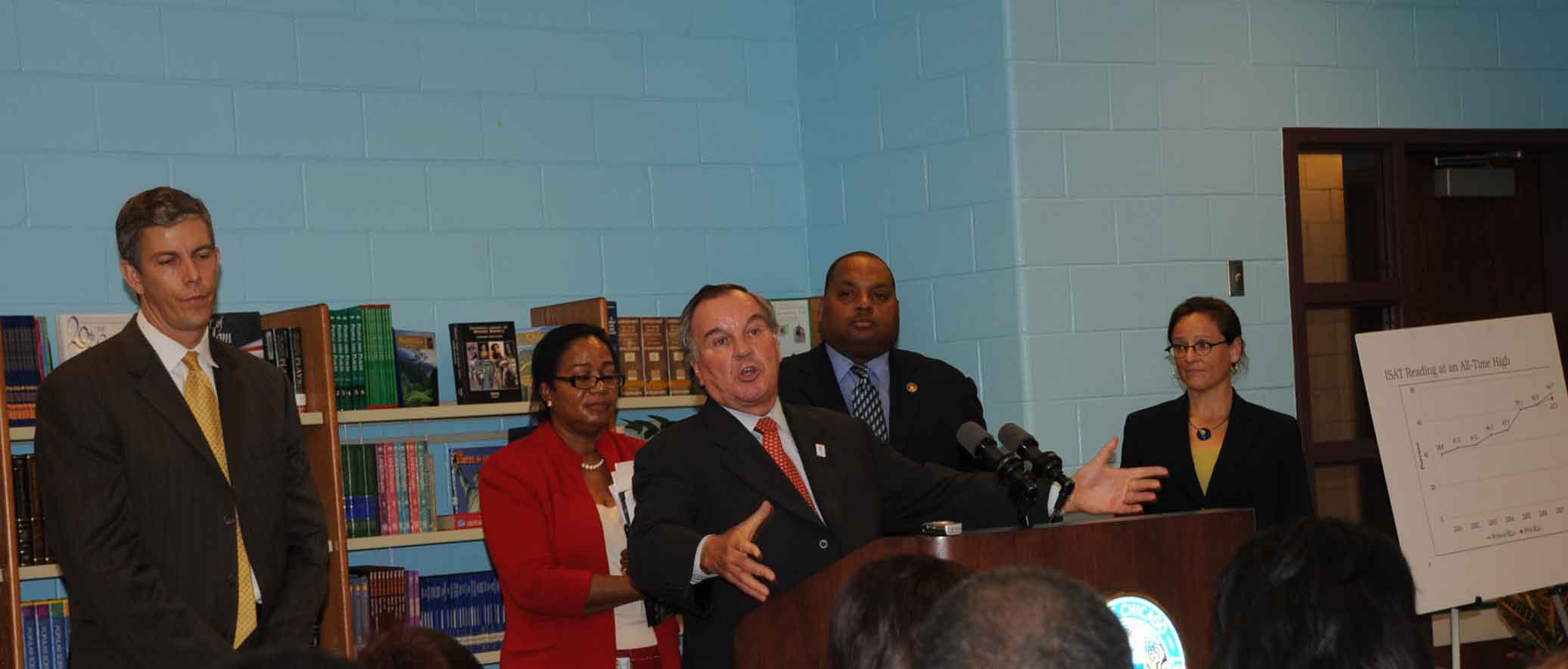 Three down, two to go? Less than two years ago, Mayor Daley dissed then Governor Rod Blagojevich at another one of his miracle shows (see chart above at right) announcing how test scores had gone "up" during a media event, complete with cheerleaders, at the Ella Flagg Young Elementary School on Chicago's West Side. At the time, Arne Duncan (above left) was still CEO of CPS. Barbara Eason Watkins (second left) was "Chief Education Officer" of CPS, detailed to doing most of the real dirty work when African American teachers and principals were being destroyed. Daley himself (center) was and is Chicago's "Imperial Mayor" (just ask Time Magazine). Ike Carothers (second from right) was a Chicago alderman wearing a wire for the feds, and Ginger Reynolds (far right) was "Chief Officer for Research Evaluation and Accountability" in charge of serving up for Daley (test scores, not the fare the GDs and others serve up in more than half of Daley's wards while Daley looks the other way). Now only BEW and Daley remain at large in Chicago. Duncan's been sent to Washington to push the Chicago Plan down the throats of the USA. Carothers is working out the deal to get minimum time for his crimes. Reynolds was fired almost as soon as Ron Huberman (Daley's latest Boy Friday at CPS) could say "Performance Management", but BEW will be back in action this month and next when Daley needs someone to destroy another dozen or so African American schools. Substance photo by George N. Schmidt.
But it's still possible that the U.S. Attorney for Chicago and the Attorney General of the United States are not wasting all that technology and informant money to prove that Chicago's had an educational miracle the past 15 years. Fifteen long privatization ridden years ago Richard M. Daley took over the schools. "Don't pay heed to temptation, while his hands are so cold. You gotta keep the Devil way down in the hole..." That's a lot of years for every politically wired thief to get their hands into the cookies. In Chicago, the Devil doesn't come at your with a contract for your soul, like in the old days of Faust, but with a wrapper of Franklins, a few bimbos (or bimbus, putas or putos, whatever), and promises of much more where all that came from. So, after 15 years of coverups (in the form of laudatory press coverage for everything CPS), everyone who's not wearing a federal wire is worried that the guys in the room are. Or gals. So, as the word goes through 125 S. Clark St. (and all those other outposts of CPS patronage), let's keep a sense of humor and hum that tune. The next restaurant meal you eat with a fellow CPS heavyweight (both and all senses on that one) might one day be on Page One after the indictments come down...