CORE testing task force begins work on activist agenda at January 20 founding meeting
Sharon Schmidt - January 21, 2010
The Caucus of Rank and File Educators (CORE) "Testing Task Force" met for the first time on January 20, 2010. Convened by CORE after reports from the teachers union of British Columbia that the union there is sponsoring a moratorium on high stakes standardized testing, the CORE task force outlined an ambitious agenda. CORE is a caucus in the Chicago Teachers Union.
The January 20, 2010 meeting began with members of the committee outlining the harm caused by high-stakes standardized testing.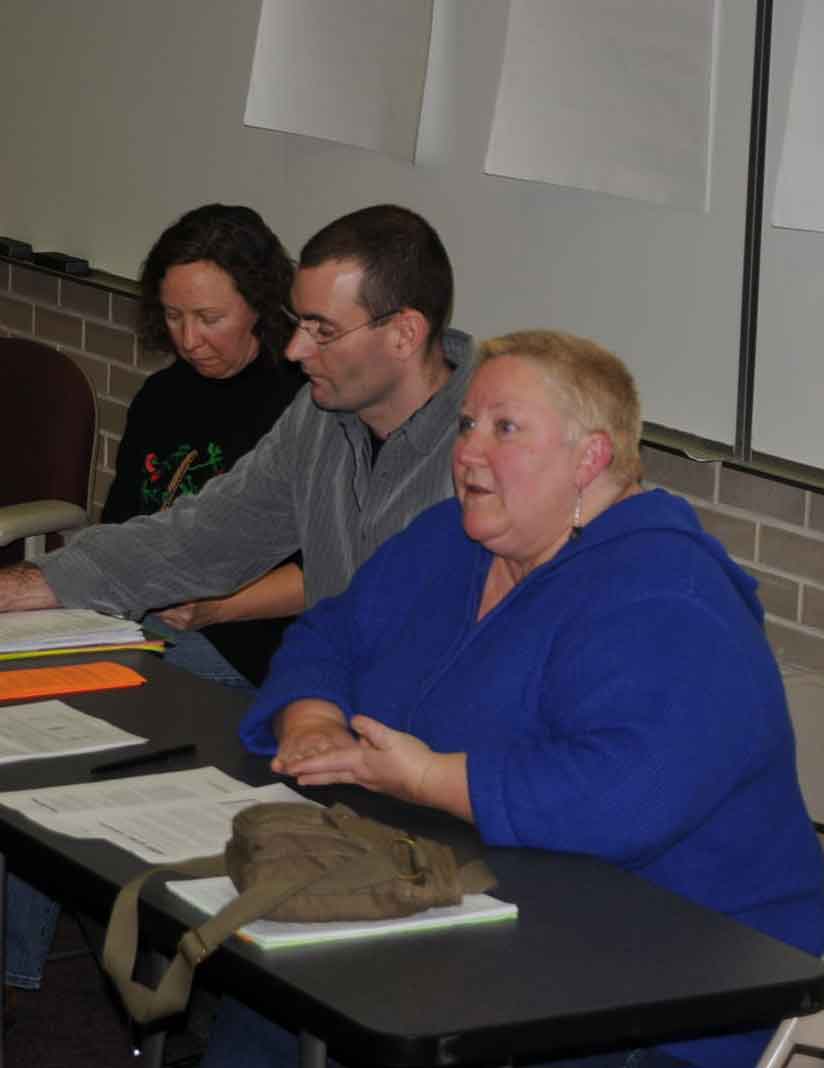 Three of the members of the CORE testing task force helped lead a discussion of the problems with high-stakes standardized testing at the January 10, 2010, CORE "Education Summit" at Malcolm X College in Chicago. Above are (left to right), Susan Zupan, Wade Tillett, and Julie Woestehoff. Substance photo by George N. Schmidt. • Thousands of teachers have been fired since 1999 when CPS began using test scores to judge teacher quality and reconstitute schools. The latest casualties will be the staff of schools that the board votes on at the February meeting of the Chicago Board of Education. At least 180 classroom teachers at five schools (including Marshall and Phillips high schools) face termination because of test-based "turnaround" proposals.
• Students are physically and emotionally stressed by test pressure, adversely affected by grade retention and rankings based on test scores, and cheated by a narrow curriculum dictated by tests.
• Teachers are unable to give quality instruction to their students due to the time and importance placed on testing.
• The Chicago Board of Education is funneling millions of dollars to the test companies and other private interests that benefit from school takeovers.
• High-stakes testing, pushed by the "corporate agenda" and politicians lobbied by big business, is crushing democracy in our schools. Teachers and parents are not making decisions of how children should be educated. Action planned
CORE members on the Testing Task Force discussed plans for action. "We need to lead a resistance movement," CORE presidential candidate Karen Lewis said. Lewis, a teacher and union delegate at Chicago's Martin Luther King Jr. College Prep High School, said that she had spent a day reading postings on Susan Ohanian's Web site.
"This is a train we have to stand in front of," Whittier Elementary School teacher Norine Gutekanst said.
Looking toward the British Columbia teachers union that boycotted province high-stake testing and demanded a moratorium on testing as a model, CORE has decided that educating colleagues is the first step. The British Columbia teachers worked for two years educating members prior to demanding the tests be stopped, according to Lewis. See the Substance December 26, 2009 article (British Columbia teachers call for two-year moratorium on standardized tests... Help organize student boycott of tests in Vancouver" by George N. Schmidt) on the BC teachers work against high-stakes corporate testing at http://www.substancenews.net/articles.php?page=1033&section=Article
CORE members asserted that it shouldn't take Chicago that long.
"Teachers are at a tipping point," Susan Zupan, a 20-year elementary school teacher currently at Taylor Elementary School, said. CORE will begin the work of the Testing Task Force by compiling and sharing the information of high-stakes testing with union members. Teachers need to know the staggering number of tests forced on students from kindergarten through 12th grade and what the stakes are for children and school workers. CORE will educate teachers on the fallacies, flaws and harmful effects of high-stakes testing. Testing Task Force chair elementary school teacher Wade Tillett said teachers also need to be able to articulate what schools could be without the interference of the current testing mania.
Tillett lists the following things that could be in place in schools on his website www.bubbleover.net.
"Good schools encourage joyful learning, value exploration, wonder and awe, have students that are interested and actively engaged, address students' concerns, have teachers that work together to address students' needs and character, support students beyond the school walls, have the ability to abandon the lesson plan and follow teachable moments, build on student and community strengths, have practicing student citizens."
In addition to raising awareness, CORE Testing Task Force members plan to lead a push for legislative change. Julie Weostehoff (of Parents United for Responsible Schools (PURE) said at the meeting that she hoped teachers and parents could come together to demand that tests in Illinois become public after administration (as they are in Massachusetts, Texas, and New York) and that parents obtain the legal right to opt out their children from testing.
The next meeting of the Testing Task Force of CORE will be held on February 2 at 4:15 p.m. at Manny's Deli. 