Ohanian at Huffington Post warns about LEARN legislation... Congress sponsoring disastrous 'literacy' bill
Susan Ohanian - January 20, 2010
Stephen Krashen, noted educator and Professor Emeritus, University of Southern California, has conducted an intensive investigation of new legislation pending in both chambers of Congress (Senate Bill 2740, House Bill 4037). Introduced by Sen. Patty Murray (D-Wash.), the LEARN (sic) Act picks up where the widely denounced Reading First legislation of the Bush Administration left off, putting an emphasis on the "direct instruction" of phonemic awareness, phonics, fluency, vocabulary, and text structure.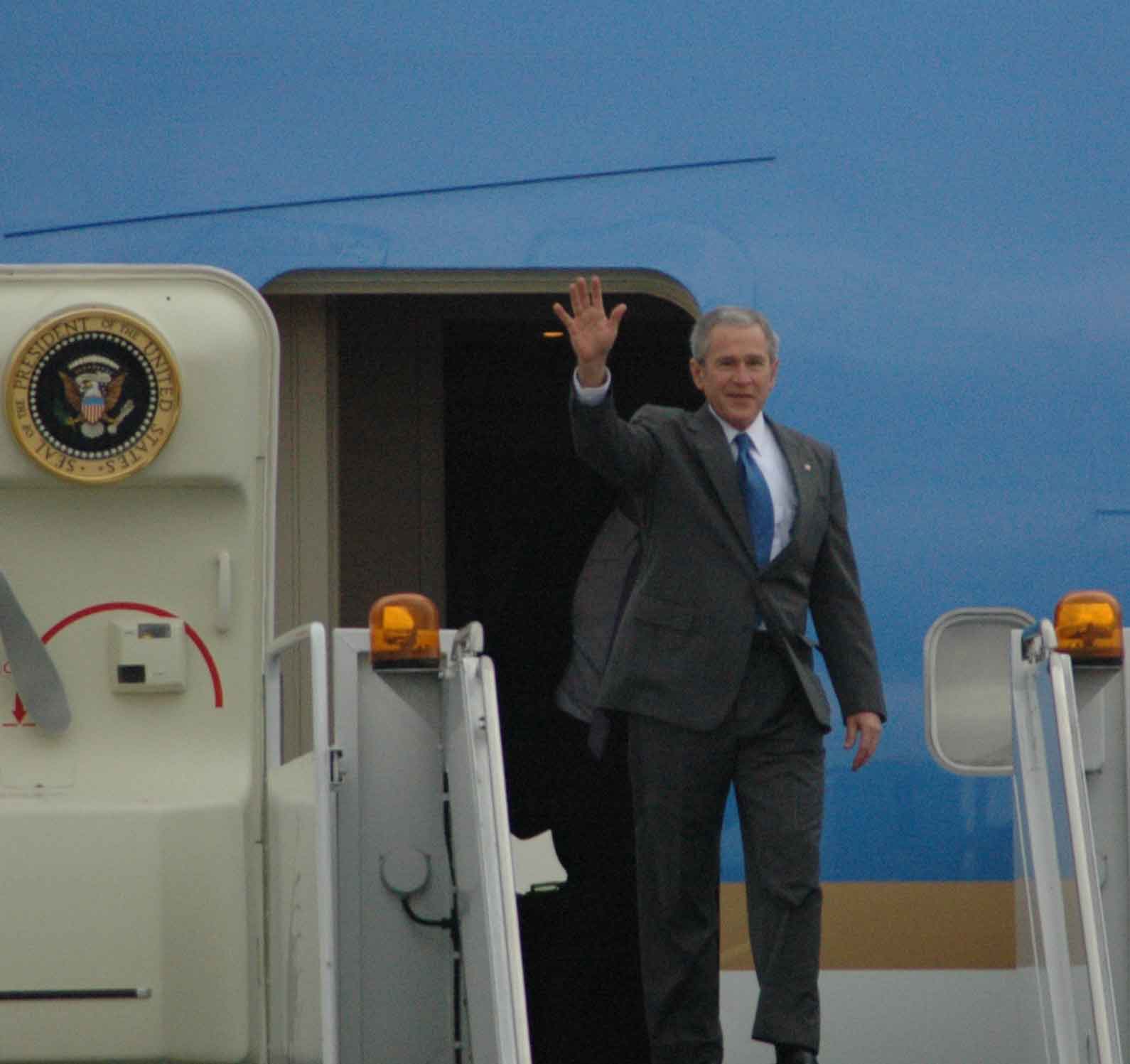 President George W. Bush chose Chicago to celebrate the anniversary of his "No Child Left Behind" legislation in January 2007. Above, Bush is exiting Air Force One following its arrival at O'Hare Airport. A growing number of critics are now saying that the Obama administration's "Race To The Top" program is worse than "No Child Left Behind." Substance photo by George N. Schmidt.Not only is this approach to children's literacy development not supported by scientific research, it runs contrary to good practice. There are also several other points of contention here:
1) Why do members of Congress feel so comfortable telling teachers how they must teach?
2) When cash-strapped local politicos scramble to get the money attached to whatever outrage Congress legislates, who's responsible for the devastating results?
3) Who's in charge of our schools? Members of Congress or local school boards?
4) Who's in charge of the classroom? The teacher, consulting with colleagues and parents, or members of Congress?
If your outrage hasn't reached the boiling point, think about this: The LEARN (sic) Act directs the Secretary of Education to award grants to states for comprehensive planning to direct the literacy development of children from birth through grade 12.
Yes, birth. Welcome to the world of George Orwell.
In an open letter to the members of Congress sponsoring this bill, Dr. Krashen points out: "The research shows again and again that we acquire our competence in literacy through wide, extensive reading, which has been marginalized in LEARN."
Dr. Krashen also illuminates that the LEARN (sic) Act opens the door to an unprecedented amount of testing, "a very bad idea at a time when children are already over-tested, when our schools have been turned into test-prep factories, and when our budgets are strained."
If Congress really wanted to help schools develop strong readers, they'd provide funds to strengthen the libraries instead of money for buying skill drill worksheets and standardized tests.
Dr. Krashen's research on the LEARN (sic) Act is available here.
In addition to offering extensive research, Dr. Krashen offers recommendations that should take precedence over misguided instruction and increased testing: The first priority should not be new standards and tests but should be reducing poverty. Decades of research (Martin, 2004; Coles, 2008/2009; Berliner, 2009) confirm that poverty has a huge impact on student learning.
Krashen makes the point that many politicos seem unable to grasp: American students from well-funded schools who come from high-income families outscore all or nearly all other countries on international tests of science and math. Only our children in high poverty schools score below the international average (Payne and Biddle, 1999; Bracey, 2009; Martin, 2004).
The US has the highest percentage of children in poverty of all industrializedcountries (25%, compared to Denmark's 3%). Our educational system has been successful; the problem is poverty.
People opposed to Congressional micromanagement of local classrooms should contact the members of Congress supporting this misguided legislation. Because of delays in getting mail delivered to D. C. offices, mail should be sent to local offices. D. C. phone numbers are provided.
Sen. Patty Murray
(202) 224-2621
2930 Wetmore Avenue, Ste. 903
Everett, Washington 98201
Sen. Al Franken
(202) 224-5641 60 East Plato Blvd
Suite 220
Saint Paul, MN 55107
Sen. Sherrod Brown
(202) 224-2315
1301 East Ninth St., Suite 1710
Cleveland, Ohio 44114
Sen. Barbara Boxer
(202) 224-3553
2500 Tulare Street, Suite 5290
Fresno, CA 93721Sen. Barbara Boxer
She has an online form for contacting her about specific legislation here.
Sen. Diane Feinstein
(202) 224-3841
One Post Street, Suite 2450 San Francisco, CA 94104
Rep. John Yarmuth
202-225-5401 Southwest Government Center
7219 Dixie Highway
Louisville, KY 40258
Rep. George Miller
202-225-2095
1333 Willow Pass Road, Ste 203
Concord, CA 94520
Rep. Henry Waxman
202.225.3976
8436 West Third Street Ste 600
Los Angeles, CA 90048
