CPS announces 2010 school closings Hit List
George N. Schmidt - January 19, 2010
Chicago schools Chief Executive Officer Ron Huberman announced at a well attended press conference at the school system's headquarters on January 19, 2010, that he intended to propose to the Board of Education that 15 public schools be closed, phased out, or radically transformed through a process CPS is calling "turnaround" this year. The schools, which were listed in a press release by CPS Communications officials, included 13 elementary schools and two high schools. A third high school is being consolidated into an elementary school which is 15 miles away.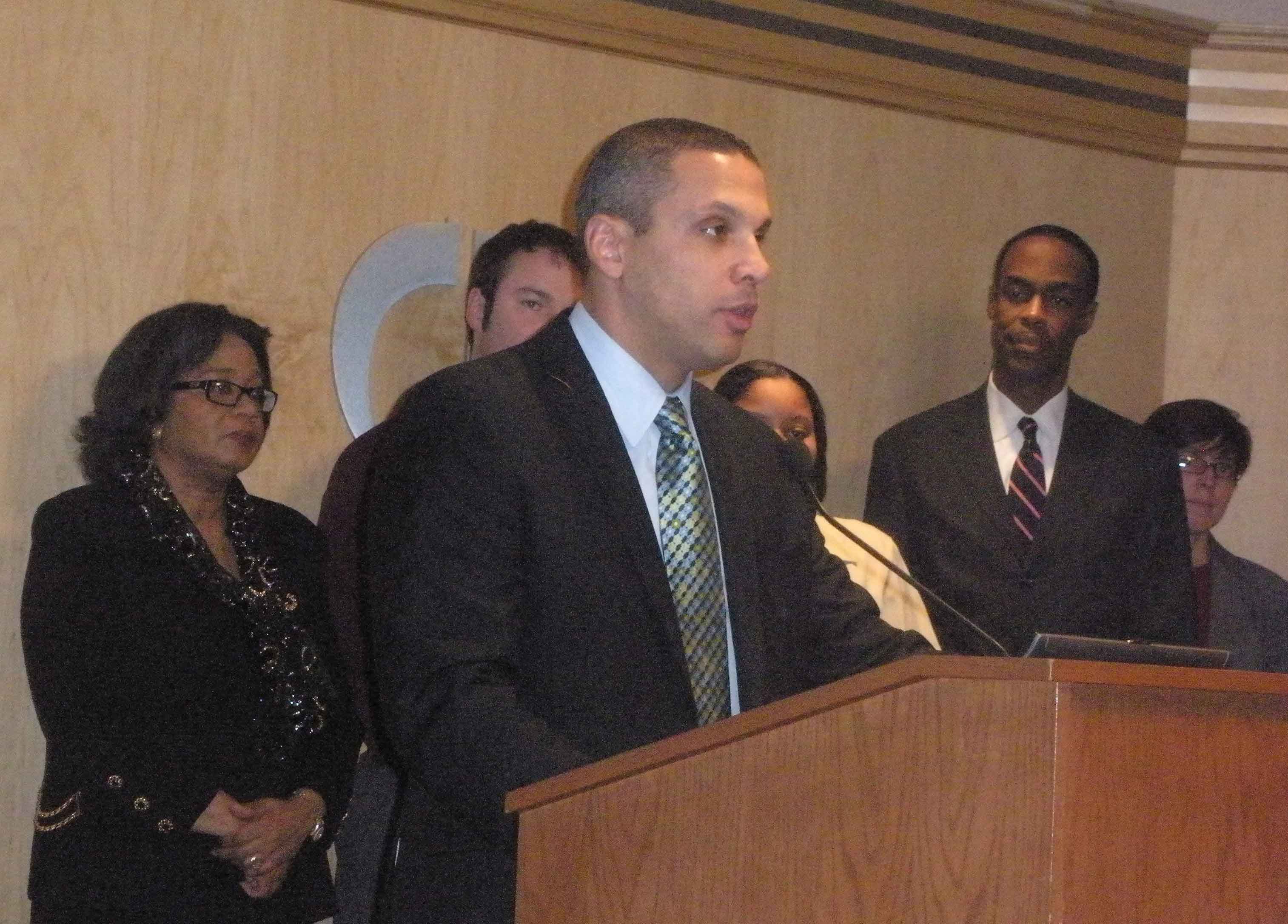 Chicago Public Schools Chief Executive Officer Ron Huberman presented the Board of Education's 2010 list of schools to be closed, phased out, consolidated, and subjected to "turnaround" at a January 19, 2010 press conference at CPS headquarters in Chicago. Although Huberman said that he was going to have the school system's Chief Eduction Officer Barbara Eason Watkins speak on some of the issues, instead he rushed through his Power Point presentation, called on one of three RAP parents to speak, and then cut off questions. Eason Watkins and CPS "turnaround" chief Donald Fraynd (behind Huberman above) would have been asked about the disastrous "turnaround at Fenger High School. Fenger was not mentioned during the press conference, partly because Huberman refused to take another question from Substance. Substance photo by George N. Schmidt.The CPS press release that was distributed after the press conference began follows:
DISTRIBUTED BY CPS OFFICE OF COMMUNICATIONS. CPS officials announce 2010 proposed school actions... New Student Bill of Rights criteria guides process (January 19, 2010) CPS to turnaround five schools, close four schools, consolidate four schools and phase out one school.
Chicago Public Schools officials today announced a series of proposed school actions that are designed to improve educational opportunities for students at low-performing schools and create operational efficiencies by closing school buildings that are under enrolled or in poor condition.
CPS Chief Executive Officer Ron Huberman and Chief Education Officer Dr. Barbara Eason-Watkins said the proposed actions call for the turnaround of five schools, closing four schools, consolidating four schools and phasing out one school.
"Our primary obligation is to assess the performance of schools and provide the best possible educational opportunity for students in every school in Chicago," Huberman said. "This means taking a long hard look at every school under our Performance Policy and making what can be difficult decisions on whether a school is properly serving its students.
"At the same time, we — like virtually every school system in the U.S. — are faced with tough budget constraints and, as a result, we must ensure that we are using our limited operational funds in a smart, cost-effective way. We cannot afford to operate schools where the student population has declined to a level in which keeping a school open is no longer fiscally prudent."
Under Board-approved policy, CPS can close or create turnaround schools for chronic low performance; for low enrollment and underutilization; or if a building has fallen into a state of substantial disrepair.
In cases where school actions are approved by the Board, new guidelines introduced this year aim to ease the transition of students from one school to another.
Huberman said the proposed actions are the result of months of study, analysis and outreach, and that a series of public hearings will take place over the next few weeks to hear from school communities, concerned citizens and other stakeholders. Following the hearings, CPS administration will make a recommendation in February to the Chicago Board of Education for turnarounds, phase-outs, consolidations and closing that would take effect beginning with the 2010-11 school year
Huberman said two high schools and three elementary schools are proposed for turnaround because of poor academic performance. Under the turnaround strategy, students stay at their school and new leadership and staff are brought in to change the school culture and performance expectations.
The turnaround strategy at CPS began in 2006 with the conversion of Sherman Elementary School by the Academy for Urban School Leadership (AUSL). The following year, Harvard Elementary School was turned around by AUSL. In all, 16 CPS schools are currently being turned around by AUSL; by the CPS Office of School Turnarounds, which reports to Chief Education Officer Dr. Barbara Eason-Watkins; or are engaged in turnaround efforts that are principal-led.
AUSL would be designated to implement the turnaround strategy at four of the schools for which turnaround is being proposed:
Bradwell Elementary School, 7736 South Burnham
Frank L. Gillespie Elementary School, 9301 South State St.
Charles S. Deneen Elementary School, 7257 South State St.
Wendell Phillips High School, 244 East Pershing Road
The current John Marshall High School, 3250 W. Adams, is proposed to be turned around by the CEdO-CPS Office of School Turnarounds.
Huberman said one school is being proposed for phase-out because of low enrollment:
George Schneider Elementary School, 2957 North Hoyne Ave.
In a phase-out, existing students may stay at the school but the school will not enroll any new students and decrease by one grade level per year.
Huberman said four schools are being proposed for consolidation:
McCorkle Elementary School, 4421 S. State St., because of the poor condition of its facility. Ludwig Beethoven Elementary School, 25 W. 47th St. which has been designated as the receiving school for McCorkle students, will receive $8.5 million in capital improvements during the summer.
Ignance Paderewski Elementary School, 2221 S. Lawndale Ave., because of low student enrollment. Roswell B. Mason Elementary School, 4217 West 18th St., is the designated receiving school.
Guglielmo Marconi Elementary School, 230 N. Kolmar Ave., due to under enrollment will be consolidated with George W. Tilton Elementary School, 223 North Keeler Ave., to form Tilton-Marconi School. Other school options for Marconi students will include Ericson, Gregory and Calhoun North Elementary Schools.
Irvin C. Mollison Elementary School, 4415 South King Drive, due to underperformance will be consolidated with Ida B. Wells Prep Elementary School, 244 East Pershing Road, in the Mollison building, as the Wells-Mollison School.
Huberman said four schools will be closed:
George W. Curtis Elementary School, 32 E. 115th St., because of poor academic performance. Designated receiving schools are Charles Haley, 11411 S. Eggleston, and George Pullman, 11311 S. Forrestville, Elementary Schools.
Simon Guggenheim Elementary School, 7141 S. Morgan Ave., because of poor academic performance. Designated receiving schools are William A. Hinton, 644 W. 71st St., and John P. Altgeld, 1340 W. 71st St., Elementary Schools.
William H. Prescott Elementary School, 1632 West Wrightwood Ave., because its student enrollment is far below operational efficiency. Designated receiving schools are Louis A. Agassiz, 2851 N. Seminary Ave., and Augustus H. Burley, 1630 W. Barry, Elementary Schools.
Bartholome De Las Casas Occupational High School, 8401 S. Saginaw Ave, because of facilities-related and programmatic issues, along with low attendance. Students from this special needs school will be placed in either private schools that can meet their needs or Moses Montefiore School, 1310 S. Ashland Ave.
Students whose schools are ultimately approved for consolidation or closure this year will be covered under the "School Closings Student Bill of Rights," which will provide them with additional safeguards, supports and programmatic opportunities as they transition into their new schools, Huberman said.
The Bill of Rights initiative was presented at the December Chicago Board of Education meeting. Its aim is to encourage the successful transfers for students impacted by a closure or consolidation. Among its provisions:
When a school is closed or consolidated, students will be assigned to a receiving school that has performed better academically on the CPS Performance Policy than their original school.
CPS will create safe passage plans in coordination with community partners, the Chicago Police Department, Chicago Transit Authority and other city agencies,
CPS will work with receiving school principals to extend instructional time in designated receiving schools.
Designated receiving school principals and teachers will create personal learning plans for transitioning students to facilitate their academic continuity.
"We do not discount or minimize the emotional attachment many CPS families have to their schools," Huberman said. "However, it is our job to ensure that we are providing the educational opportunities for our students that give them the best chance at success. We also have to assess whether our facilities are being utilized to their capabilities. These are key among the factors that have led us to these proposed school actions."
Huberman emphasized the importance of the upcoming public and, in some cases, community hearings. "We will evaluate the testimony that is presented prior to issuing our recommendation to the Board," he said. Huberman pointed out that last year, he removed six schools from the original proposed school actions list after assessing input from those hearings. 