NEW YORK PROTESTS: Don't miss the movie!... Students in New York City increasing protest volume with videos, dance, other media against school closings
George N. Schmidt - January 17, 2010
Before reading this, watch the movie version of one school's defense of itself against the "Chicago Plan" as it is being implemented in New York City in January 2010. The video featuring the students from Alfred E. Smith High School is at http://vimeo.com/8687124">http://vimeo.com/8687124http://vimeo.com/8687124">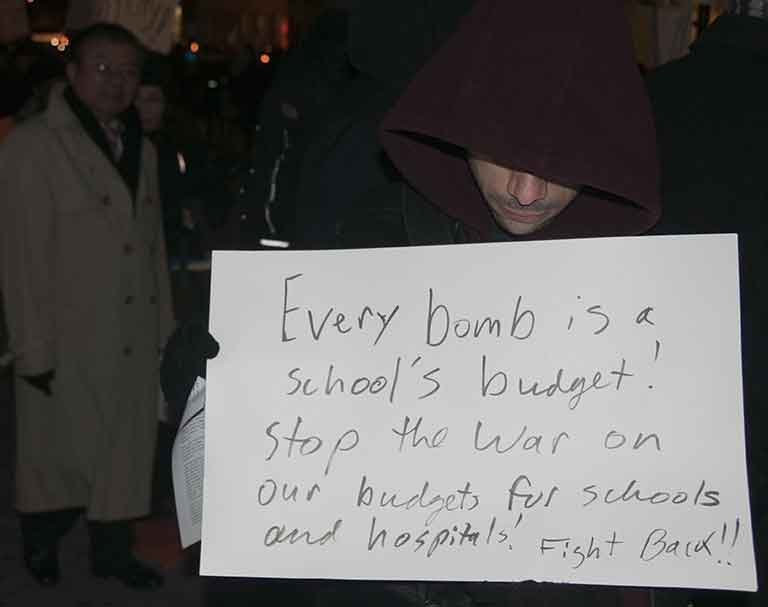 One of thousands of protesters who have showed up at more than 20 schools across New York City in opposition to New York's expansion of the "Chicago Plan" for school closings explains the reality of President Obama's military plans in relation to the schools and Mayor Bloomberg's school closing plans. Substance photo courtesy of Norm Scott. There is much more, as readers can locate thanks to the Internet, in the growing struggle in New York City against the Chicago-ization of public education. New York City students, teachers, parents and their supporters (including many prominent politicians, who, unlike Chicago, are not afraid to criticize their imperial mayor when he orders his hand-picked school board to close schools) are fighting back hard. A visit to more than a dozen New York City Web sites (and blogs) reveals the extent of the organizing and resistance. Today, I just felt it important to begin with what the students are doing, and with such creativity.
As news of the proposed Chicago-ization of more than 20 New York City public schools goes out across the USA, one of the most impressive things about the growing protests is that they are drawing on the immense creativity of the students in the targeted schools.
New York's rubber stamp school board — called the "Panel for Education Policy" — is like Chicago's hand picked by the mayor and completely cowed under the mayor's control. So the decision by people in New York to protest at the PEP meeting on January 26 is combined with a protest on January 21 (this Thursday) outside the mayor's multi-million dollar townhouse a few blocks from the Metropolitan Museum and the Guggenhiem. At the same time, students, teachers, parents, and others have been protesting at every "hearing" on the proposed closings, even though, as in Chicago, the "hearing officers" are the mayor's flunkies and the "independent" hearings as the same kind of shams pioneered by Arne Duncan during the years he was forcing the closing of more than a dozen schools every year (from 2004 through 2009; the 2009 hit list of 16 was the last Chicago list produced by Duncan, who is now U.S. Secretary of Education and trying to foist the Chicago Plan on the USA).
Students from Alfred E. Smith High School, for example, have produced a video set to music featuring the school's vocational programs.
One call for protests is calling on all students and supporters to come to the New York City Board of Education's January 26 meeting in Brooklyn. While most organizers of the protests expect that the New York Board, like its Chicago counterpart, will simply rubber stamp the proposed closings ("Phase outs," etc), the protests are likely to be among the largest in recent New York schools history. In addition to a large number of community and teacher groups, the huge (100,000 member) United Federation of Teachers (UFT) is organizing for the January 26 meeting and other protests. Other groups are ramping up their preparations for protests on January 21 outside the home of New York Mayor Michael Bloomberg.
Here is the statement by one group opposing the "phase out" of Smith High School.
Alfred E. Smith Career & Technical Education (CTE) High School is one of the public schools proposed to be phase out by the NYC Department of Education (DOE) due to poor graduation rates. The DOE's Panel for Education Policy (PEP) states that Alfred E. Smith CTE HS will be phased out without replacement. We welcome change, but phasing out our school is not the answer and unacceptable; not having a plan that involves the continued use of the building to educate the economically disadvantaged South Bronx students in pre-engineering, plumbing, carpentry, electrical, HVAC, and automotive mechanics is disgraceful. A phase out would mean no freshman will enter the shop classes in September 2010. The teachers will be released, shop classes will be increasingly underutilized and eventually nonexistent. As a result, plumbers, electricians, HVAC mechanics, carpenters, automotive mechanics and pre-engineers no longer be trained at AES. Phasing out Alfred E. Smith HS and eliminating its unparalleled Career & Technical Education component is unequivocally a mistake and not the solution to the problem. To read quantitative reasons why our CTE/shops class should not be phased out see this link:
docs.google.com/Doc?docid=0ASrinkbsP6p3ZGMzcnhoM3hfMjZma3RudDhmYg&hl=en
To see the DOE's phase-out proposal and learn more about our school and this situation go to this link:
docs.google.com/Doc?docid=0ASrinkbsP6p3ZGMzcnhoM3hfMTZjZ3MycW1wcA&hl=en
WHAT CAN YOU DO?
(Do the following BEFORE January 26th)
- Submit a public comment to Samuel Sloves (HS.Proposals@schools.nyc.gov, 718-935-4414). TYPE Alfred E. Smith CTE High School in the subject line. Feel free to use any/all of the above reasons, or just simply state you don't want to see AES phased out. Keep resending emails (every day) through January 25th. - Reach out to politicians: re-send this email to the following people (and whoever else you can think of):
Helena Foster 718-55-7790 foster@council.nyc.gov
Vanessa Gibson 718-538-2000 GibsonV@assembly.state.ny.us
Michael Benjamin 718-589-6324 BenjamM@assembly.state.ny.us
Carmen Arroyo 718-292-2901 Arroyo@assembly.state.ny.us
Complete political list, see this link:
docs.google.com/Doc?docid=0ASrinkbsP6p3ZGMzcnhoM3hfMjNmM3ZoMzdmZw=en
- Attend the Panel for Educational Policy (PEP) meeting on January 26th, Tuesday. They will vote on the fate of 20 NYC Public Schools.
4:30PM - protest
5:00PM - sign up to speak
6:00PM - Meeting starts
Where:
Brooklyn Technical High School (718-858-5150)
29 Fort Greene Place, Brooklyn, NY 11217