CSDU Files ULP Against CTU
George N. Schmidt - January 10, 2010
According to a recent press release from the Caucus for a Strong Democratic Union (CSDU), the group has filed an Unfair Labor Practice complaint with the Illinois Education Labor Relations Board. The complaint follows two letters by Marilyn Stewart trying to restrict the rights of union members to distribute literature and campaign for union office in the schools. The complaint is challenging the same Stewart policies that have been challenged by the lawyer letter sent to Stewart from PACT.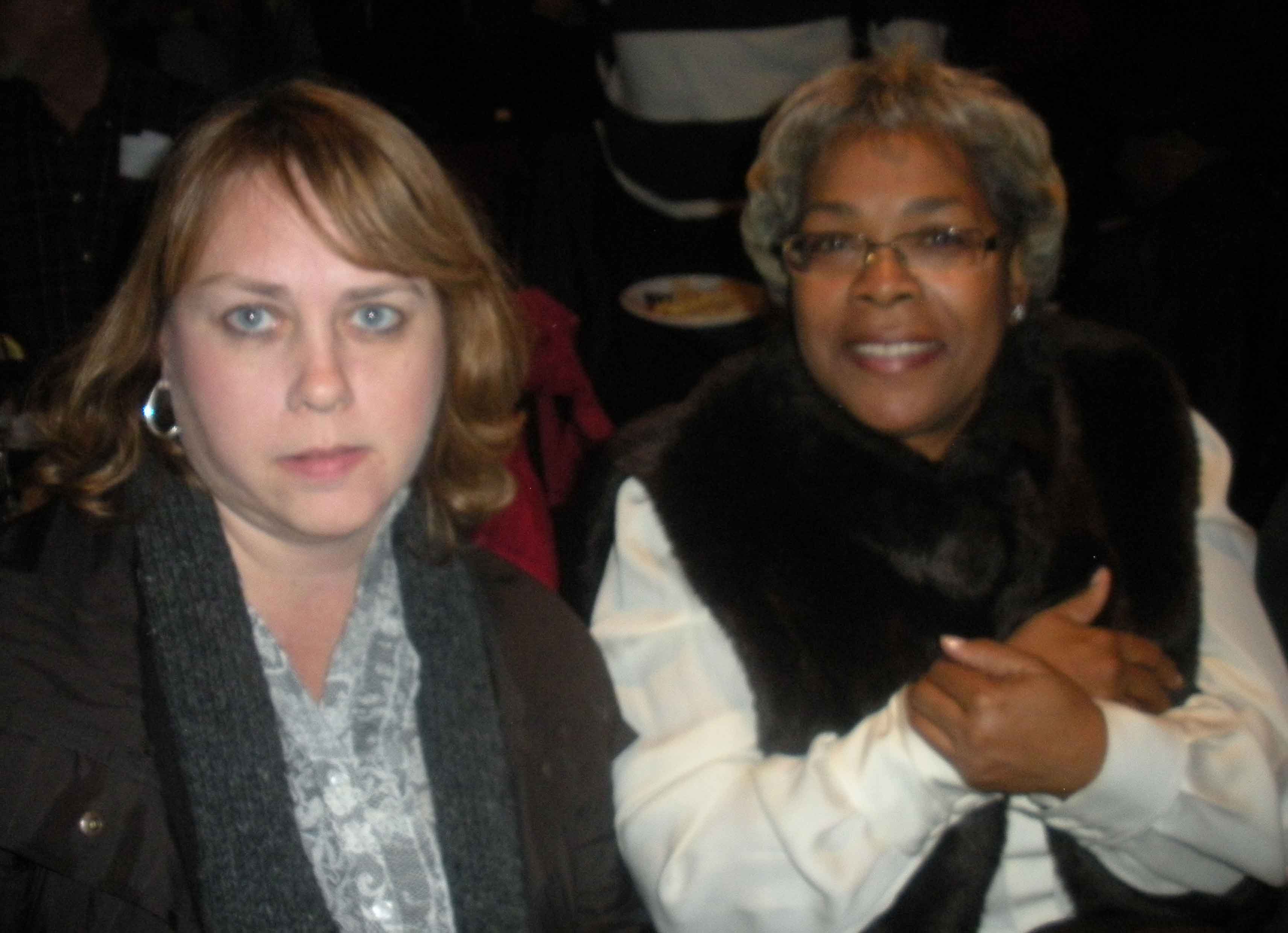 CSDU officer candidates Lisa Dimberg and Linda Porter at the November 10, 2009, Substance Second City benefit. As of January 10, 2010, CSDU still had not decided which of its five candidates would remain on their slate following Marilyn Stewart's success in the referendum reducing the number of union officers from five to four. Linda Porter is the first sitting CTU officer to break with the elected leadership and challenge the union president. CSDU expects to keep Porter as its candidate for CTU president. Substance photo by Sharon Schmidt.The press release states:
"In the wake of a letter sent by CTU President Marilyn Stewart to CPS principals, the CSDU has filed a complaint with the IELRB. The Stewart letter asks the principals NOT to allow school meetings by CTU caucuses until the middle of March. The Unfair Labor Practice complaint maintains that the CTU is colluding with the CPS administration to influence the outcome of the upcoming CTU Officer May election. This action is also grievable under Art 1-17 of the current agreement, which states:
"Art.1-17. On twenty-four hours' notice to the principal of the school, the UNION shall have
the right to schedule meetings in the building before or after regular duty hours and
during lunch time of teachers or other bargaining unit members involved in matters
concerning their employment, the provisions of this Agreement and for the conduct of
UNION business, provided said meetings do not interfere with an in-service or general
faculty meeting previously scheduled and posted prior to the twenty-four-hour
notification given to the principal by the UNION.
A previous incursion into member rights took place when Chicago Public Schools CEO Ron Huberman (at the request of the CTU) sent a letter to principals stating that members are not allowed to use school mail boxes or the CPS email system. The Chicago Teachers Union sends emails through the CPS system regularly. A ULP has been filed against the CPS also for unduly trying to influence the outcome of the election.
Since Stewart has no jurisdiction over principals, it is doubtful that principals will adhere to Stewart's request. If delegates and members are prevented from holding union meetings that are scheduled either before or after regular school hours, a grievance should be filed under Art. 1-17.
For up-to-date information go to: http://www.thecsdu.org
