No Chicago 'Hit List' yet, but more than 200 schools could be on it because of low test scores ('underperformance'), others for 'underutilization'
Jim Vail - January 05, 2010
This year no deep throats – not yet at least. Unlike last year when someone from the Chicago Board of Education leaked the list of nearly 30 public schools to be closed before the end of the year, this year CPS is keeping mum. The final 2009 'Hit List,' as it has become known in Chicago, contained 22 schools. Of those, 16 were finally destroyed by a vote of the Chicago Board of Education at its February 25, 2009 meeting. The broader list was known by New Year's Day 2009, however, and this year it's still not known. And with protests growing in other cities from New York City (Hit List, more than 20 schools) to Oakland, California, it's not difficult to see why Chicago Schools Chief Executive Officer Ron Huberman refuses to publish the list until the very last minute.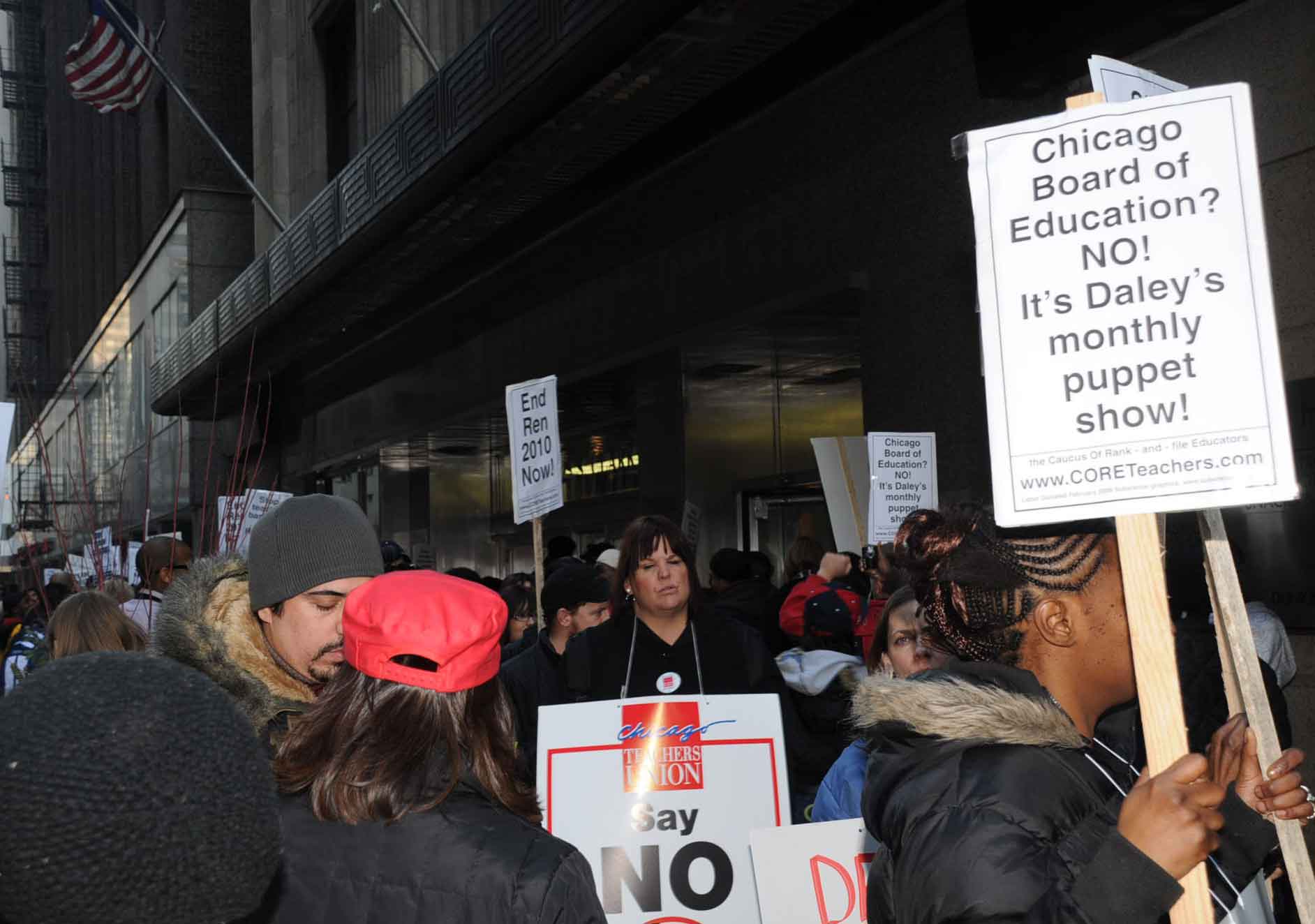 Nearly two months after activists learned of the schools on the 2009 Hit List, a massive protest greeted the Chicago Board of Education on the day of its February 25, 2009, meeting. Mobilized by CORE, GEM, and the Chicago Teachers Union, the hundreds of protesters marched outside, spoke out inside, and camped out (the night before) at Chicago Public Schools headquarters at 125 S. Clark St. in Chicago. During the weeks before the Board meeting, thousands had spoken out against the school closings, phase outs, consolidations, and "turnarounds" of public schools on the 2010 Hit List. Nevertheless, when the Board of Education members returned to vote late in the afternoon of February 25, 2009, they voted quickly, unanimously, and without debate to take the action against the 16 schools recommended by the school system's new CEO, Ron Huberman. Substance photo by George N. Schmidt. It appears chief Ron Huberman and his spokeswoman Monique Bond want it that way — daring anyone who would send something out to the media before its time. They may also be feeling the heat on orders from the Mayor to continue a controversial policy of closing only public schools for low enrollment or low test scores.
Strangely enough, this plan is replacing those public schools with charter and military schools that are also performing poorly or have low enrollment according to the CPS closing criteria. This closing plan — known otherwise as the Renaissance 2010 Plan — is not only very unpopular with the public (who do not want to see their neighborhood schools closed), but has been called a failure — even in by a University of Chicago report and in a separate report by the Civic Committee of the Commercial Club, which helped to design the plan to privatize public education as "Left Behind" (2003). It was at the Civic Committee that Mayor Richard M. Daley first announced "Renaissance 2010" in a June 2004 speech, taking his cues from "Left Behind," which had been published a year earlier.
Huberman has said he will announce the list of schools to be closed this Friday, January 8, 2010.
Only this time he is more specific about who will get the axe. This time only schools with less than 250 children enrolled and less than 40 percent "utilized" by students are eligible to be closed. A school can also be closed if it earns less than 33.3 percent of the points on the CPS Performance Policy for two consecutive years, according to Huberman. While there are many schools on the probation list throughout the city, the low-enrollment schools are more specific. Despite a number of requests to Huberman from Substance editor George Schmidt for a list of all schools that qualified for closing under the "Performance Policy," as 2010 began the list had not been made public.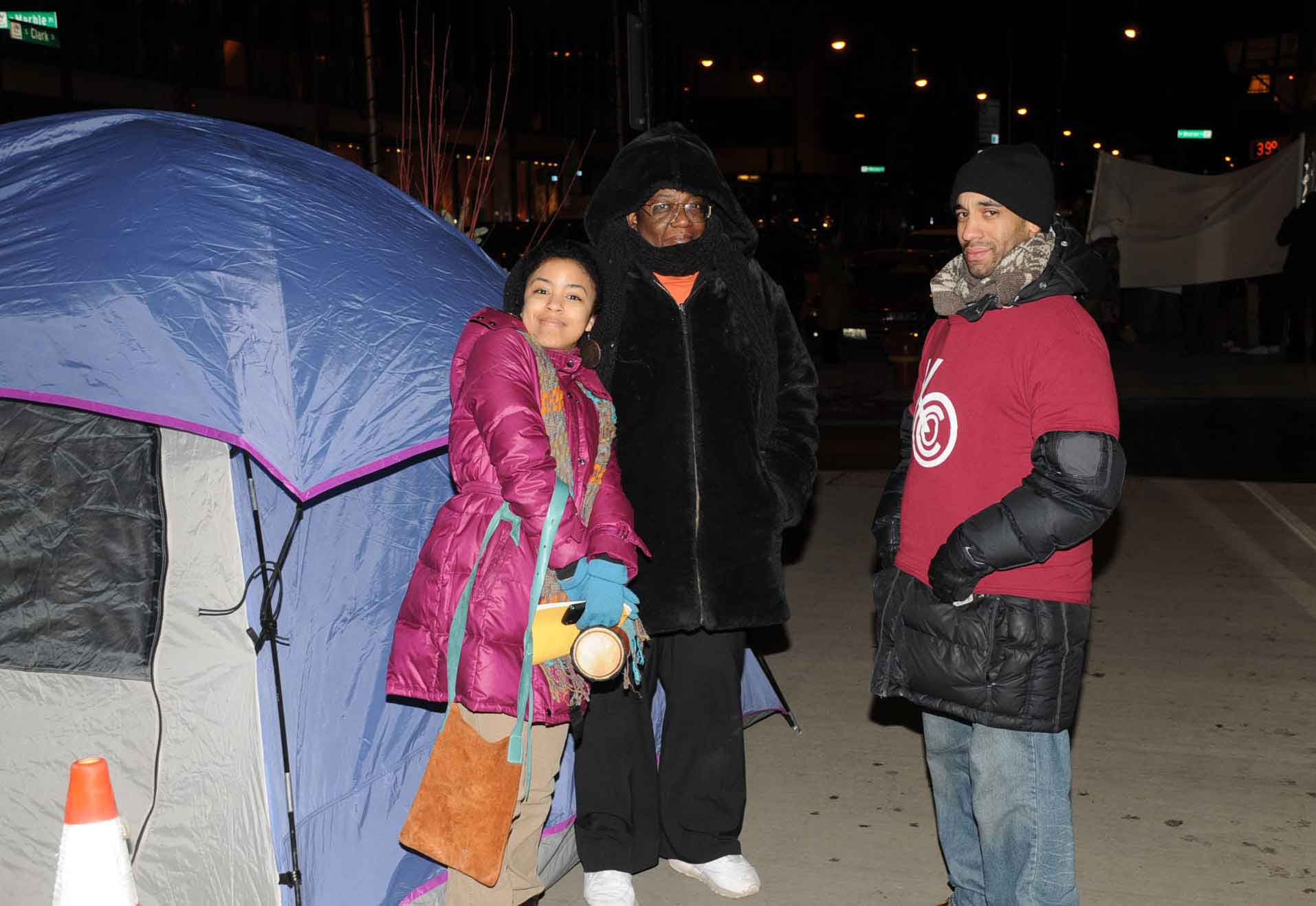 Community activists and teachers slept overnight in tents pitched in front of CPS headquarters at 125 S. Clark St. on February 24, 2009, to be first in line to sign up to speak during the February 25 meeting of the Chicago Board of Education. The groups came together with CORE and the newly organized GEM (Grassroots Education Movement, Chicago) in opposition to any further closings, phase outs, consolidations and turnarounds. Above, left to right, representatives from Blocks Together, PURE and KOCO stand outside the Board headquarters while the temperature slowly dropped from above freezing to below freezing (by dawn). Substance photo by George N. Schmidt."Underutilization" is a different story. Jim Despensa, who heads the CPS Office of Demographics that computes the numbers to close schools, told Substance that he is still waiting for some school attendance reports according to the 20th day of school for this year.
But according to last year's attendance data, the following schools are eligible to be closed due to low enrollment: Aldridge (237 students, 30 percent utilized), W. Brown (239 students, 28 percent utilized), Burke (247 students, 26 percent utilized), Cather (237, 22 percent utilized), Kershaw (246, 32 percent utilized), Mitchell (245, 40 percent utilized), Paderewski (237, 32 percent utilized), Parkman (201, 26 percent utilized), Pope (169, 23 percent utilized), Price (227, 20 percent utilized), Schiller (250, 28 percent utilized) and Schneider (175, 35 percent utilized). The Board of Education faces continued community pressure when it lists its "underutilized" schools for a number of reasons. All of the schools listed above (with the exception of Schneider) are 100 percent African American and serve a population that is almost 100 percent in poverty.
Other public schools this year in danger of becoming extinct depending on Despensa's numbers include two schools that were slated to be closed last year but taken off the hook - Peabody (264 students, 35%) and Hamilton (259, 39%), as well as Chalmers (266, 29%), Chopin (275, 28%), Faraday (256, 24%), Fermi (257, 21%), McClellan (250, 42%), Mitchell (245, 40%), Pershing West (273, 22%), Prescott (245, 41%) and Robinson (227, 20%).
One teacher complained that when they closed Irving Park Middle School two years ago because of low enrollment, they based their calculations on a 1920s model where every classroom in the building including science labs, computer labs, special education or ELL resource rooms, etc. – had to be filled with 30 kids for most of the day. Rooms crowded with kids throughout the building is the game the public schools have to play, while schools like Carver Military Academy have an entire wing with empty classrooms that could hold another 1,000 students. Some charter schools like Aspira are so desperate to increase their enrollment (remember when charters were claiming waiting lists of students?) that they have to offer free lap tops and other goodies.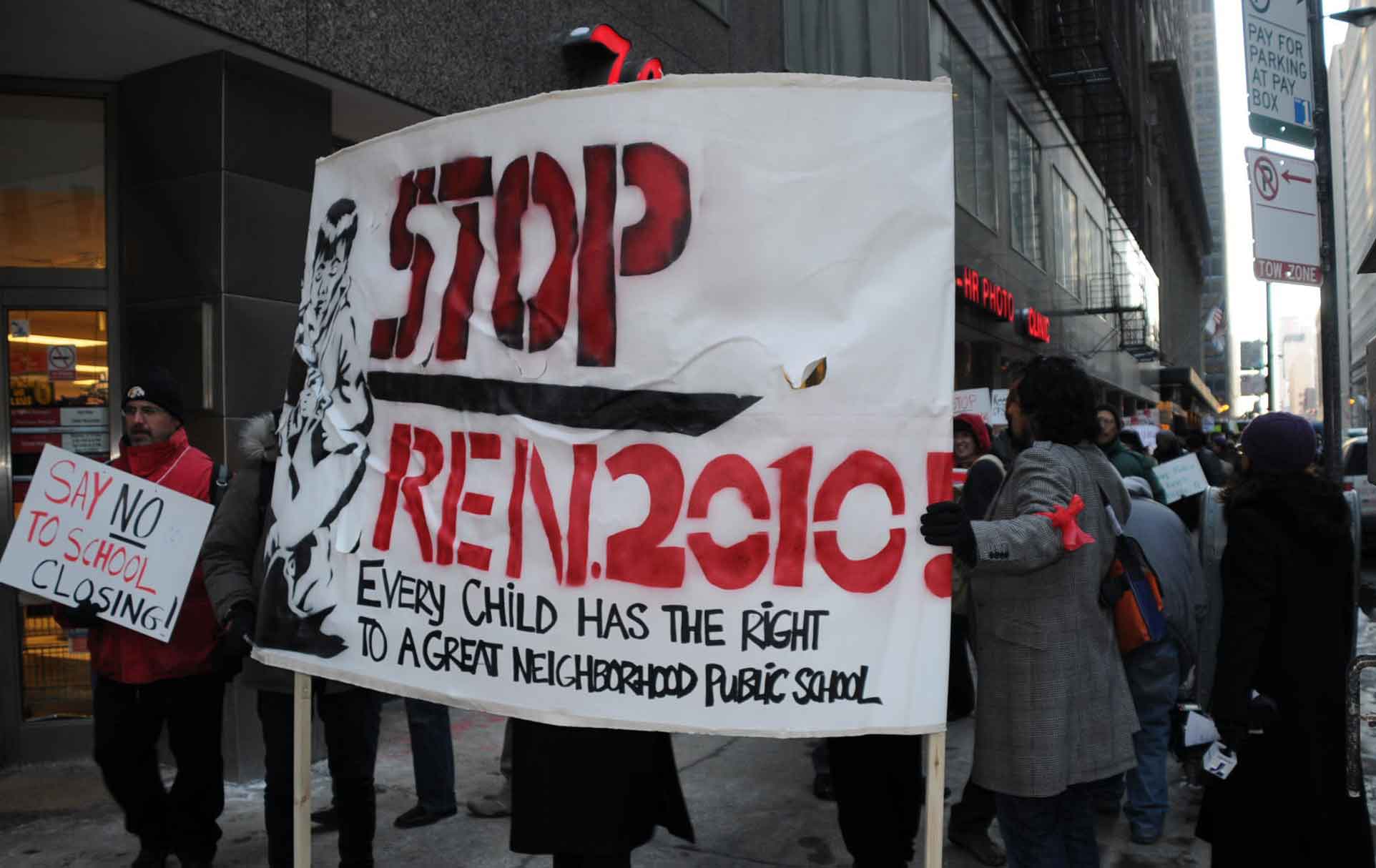 Hundreds of people marched outside the January 28, 2009 meeting of the Chicago Board of Education against the 2009 closings. Despite the protests and all the evidence about the destructive impact of the school closings of the previous seven years on children and communities, the Board of Education moved forward with the hearings and subsequently voted to close (phase out, consolidate, or turnaround) 16 schools at its meeting the following month. Substance photo by George N. Schmidt. In addition, a school can be closed if the facility is structurally unsound or future repairs are "cost prohibitive," the Board said in a press release. In several cases in the past eight years, the Board has made such claims about a school building, only to spend several million dollars upgrading it (once the public school has been kicked out of the building) in preparation for turning the building over to a charter school.
When De La Cruz Middle School was closed last year for that very reason, the Board then quickly gave the building to the UNO Charter Schools. The Board claimed the transfer of the building to UNO (at a cost of only $1 per year) it is only temporary. Massive community opposition took place in 2008 (when the De La Cruz closing was first announced) and 2009 (when De La Cruz was finally closed).
The protests have not been completely in vain. After a couple behind-the-scenes complaints (usually from powerful aldermen), last year's original closing list dwindled to 22 schools. After the official release of the list of 22 schools, overwhelming opposition at public hearings and protests in the streets led to six schools being removed from the Hit List.
But 16 public schools still bit the dust despite the overwhelming testimony and community support. Some of those are now housing charter schools (De La Cruz; South Chicago) while others (Carpenter; Andersen from the 2008 Hit List) are learning that promises the Board makes in one year will be broken as soon as the protests abate. 