Another cover-up of Chicago corruption as well? How much clout is keeping St. HOPE charter schools receiving federal money despite scandals?
John Kugler - January 02, 2010
This United States Senate [and House] staff report below is related the investigation of Kevin Johnson's eligibility to receive federal grant funding for his charter schools after he was found to be misusing grant money and engaging in alleged sexual misconduct with students from his charter school.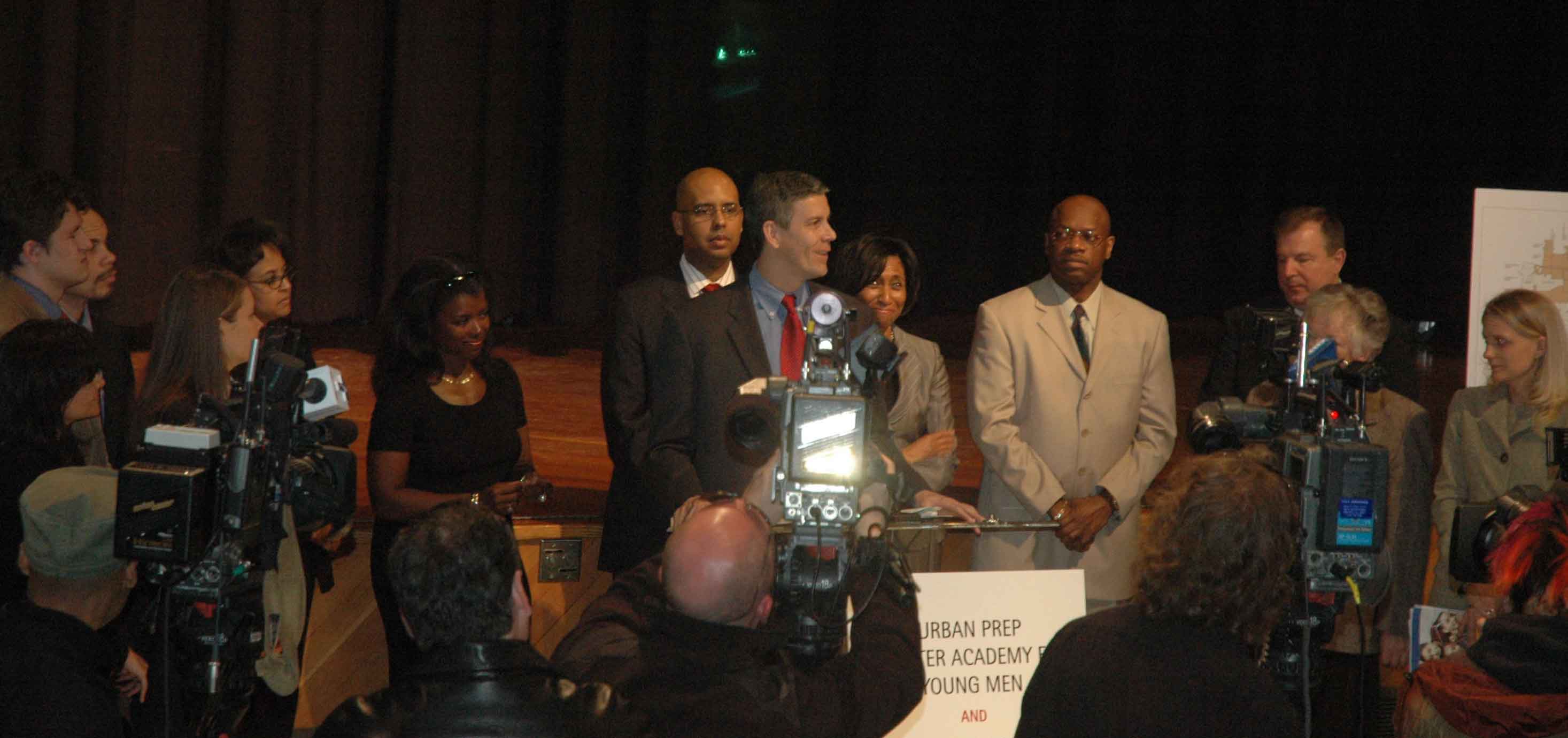 Nine months before he became U.S. Secretary of Education, then Chicago Public Schools Chief Executive Officer Arne Duncan presided over a carefully staged media event on April 7, 2008, to promote the further privatization of large numbers of Chicago public schools. The event was held at Englewood High School, the famous (Lorraine Hansberry was one alumna) African American public high school that Duncan was closing as a general public high school in June 2008 and turning over to charter operator "Urban Prep" (a controversial all-boys charter school). Urban Prep wasn't the only charter school being touted by Duncan at the April 7, 2008, event, however. One of the new charter schools being feted in Chicago was the even more controversial St. HOPE. Substance photo by George N. Schmidt.
When Johnson wanted to get some of the ARRA (federal stimulus) funds he got Barack Obama to take the IG [Inspector General] off the case because he was against Johnson getting off of his debarment from federal education funding. This story is also connected to corporate school reform chief Michelle Rhee — the DC School Superintendent — because she tried to cover-up the sex and grant misuse by Johnson as well. According to news reports, Rhee is now engaged to marry Johnson.
As those following corporate school reform know, Michaell Rhee — along with Arne Duncan and New York Schools Chancellor Joel Klien — might be called the national face of corporate "school reform." After Rhee appeared on the cover of Time magazine last year (depicted holding a broom, symbolizing that she was a tough boss ready to clean house), she was treated to additional national news adulation. During the same time, like Arne Duncan, the main news media ignored all of the conflicts of interest, allegations of corruption, and outright corruption that swirled around her. One of the photographs from the Michelle Rhee collection shows her standing with Kevin Johnson and Eli Broad, head of the Broad Foundation, at the January 20, 2009, inauguration of President Barack Obama. The script for "school reform" under Barack Obama could have been written by the dozens of educational leaders subsidized by Eli Broad and his billions. In many ways, both locally in Chicago and nationally, it was.
The story about "St. Hope" and the coverups of the misconduct by Kevin Johnson also has a Chicago connection.
One year before he left Chicago to become U.S. Secretary of Education, Arne Duncan was promoting St. Hope as another charter school option for Chicago's children. In April 2008, a few months before Barack Obama cinched the presidency in a barrage of slogans about "hope," Arne Duncan announced, at a media event for the Requests for Proposals for "Renaissance 2010" at the soon-to-be defunct Englewood High School, that St. HOPE would join the list of Chicago charter schools. Following the 2008 RFP cycle, things moved very quickly. Arne Duncan was named U.S. Secretary of Education in December 2008 by President Obama and took over the U.S. Department of Education in January 2009, following the Obama inauguration.
Within six months, Duncan's staff had written the "Race to the Top" (RTTT) plan requiring every state in the USA to follow the Chicago model (charter schools, privatization, and other programs) in order to qualify for federal "stimulus" dollars in a time when most cities and states were facing huge cutbacks in education because of the national economic crisis.
The facts behind Duncan's Chicago years were largely ignored, just as the facts about St. HOPE and Kevin Johnson were ignored in the major corporate media.
The controversy over St. HOPE and Kevin Johnson died down shortly after the report reprinted below was published in November 2009. While the report was issued by conservative Republicans, the facts hold up, so it is important to publish the information again here.
Kevin Johnson, a former National Baseketball Association (Cleveland, Phoenix) star is currently mayor of Sacramento, California. The following report is followed by the most extensive news report about the Johnson scandals from the now-defunct New York Sun.
The Firing of the Inspector General for The Corporation for National and Community Service. Joint Staff Report, 111th Congress, Senate Finance Committee (Sen. Charles E. Grassley, Ranking Member), House Committee on Oversight and Government Reform (Rep. Darrell Issa, Ranking Member), November 20, 2009, http://republicans. oversight.house. gov/images/ stories/Reports/ 20091120Joint StaffReport.pdf
Executive Summary........
While candidate [Barack] Obama ran for the Democratic nomination and subsequently for President on a platform based in part on increased national and community service, CNCS Inspector General Gerald Walpin was overseeing an investigation of St. HOPE Academy, a charter school founded and operated by Kevin Johnson, a former NBA star and self-described friend of Barack Obama.
Based on evidence gathered by the Office of the Inspector General, Kevin Johnson was suspended from eligibility to receive federal grants on September 24, 2008.
The U.S. Attorney's Office for the Eastern District of California and the Corporation's leadership began working on a settlement that would reinstate Johnson's eligibility to receive federal funds. Acting U.S. Attorney Lawrence Brown excluded the Office of the Inspector General from settlement negotiations. Despite IG Walpin's repeated requests to participate in settlement negotiations, he was ignored, apparently because of his opposition to any settlement that would remove Johnson from the suspended parties list.
With Walpin shut out of the process, the settlement reinstated Johnson and St. HOPE Academy's eligibility to receive federal funds. The settlement also included a payment schedule by which the school, not Johnson, would repay half of the total grant amount. The settlement includes no meaningful guarantee that the United States will actually collect any payments from the cash-strapped school.
On May 20, 2009, Gerald Walpin appeared before the Corporation's Board of Directors to express his displeasure with the settlement negotiated by CNCS's General Counsel Frank Trinity and the U.S. Attorney's Office. Walpin also criticized the complacency of the Corporation's leadership under Acting CEO Nicola Goren.
During his presentation to the Board, Walpin explained his intention to issue a statement calling for an FBI investigation into the destruction of Kevin Johnson's e-mails while they were under subpoena as part of a federal investigation. This was the first the Board heard of e-mail destruction by St. HOPE personnel, leading members to ask Walpin for further explanation. Walpin then appeared confused and disoriented to some Board members while attempting to respond to their questions. There was concern among Board members that Walpin had experienced some sort of unspecified medical event.
Following Walpin's presentation at the May 20 Board meeting, Board Chairman Alan Solomont immediately contacted the White House Counsel's Office. Solomont, whose New England Obama fundraising committee raised more money per capita than any other region during the 2008 campaign, arrived at the White House on the afternoon of May 20 unannounced and shared concerns about Walpin's fitness to continue serving as IG with White House Counsel Gregory Craig. Craig directed Solomont to take his concerns to Special Counsel to the President for Ethics and Government Reform Norman Eisen.
Within hours of making remarks critical of the Corporation's leadership, the process by which Walpin would be removed from his post was in motion. Eisen's investigation of Solomont's concerns appears to have been limited to speaking only with Goren and Trinity, the very people Walpin criticized in his remarks at the May 20 Board meeting that precipitated Solomont's trip to the White House.
In the following weeks, no one from the White House contacted Walpin or anyone else from his office to confirm the accuracy of the information Solomont says led him to contact the White House Counsel. Nor did the White House contact each of the other Board members to obtain their recollection of events. On June 10, 2009 at approximately 5:20 p.m., Eisen informed Walpin by telephone that the President wished to remove him from his post as Inspector General and presented Walpin with a choice: resign or be terminated. Walpin would not resign, and so he was terminated within 45 minutes of the phone call.
Removing Gerald Walpin based solely on complaints from leadership of the Agency he was charged with overseeing undermines the IG Act, especially in the absence of any serious effort to obtain both sides of the story. The President is required by law to give 30-days notice to Congress before removing an IG and to explain the reasons for doing so. These requirements serve to protect the independence of IGs, whose relationship with agency management is necessarily adversarial at times. Moreover the legislation requiring prior notice to Congress was co-sponsored by then-Senator Barack Obama.
In response to concerns voiced by a bipartisan group of Senators and Congressmen, the White House first relied on a complaint filed by Acting U.S. Attorney Lawrence Brown to justify its action. Subsequently, the White House pointed to Walpin's behavior at the May 20 Board meeting to justify his removal. Finally, Norman Eisen urged House and Senate investigators to conduct their own inquiry into Walpin's fitness for the IG post. Eisen assured staff their own investigation would confirm that the President acted prudently and with the full consultation and consent of the Board.
Congress's investigation revealed Eisen's inquiry was limited to such an extent that it appears the President removed Gerald Walpin based on incomplete and misleading information. Eisen relied entirely on information provided by Solomont and Walpin's chief adversaries Nicola Goren and Frank Trinity. In many cases, their concerns about Walpin's fitness to serve as IG lacked merit. Often, their concerns amounted to complaints that Walpin was difficult to work with. Because Eisen apparently did no further investigation and engaged in no genuine consultation with Congress, the White House failed to implement the IG Act as intended.
Eisen's failure to thoroughly and authentically investigate the basis of the
complaints about Gerald Walpin and the White House's refusal to provide details about
its inquiry fueled speculation that Walpin was removed for pursuing a political ally of the
President. A request for intervention from a Member of Congress and the involvement of
the First Lady in the Corporation's management further complicated the effort to
determine the basis for the President's action.
Eisen admitted to Congressional investigators that before the President removed
Gerald Walpin, he was sensitive to the possibility that Walpin's firing would appear to
have been politically motivated. He claimed that (1) the firing was an act of "political
courage" because the White House expected that perception, (2) the firing was necessary
because Walpin was incapable of being aggressive enough, and (3) the firing was
intended to send a message to the IG community that the Administration wanted more
aggressive watch dogs, rather than passive lap dogs.
Eisen's claims are not credible. Despite his stated concern that the dismissal
would look political, he took no steps to consult with or even notify Congress prior to
giving Walpin an ultimatum. The White House's loose interpretation of the requirements
of the IG Act and failure to use a transparent process to effectuate Walpin's removal
deprived the President of an opportunity to explain his action in an appropriate way. The
fallout from the sloppy handling of complaints from the Corporation's management is
likely to have a chilling effect on the IG community, which must now operate more
cautiously in light of the Administration's swift response to criticisms of agency
leadership and allies of the President without affording any due process to the Inspector
General.
II. Findings
The President's plans to increase the size and scope of AmeriCorps make it clear
that CNCS and its mission are important to the White House.
Kevin Johnson often described himself as a personal friend of the President and
First Lady. According to Johnson, "I'm friendly with Barack."
The decision by the Corporation's Suspension and Debarment Official to suspend
St. HOPE Academy and former Chief Executive Kevin Johnson was based on
sufficient evidence gathered by the Office of the Inspector General ("OIG"). The
decision to suspend protected the Corporation from further misappropriation of
funds while OIG and the Justice Department completed their respective
investigations.
Because the U.S. Attorney's Office was not open to a settlement that did not
remove Kevin Johnson from the list of suspended parties, Acting U.S. Attorney
Lawrence Brown and CNCS General Counsel Frank Trinity cut Gerald Walpin
out of settlement negotiations.
Faced with mounting political pressure, the U.S. Attorney's Office and the
Corporation's General Counsel set aside the financial interests of the United
States in favor of a politically palatable settlement. Because the settlement
reached collects payment from St. HOPE and not Johnson, and because of the
school's precarious financial condition, there is no assurance the United States
will ever be repaid.
In a complaint to the Integrity Council of the Council of Inspectors General on
Integrity and Efficiency ("CIGIE"), Brown alleged Walpin's interaction with
Sacramento media was inappropriate. Brown also alleged Walpin failed to
disclose exculpatory evidence. Documents and testimony obtained by
congressional investigators do not support the substance of Brown's complaint.
At a May 20, 2009 CNCS Board meeting, Gerald Walpin complained about the
settlement of the St. HOPE matter to the Corporation's Board. Walpin also stated
his intention to call for an FBI investigation into destruction of evidence under
subpoena in a federal investigation by St. HOPE personnel. When asked to
clarify this statement, Walpin suddenly appeared confused and disoriented to
CNCS Board members and staff. However, the OIG's Deputy said he merely
appeared to have lost his place in his notes. The IG went home early later that
day due to a strong headache and upset stomach.
Immediately following the May 20, 2009 Board meeting, Chairman Alan
Solomont arrived unannounced at the White House to complain about Gerald
Walpin. Solomont is a powerful Democratic fundraiser. Under Solomont, the
New England Obama committee raised more money per capita than any other
region. Whether an Agency head without fundraising background would have
had such unfettered access to the White House Counsel is unknown, but
Solomont's history creates the appearance that political considerations may have
played a role in the process that led to Walpin's removal from office.
On May 20, 2009, Solomont met with White House Counsel Gregory Craig.
Craig assured Solomont the matter would be reviewed by his office and referred
him to Special Counsel to the President Norman Eisen. At the time, Eisen was
not in his office. As Solomont was leaving the White House on his way through
the parking lot, he ran into Eisen. There, he initially made his case for the
removal of Gerald Walpin.
In an effort to comply with the requirements of the IG Act, the White House sent
a letter to House and Senate leadership on the evening of June 11, 2009 stating
that Walpin would be removed in 30 days. The White House's letter did not
comply with the notice and reason requirements of the Inspector General Act.
Rather, Walpin received an ultimatum on June 10, 2009 and communicated that
ultimatum to members of Congress himself beginning the evening of June 10,
2009.
According to Norman Eisen, his inquiry into the allegations against Gerald
Walpin involved speaking with members of the CNCS Board to confirm that a
consensus existed. In fact, the White House's "investigation" appears to have
consisted entirely of conversations with Board Chairman Alan Solomont and
CNCS Acting CEO Nicola Goren and General Counsel Frank Trinity. In some
cases, Eisen's statements during briefings to Congress are explicitly contradicted
by witness testimony.
Conclusion
The IG Reform Act was passed due to Congress's concerns about improper
political motivation, or the appearance thereof, in the IG removal process. The White
House's failure to strictly adhere to the Act's requirements put the concerns of Congress
on full display.
In lieu of meeting the requirements of the IG Act, the White House relied on a
haphazard process set in motion just hours after Gerald Walpin made remarks critical of
the Corporation's Board and management. In response to complaints from a prominent
fundraiser with disproportionate access to the White House, Norman Eisen conducted an
inadequate investigation that gathered only one side of the story. Instead of engaging in a
thorough and deliberate examination of Walpin's fitness for the job at a time when the
Administration planned an unprecedented expansion of the Corporation's programs,
Eisen opted to rely on information provided by individuals with adversarial relationships
with the IG. Notably, Eisen's investigation did not include conversations with anyone
from the Office of the Inspector General, including Walpin himself. Eisen did not afford
Walpin an opportunity to be heard. In other words Walpin was given no due process.
Eisen's failure to conduct an actual investigation deprived the President the
opportunity to faithfully adhere to the IG Act. Essentially, the IG Reform Act requires
transparency — the President must give advance notice to Congress before removing an
IG and explain the reasons for that action. Because the White House failed to comply
with the requirements of the IG Act in its initial letter to Congress, and because there
were no findings from a thorough investigation to fall back on in response to
congressional inquiries, the White House Counsel's Office orchestrated an after-the-fact
smear campaign to justify the President's action. That approach ultimately led to a
controversial public relations battle in the media and a federal lawsuit by the former
Inspector General.397 The result is decreased public confidence in the integrity of CNCS
programs and the non-partisan, non-political mission of its Office of Inspector General.
Because Norman Eisen's investigation was incomplete and the White House has
withheld hundreds of pages of documents from Congress, the claim that Gerald Walpin
was removed for legitimate, non-political reasons is unsupported and unpersuasive.
There is simply insufficient evidence to conclusively reject the notion that the removal
may have been motivated by a desire to exert greater control over the Corporation
without interference from an aggressive, independent IG.
The President's action leaves three top positions at CNCS — Chief Executive
Officer, Chief Financial Officer and Inspector General — vacant or filled temporarily, at
a time when the Corporation is charged with growing to manage 250,000 volunteers
while the annual budget rises from $1.19 billion to $6 billion.399
Congress has heard testimony from the IG community acknowledging the difficulties faced by temporary Inspectors General. "It is difficult for any [temporary IG] to take an unpopular stand or make a critical policy decision," said Pension Benefit Guaranty Corporation IG Rebecca Anne Batts to Congress in March 2009.400 This reality will cripple any effective oversight of CNCS as the President rapidly implements an ambitious expansion of its programs and funding.
The following article appeared in The New York Sun
Ex-NBA Star Who Opened Schools in Imbroglio By JOSH GERSTEIN, Staff Reporter of the Sun | September 26, 2008
A former professional basketball player who helped start a charter school in Harlem this year, Kevin Johnson, is on a swing through New York to raise funds for his bid for mayor of Sacramento, Calif., just as his campaign is being rocked by word that he has been barred from doing business with the federal government.
The agency that runs the AmeriCorps program, the Corporation for National & Community Service, announced yesterday that Mr. Johnson, a Sacramento community group he founded, St. Hope Academy, and a former head of the group's neighborhood corps, Dana Gonzalez, were suspended from participating in federal contracts or grants pending the outcome of an ongoing investigation into the improper use of federal grant money.
The agency's inspector general, Gerald Walpin, said in a statement that his initial report "cited numerous potential criminal and grant violations, including diversion of federal grant funds, misuse of AmeriCorps members and false claims made against a taxpayer-supported Federal agency." According to government documents, investigators found that AmeriCorps members drove Mr. Johnson to personal appointments, washed his car, and did personal errands. Also, they said the federally sponsored corps members were used to staff a store St. Hope Academy ran and to perform "routine clerical and cleaning activities outside the scope of the grant."
Mr. Johnson declined to comment about the imbroglio during a $1,000-a-ticket fund-raiser for his campaign last night at an apartment on East 64th Street. Asked if the flap would affect his run for Sacramento mayor, he said, "No."
Mr. Johnson's campaign manager, Steven Maviglio, stressed that the candidate has been cooperating with the federal inquiry. "We're confident in the outcome," Mr. Maviglio said.
Ventura Rodriguez, the principal of the St. Hope Leadership Academy, which opened on West 134th Street last month, said the federal action would not have an impact on the new school. "None whatsoever," he said. "St. Hope Academy is a completely separate board of trustees and financially separate from St. Hope Leadership Academy. ... All the funding is from New York State. There's no money from the federal government or from St. Hope."
Still, it's clear Mr. Johnson played a key role in getting the Harlem school off the ground. Press releases from St. Hope in Sacramento claimed credit for and touted the approval of the New York school. In addition, Mr. Johnson was the featured speaker at the school's opening last month.
"Obviously, there's a connection," Mr. Rodriguez said
An official with the city's education department, who asked not to be named, said the agency was monitoring the situation but that state law requires groups that run New York charter schools to be freestanding entities.
One of the specific abuses found in the federal investigation involved taking AmeriCorps members on a trip to New York in 2006 to recruit students for the new Harlem school.
According to federal records, St. Hope Academy received about $800,000 in federal funds between 2004 and 2007 for tutoring and community programs in Sacramento. "When you instead take the AmeriCorps members to New York for a purpose not within the grant, you are misusing the members and diverting the funds from the purposes intended," Mr. Galpin, the inspector general, told The New York Sun yesterday.
Mr. Galpin denied, when asked, that the probe or the timing of the suspension had anything to do with Mr. Johnson's mayoral bid. "Any local political activity is totally irrelevant to the performance of my office's obligation to protect taxpayers," the investigator said.
At the Harlem school's opening last month, Ms. Gonzalez, who was also personally barred from contracts this week, identified herself to a Sun reporter as a member of the board of the new school. She could not be reached for comment yesterday. The new executive director of the St. Hope Academy, Rick Maya, said she left her job as the new school developer for the Sacramento group on August 1.
Despite claims that St. Hope Academy has no legal connection to the Harlem school, the California group registered in October 2007 with the New York Department of State as a out-of-state entity doing business in New York. Mr. Maya said he could not explain the registration.
A spokeswoman for the U.S. Attorney's Office in Sacramento, Lauren Horwood, confirmed that her office is mulling a report from Mr. Galpin. "We received the report in August. Our office is still reviewing it," she said. She said she could not predict how long the review would take.
Mr. Johnson, 42, a former point guard for the Cleveland Cavaliers and the Phoenix Suns, is considered a pioneer in the charter school movement. He founded St. Hope as an after-school program in 1989. Beginning in 2003, he opened six such charter schools in his native Sacramento. He stepped down as the president and CEO of St. Hope in March.
"We like him because he's got the potential to bring a lot of energy and excitement to the issue of education," an organizer of last night's fund-raiser, Joseph Williams of Democrats for Education Reform, said. "Here's a guy who went off to the NBA and could have gone on to do anything else and instead went back to his community and identified education as an important part of rebuilding his community."
Mr. Williams cast Mr. Johnson as in the same mold as Mayor Cory Booker of Newark and Mayor Adrian Fenty of Washington, both of whom have stressed improving schools. "We're very interested in the movement nationally towards mayors grabbing the mantle of education reform," Mr. Williams said.
Mr. Johnson is challenging Mayor Heather Fargo in November. Both are Democrats. Ms. Fargo backed Senator Clinton in the primary, while Mr. Johnson backed Senator Obama. Last night's event doubled as a fund-raiser for Mr. Obama and featured an education adviser to the Democratic presidential nominee, Jonathan Schnur.
Mr. Johnson is still garnering support from his former colleagues in the NBA. Suns center Shaquille O'Neal is scheduled to speak today at a lunchtime fund-raiser in Sacramento for Mr. Johnson's campaign and at a dinner gala for St. Hope Academy.
A Washington lawyer who specializes in federal contracting, Frederic Levy, said Mr. Johnson's suspension could complicate the city's effort to win grants if he becomes mayor and the bar remains in place. Mr. Levy said grant applicants are required to certify that no "principal" is barred or suspended, or to explain why they cannot do so. "That might be a basis for denying those monies," the lawyer said, though he added that agencies have flexibility in enforcing the ban.