Alderman protests snub, 'deseg' plan.. Pat Dowell to the Board of Education
George N. Schmidt - December 18, 2009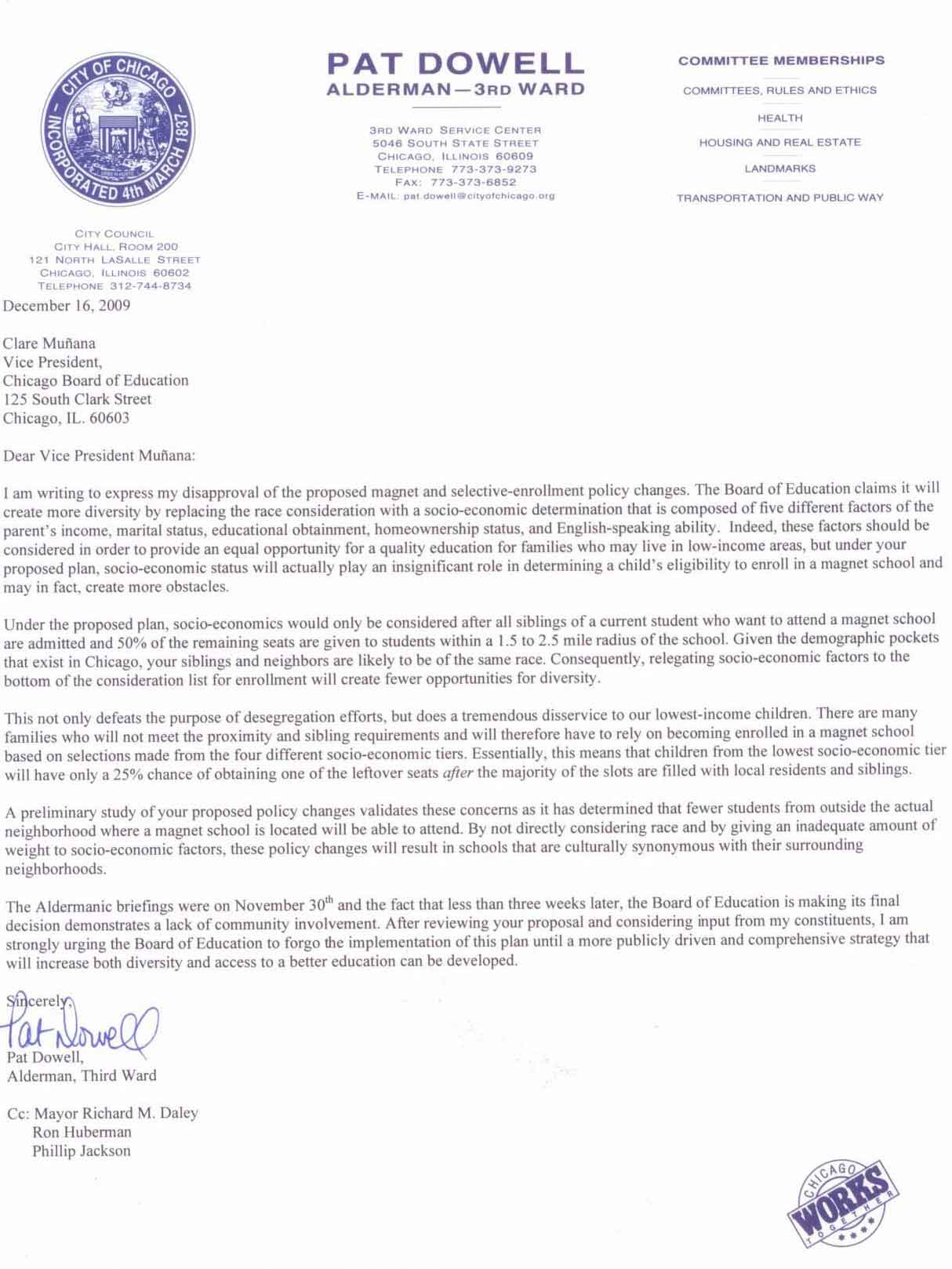 The letter above was presented to the members of the Chicago Board of Education at its December 16 meeting.While much of the time at the December 16, 2009, meeting of the Chicago Board of Education was taken up with discussion of the successor to the public schools' desegregation plan, one key voice in opposition to the plan was almost ignored. Prior to the meeting, an aide to Alderman Pat Dowell was relegated to the "holding room" on the 15th floor, rather than the meeting room on the fifth floor. When he finally got to speak, Robert Elchert read a letter from the alderman outlining her objections to the proposed plan.
One hour later, Rob Huberman outlined the plan for the Board members present, and a short time after that they voted to approve it, ignoring the aldermanic reservations.
The letter read as follows:
December 16, 2009
Clare Muñana
Vice President,
Chicago Board of Education
125 South Clark Street
Chicago, IL. 60603
Dear Vice President Muñana:
I am writing to express my disapproval of the proposed magnet and selective-enrollment policy changes. The Board of Education claims it will create more diversity by replacing the race consideration with a socio-economic determination that is composed of five different factors of the parent's income, marital status, educational obtainment, homeownership status, and English-speaking ability. Indeed, these factors should be considered in order to provide an equal opportunity for a quality education for families who may live in low-income areas, but under your proposed plan, socio-economic status will actually play an insignificant role in determining a child's eligibility to enroll in a magnet school and may in fact, create more obstacles.
Under the proposed plan, socio-economics would only be considered after all siblings of a current student who want to attend a magnet school are admitted and 50% of the remaining seats are given to students within a 1.5 to 2.5 mile radius of the school. Given the demographic pockets that exist in Chicago, your siblings and neighbors are likely to be of the same race. Consequently, relegating socio-economic factors to the bottom of the consideration list for enrollment will create fewer opportunities for diversity.
This not only defeats the purpose of desegregation efforts, but does a tremendous disservice to our lowest-income children. There are many families who will not meet the proximity and sibling requirements and will therefore have to rely on becoming enrolled in a magnet school based on selections made from the four different socio-economic tiers. Essentially, this means that children from the lowest socio-economic tier will have only a 25% chance of obtaining one of the leftover seats after the majority of the slots are filled with local residents and siblings.
A preliminary study of your proposed policy changes validates these concerns as it has determined that fewer students from outside the actual neighborhood where a magnet school is located will be able to attend. By not directly considering race and by giving an inadequate amount of weight to socio-economic factors, these policy changes will result in schools that are culturally synonymous with their surrounding neighborhoods.
The Aldermanic briefings were on November 30th and the fact that less than three weeks later, the Board of Education is making its final decision demonstrates a lack of community involvement. After reviewing your proposal and considering input from my constituents, I am strongly urging the Board of Education to forgo the implementation of this plan until a more publicly driven and comprehensive strategy that will increase both diversity and access to a better education can be developed.
Sincerely,
Pat Dowell,
Alderman, Third Ward
Cc: Mayor Richard M. Daley
Ron Huberman
Phillip Jackson