PURE challenges 'Race to the Top' demands from 'Advance Illinois'... A test crazed system would get more and more tests — all the way down to kindergarten!
George N. Schmidt - December 10, 2009
PURE (Parents United for Responsible Education) issued an immediate response to a recent report from the corporate school reform group called 'Advance Illinois,' challenging the Advance Illinois claim that Illinois should move immediately to change a number of laws so that Illinois can qualify for federal 'Race to the Top' funds.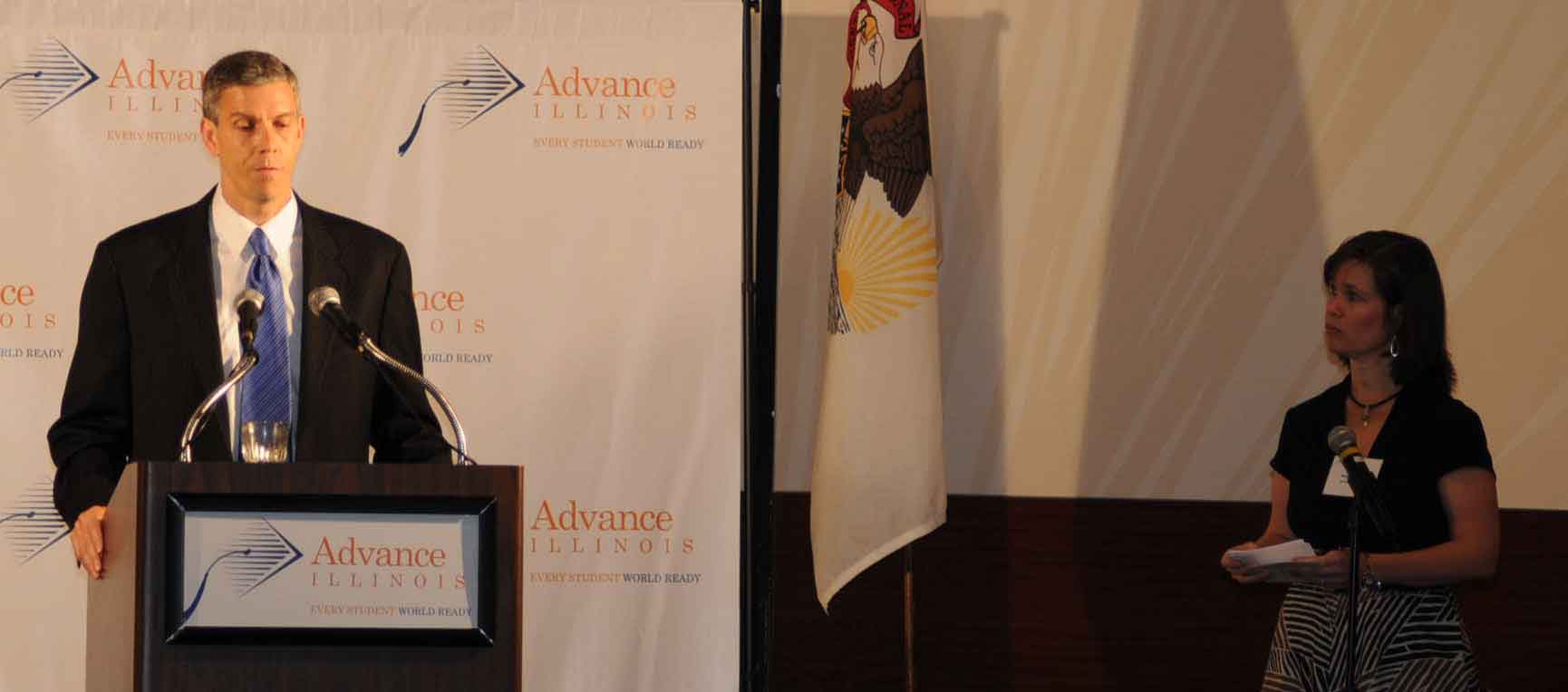 Advance Illinois chief Robin Steans (above right) asked prepared questions of U.S. Secretary of Education Arne Duncan during the Advance illinois breakfast on June 19, 2009. From its inception with the support of some of the wealthiest individuals and corporations in Illinois, Advance Illinois has been cooperating with the ideologues in Duncan's new office to promote privatization, charter schools, and other attacks on public schools, public school teachers, and unions. The handling of the "questions" posed to Duncan at the June 19 breakfast was an example of what was to come during Duncan's national tour. On June 19, Duncan announced, supposedly with some surprise, that he was about to embark on a "bipartisan" tour to promote his policies with Newt Gingrich and Al Sharpton. The tour, which took place during October and November 2009, was carefully scripted to promote the policies of the Obama administration's "Race to the Top" continuation of "No Child Left Behind." While the majority of teachers and parents were threatened with arrest for wanting to attend events such as the June 19 Advance Illinois breakfast, Duncan's handlers and allies, such as Steans, made sure that the "audience questions" he received allowed him to repeat his pre-planned talking points. Substance photo by George N. Schmidt.According to the statement issued by PURE on December 10, 2009:
From: "Parents United for Responsible Education" For Immediate Release
December 10, 2009
PURE response to Advance Illinois Report "Yes We Can"
Parents are not willing to risk our children's education for $200.
Advance Illinois and others who decry our public schools are dangling $400 million as bait, hoping that the public will ignore the consequences to children and rush into compliance with all aspects of Arne Duncan's Race to the Top program. With 2 million children in Illinois elementary and high schools, that works out to about $200 per child, at best.
Advance Illinois's report urgently demands that Illinois move quickly to pass a number of new laws to increase the state's chances of winning RTTT funds.
Here's what's at stake. If we do what Advance Illinois tells us, we will radically increase reliance on and use of standardized tests, which already have a stranglehold on education. Advance Illinois wants more tests and more testing, including kindergarten readiness tests, statewide end-of-course exams for all high school classes, on-line tests, and mandated interim practice tests for the annual state tests. They want us to use tests to help determine teachers' and principals' salaries. They want to use elementary and high school student test scores to evaluate college and university education programs.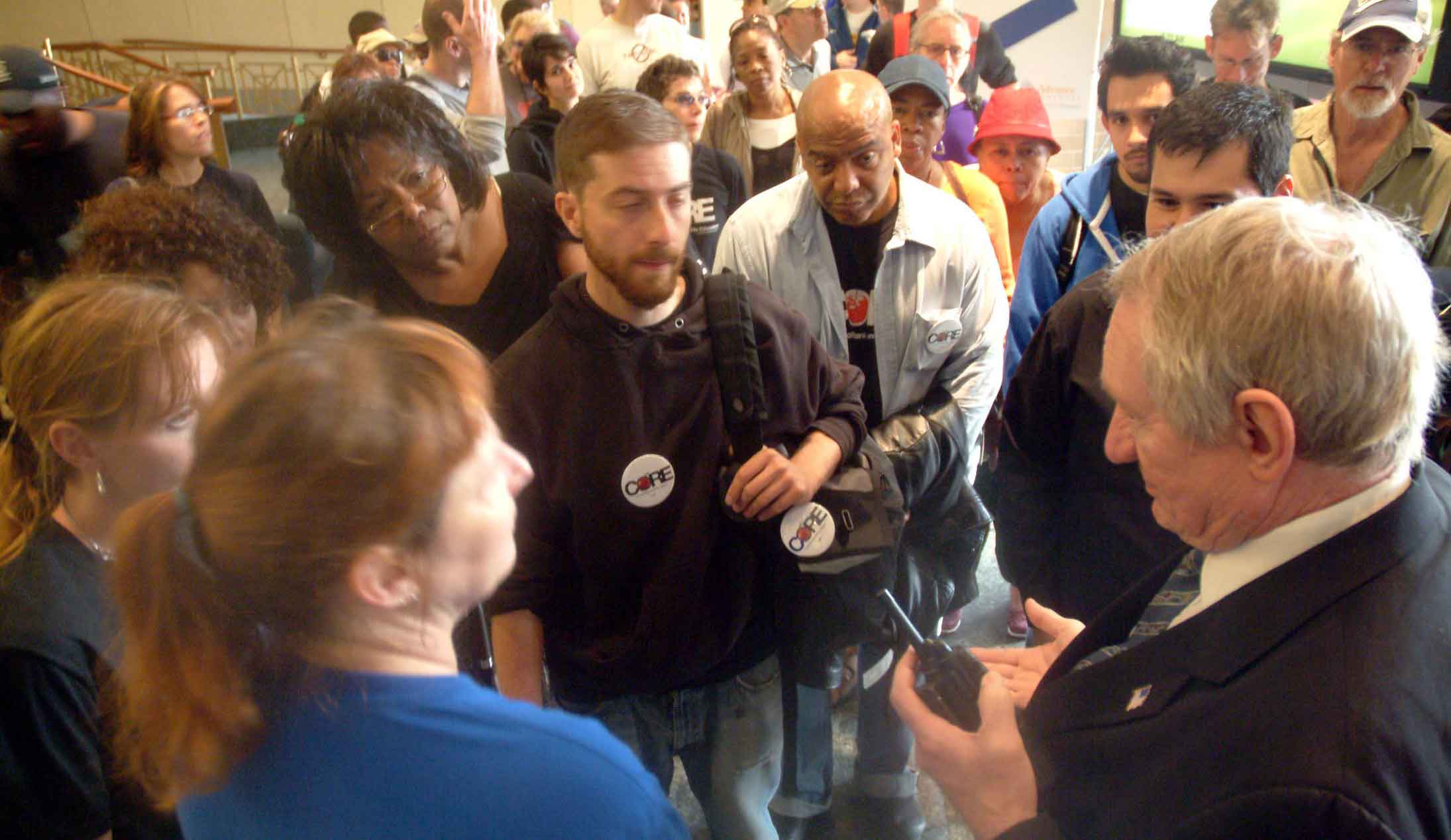 While Advance Illinois was hosting Arne Duncan at a breakfast inside the Hyatt Hotel in Chicago on June 19, 2009, hotel security on orders from Advance Illinois were keeping protesting teachers out of the breakfast and as far away as possible from Arne Duncan. Above, Jackson Potter (CORE) is told that he will be arrested if he tries to enter the Hyatt Hotel while Duncan was taking questions from Robin Steans downstairs. The teachers who had protested outside the hotel decided not to get arrested, but their efforts to ask real questions of Arne Duncan were thwarted by the wealthy people who controlled Advance Illinois. Substance photo by Garth Liebhaber.If we do what Advance Illinois tells us, we will have hundreds more charter schools, despite the research showing that the charter schools now operating in Illinois are not serving students as well as traditional neighborhood schools. Advance Illinois thinks we should have more school turnarounds like those done under Chicago's Renaissance 2010, even though the research shows that those schools, too, are less successful than the neighborhood schools they are replacing.
Advance Illinois wants us to radically, fundamentally change the system of education in Illinois to comply with program requirements that have no track record of improving schools, and many of which have been shown to be harmful to students and their education, and to have undermined or destroyed neighborhood schools.
If we are just trying to raise some cash in a hurry, why not expand casinos, racing, and the lottery? Then anyone who feels the need to gamble can do so with their own lives and not those of our schoolchildren.
Julie Woestehoff. Executive Director, Parents United for Responsible Education (PURE), Chicago, IL 312-491-9101 