Schools that didn't vote in the November 20 CTU referendum total more than 80 if CTU Web site is credible
John Kugler - December 02, 2009
A preliminary review of the PDF files showing the alleged vote totals for the November 20 referenda conducted by the Chicago Teachers Union shows the largest number of schools not voting in memory. According to CTU, 21 high schools and 63 elementary schools did not vote. As of the end of the day on December 1, 2009, CTU had no explanation for the missing votes. But several schools whose votes were not listed have reported that they did vote. What happened?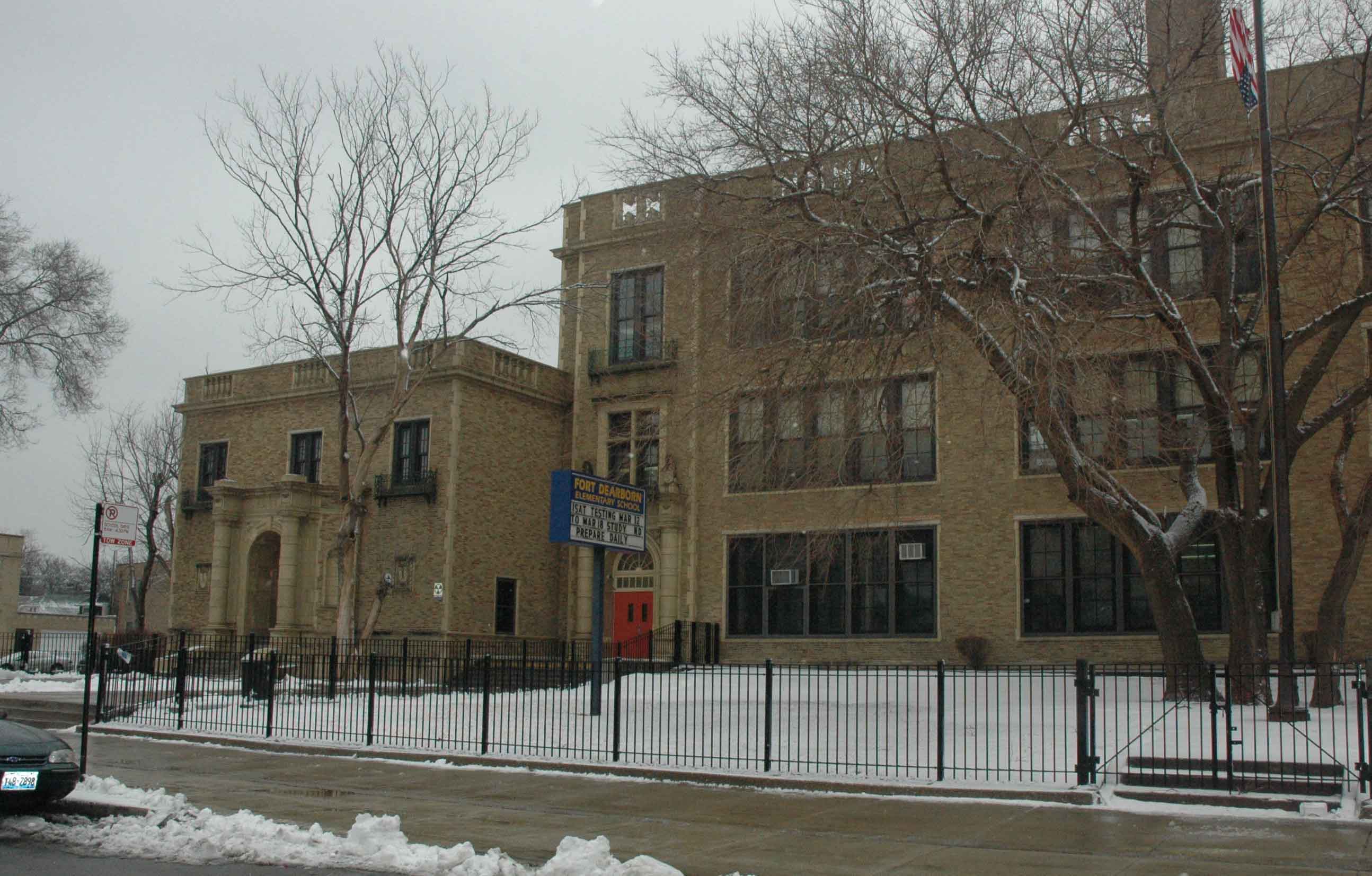 Fort Dearborn Elementary School (above, in a February 2007 photo) at 9025 S. Throop St., was one of 63 Chicago elementary schools, branches and Child Parent Centers (CPCs) for which no votes were reported in the November 20, 2009, CTU referenda. The upside down American flag in the above photograph was never explained. Substance photo by George N. Schmidt.Do you wonder what the vote count will be when we find the missing votes from 21 high schools are included? Here is the list of the missing high schools:
Air Force Academy High School
Austin Polytechnical
Big Picture HS (Back of Yards)
Chicago Voc. Achievement Academy
Clark, Michelle Magnet High School
Collins Academy High School
DuSable Campus
Englewood Achievement Academy
Englewood High School (Team Englewood)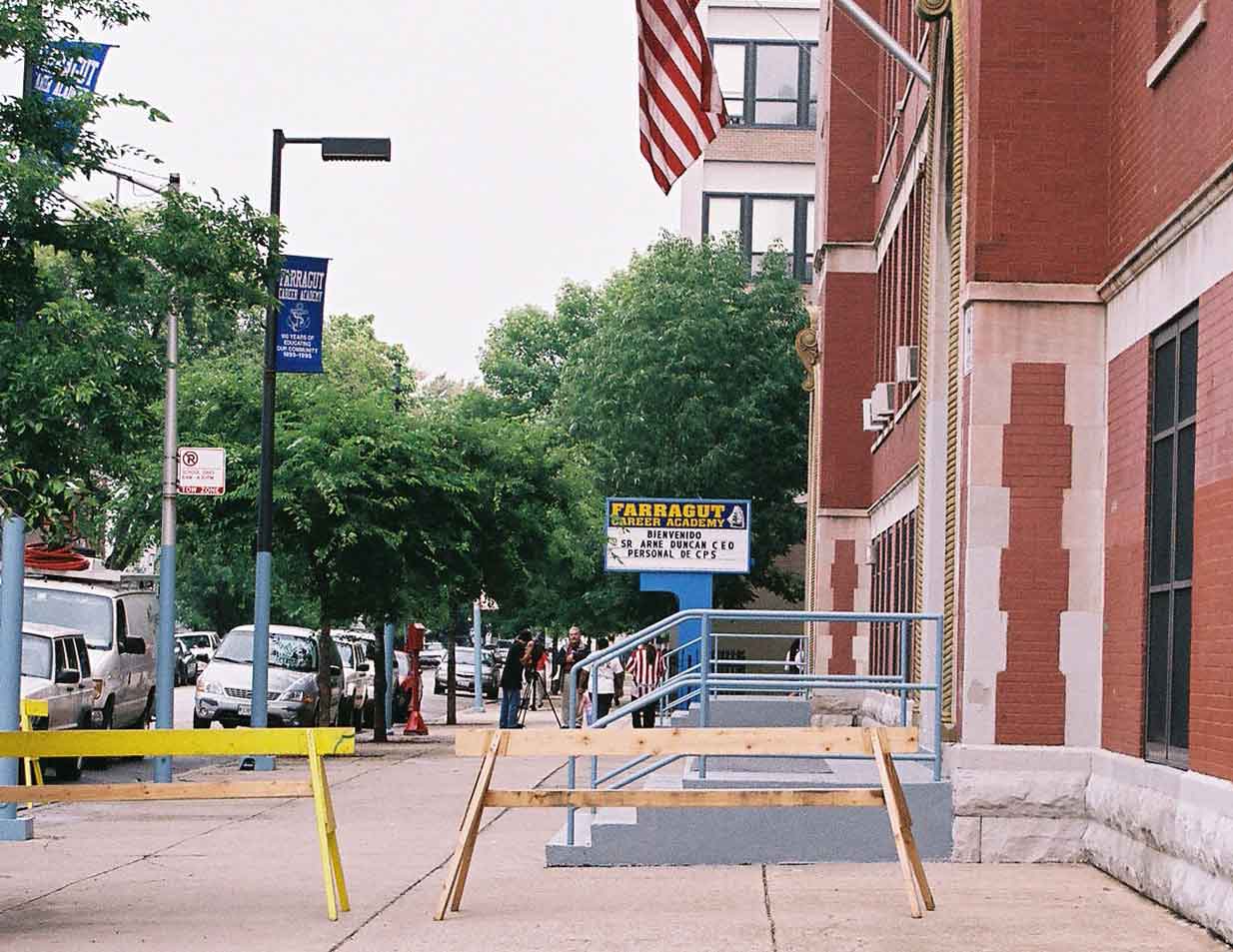 Where were the votes on November 20 from Farragut Career Academy High School (above), one of the largest high schools in Chicago? Since the Chicago Teachers Union Web site contains no information about the members of the union's Rules-Elections Committee, there is no one to ask. Since Marilyn Stewart purged the union's committees as part of her consolidation of power beginning in 2004, the union's Web site has specialized in promoting Stewart's cult of personality, denigrating any opposition, and ignoring most of the union's members and the union's history. With one hundredth the budget of the Chicago Union Teacher, Substance Web site contains more information about recent union history than www.ctunet.com, which has even refused to PDF back issues of the Chicago Union Teacher (so as to black out the years when Deborah Lynch was CTU President). As a growing number of critics are now noting in December 2009, the centralization of power in one set of hands at CTU has been the overall problem, with the recent election debacle just one symptom of the problem. Substance photo by George N. Schmidt. Farragut Career Academy High School
Hancock High School
DOC Healy North
DOC Healy So Altr High School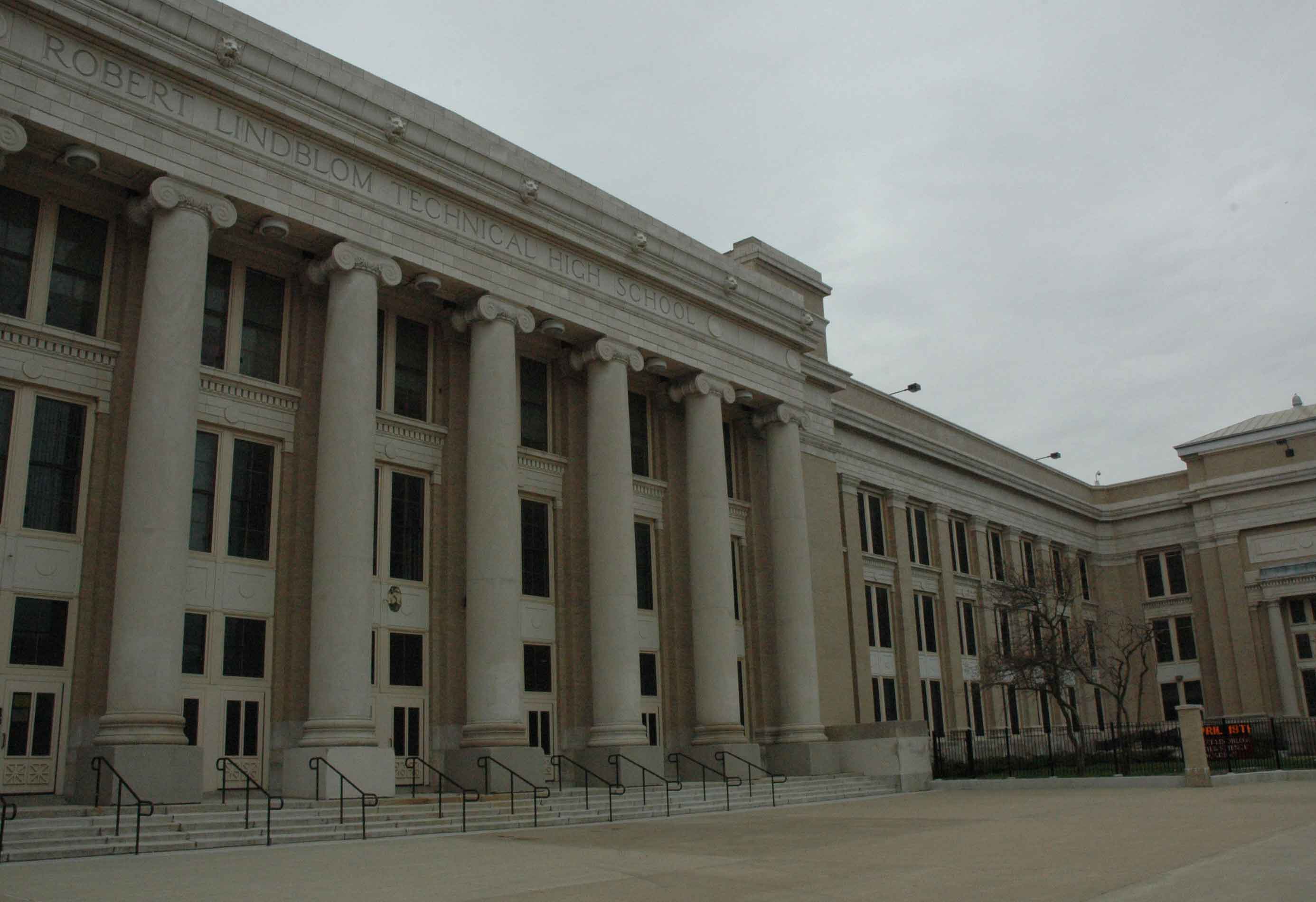 Another large high school which decided not to vote on November 20, if CTU records are to be believed, is Lindblom (now "Lindblom Math and Science Academy, although the sign over the main entrance will always point out to the public that Lindblom was always the Lane Tech of the South Side, despite recent claims that it is a "Renaissance 2010" school). Substance photo by George N.
Schmidt.Lindblom Math & Science Academy
New Orr Academy High School
Rickover Naval Academy (Senn)
Robeson High School
School of Tech (So.Sh.H.S)
School of the Arts (So.Sh.HS)
TEAM Englewood
VOISE Academy H.S.
A total of 63 elementary schools were not included in the vote totals reported on the CTU Web site.
Agassiz Elem School
Anthony Elem School
Bethune Elem School
Bouchet Middle School
Bradwell Elem School
Brown, W. Elem School
Burnham Elem School
Canter Middle School
Cockrell C.P.C./Ross
Coles Elem School
Copernicus Elem School
Cregier Multiplex
Davis Development Ctr
Decatur Classical School
Dickens C P C/King Elem
Disney Comm. Arts Ctr.
Disney II
Doolittle East Elem School
Earhart Elem School
Emmet Elem School
Evergreen Academy
Ferguson C P C/Manierre
Fort Dearborn Elem School
Foundations Elem Sch (Cregier)
Fuller Elem School
Fulton Elem School
Gillespie Elem School
Grissom Elem School
Hamline Br. Early Chld. Ctr.
Hansberry C P C/Webster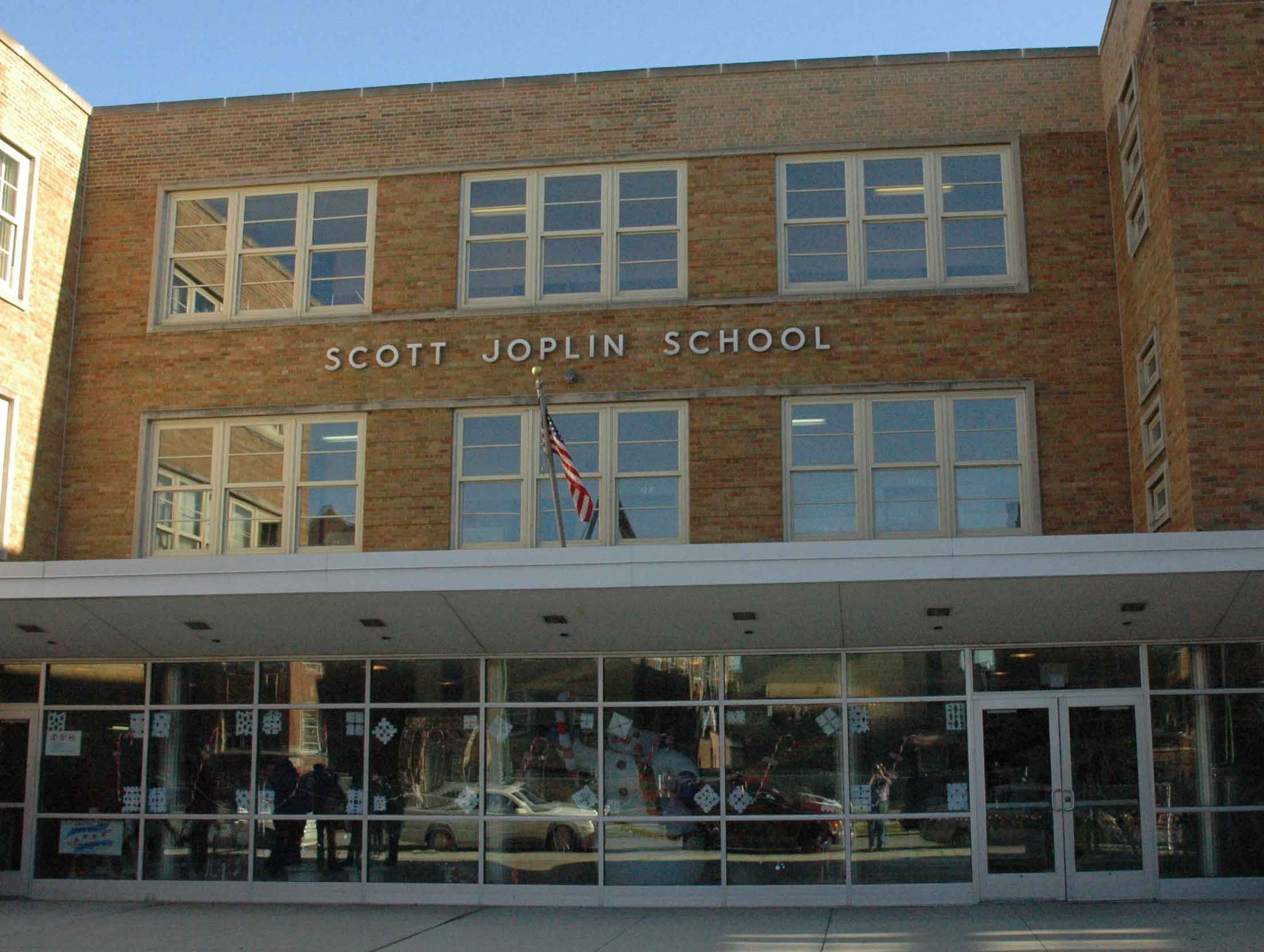 Scott Joplin Elementary School (above, at 7931 S. Honore) is one of more than 60 elementary schools, many of them with very large union staffs, which supposedly didn't vote in the November 20 CTU referenda. Substance photo by George N. Schmidt.Joplin Elem School
Joyner C P C/Smyth, J.
Kellman Corporate Comm. School
Mann Elem School
May Community Academy
Mays Academy
McCorkle Elem School
McNair Academic Ctr.
Melody Elem School
Metcalfe Magnet School
Miller C P C/Jensen
Mt. Vernon Elem School
Nia Middle School (Cregier)
Nicholson Elem School
North River Elem. School
Olive C.P.C./Henson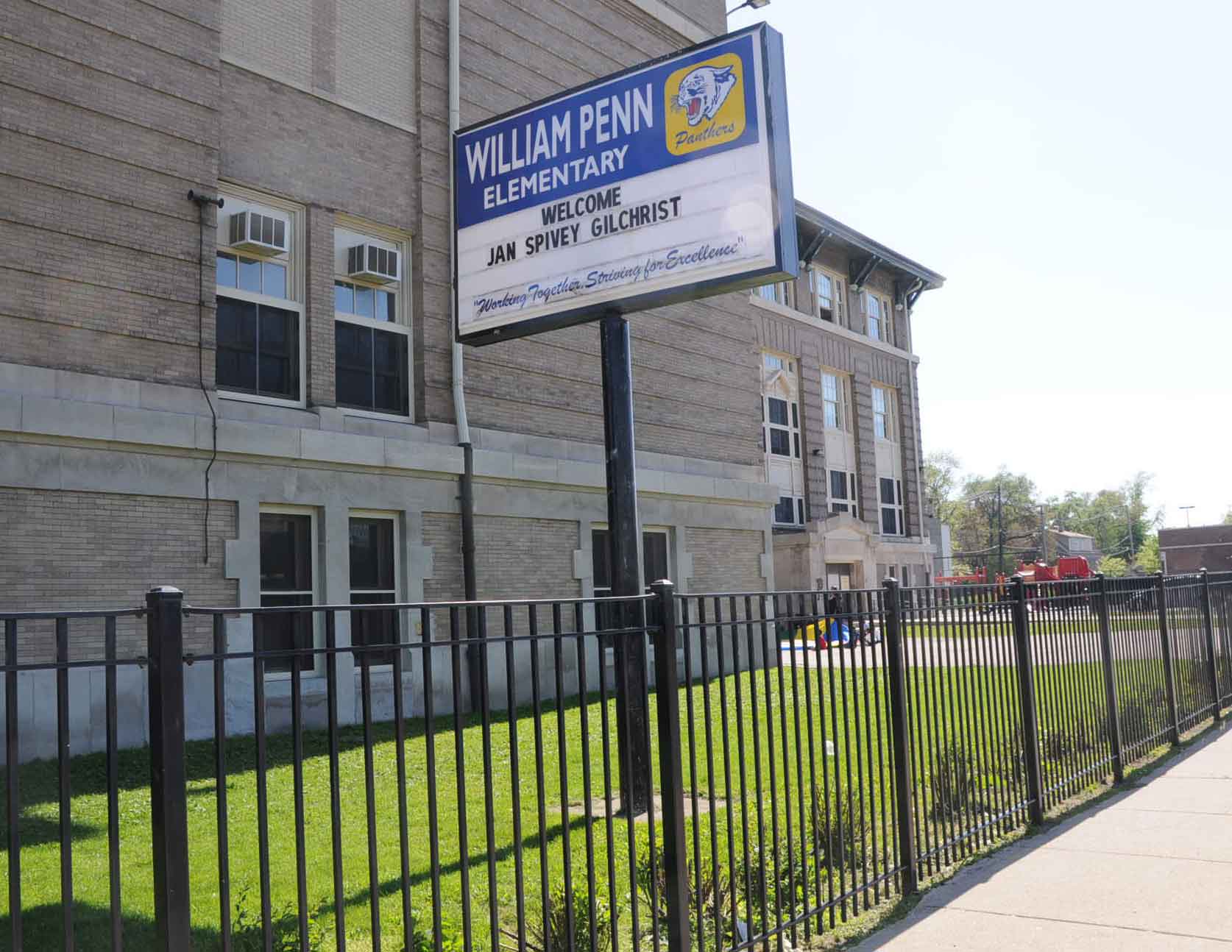 One of the schools that built the Chicago Teachers Union over the past 50 years and helped lead every strike during the union's most militant days, Penn Elementary School (at 1616 S. Avers) didn't bother to vote in the November 20, 2009 referenda, if information published on November 30 on the CTU Web site is accurate. Substance photo by George N. Schmidt.Penn Elem School
Powell Elem. Branch School
Reavis Elem School
Rosenwald Elem Branch of Carroll Elementary
Ryerson Elem School
Sabin Magnet School
Salazar Blng Ed Ctr
Schneider Elem School
Shoesmith Elem School
Smyser Elem School
South Shore Sch. of Fine Arts
Suder Campus Montessori
Talman Comm. Elem. School
Till Primary/I&U School
West Pullman Elem School
Williams Middle School
Yale Elem School 