Broy, Chico and King... Charter and privatization cheats to be at City Club November 18 to try and resuscitate the dying claims of corporate 'school reform', Chicago-style...
George N. Schmidt - November 05, 2015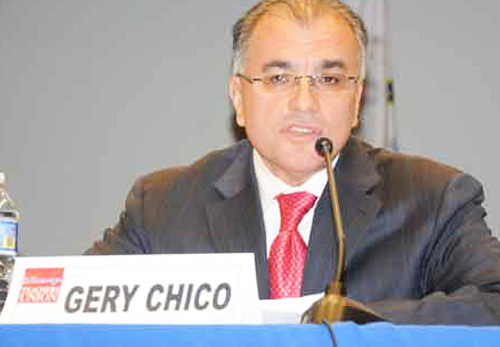 Gery Chico was President of the "Chicago School Reform Board of Trustees" from 1995 through 2000. After he recovered from the disgraceful destruction of his law practice, he tried to run for Mayor of Chicago, as is seen in his above appearance before a forum at the Chicago Teachers Union in late 2010. Chico's leadership at the so-called "School Reform Board of Trustees" included a great deal of union busting, lording over the fact that the Chicago Teachers Union could not strike for the first two years of corporate "reform." Substance photo by George N. Schmidt. The year 2015 is a dubious anniversary for the public schools of the USA. Twenty years ago, corporate reform launched its frontal attack on the city's public schools with the passage of the Amendatory Act (amendments to the Chicago School Reform Act of 1988). The Amendatory Act was an attack on the unions that at the time had the most power in Chicago's schools, the Chicago Teachers Union (Local 1 of the American Federation of Teachers) and the Cook County College Teachers Union (Local 1600 of the American Federation of Teachers). Passed by the Illinois General Assembly and signed into law by then Governor Jim Edgar, the Amendatory Act only became law because of the fact that a handful of Chicago Democrats, led by Richard M. Daley, joined with the Republicans to launch the "mayoral control model of school reform."
The claim at the time was that a "business model" would improve the public schools. And so, the "business leaders" appointed by Mayor Richard M. Daley to head the Chicago Public Schools were two political hacks, the mayor's Chief of Staff, Gery Chico, and the mayor's budget chief, Paul G. Vallas. For four or five years, Chico and Vallas lorded over the city's public schools, launching privatization schemes and gutting the most effective union contract in the USA. While opportunistic union leaders (first Tom Reece, then Marily Stewart, interrupted by Debbie Lynch) supported Chico and Vallas, the rights of teachers and other school workers were taken away, while privatization, including the expansion of charter schools, began.
Even the President of the United States, Bill Clinton, praised Chicago's corporate school reform, in two State of the Union messages. But by the year 2000, Clinton had been warned that most of Chicago's claims were false, despite their being repeated, as "news" regularly in Chicago's two remaining daily newspapers.
Three of the biggest names in corporate school reform are going to try and spread a false narrative at the Chicago City Club on November 18, 2015. According to a City Club announcement, published November 5, Gery Chico, Andrew Broy, and Tim King will be at the City Club to discuss "School Performance in Chicago: lessons from 20 years of increased options". The performance at the City Club tries to save the dwindling claims of those who promoted corporate "school reform" from the beginning, which was the passage of the Amendatory Act by the Republican Illinois General Assembly in 1995.
To claim, in 2015, that the Amendatory Act was about "choice" -- as opposed to union busting -- is as ridiculous as the conflicted and mendacious careers of the three speakers.
The City Club announcement reads as follows: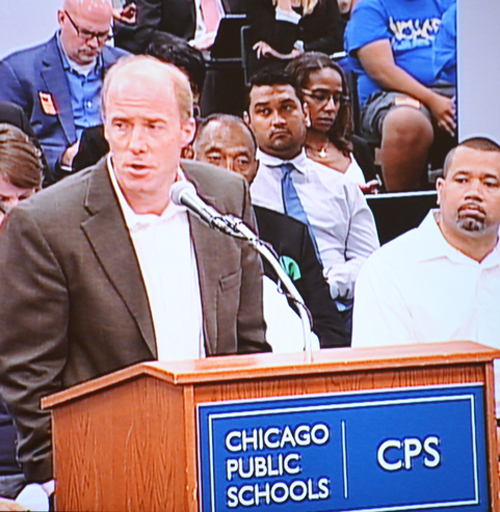 Andrew Broy of the Illinois Network of Charter Schools (INCS) will be one of the speaker promoting the myths of corporate school reform in Chicago during the November 18 City Club luncheon. Broy spoke at many meetings of the Chicago Board of Education during the years of the massive expansion of Chicago's charter schools, until he later began sending surrogates to demonstrate the diversity behind Chicago's charter schools. Substance photo by George N. Schmidt.Andrew Broy, Gery Chico, and Tim King
Wednesday, November 18, 2015
11:30 a.m. reception
12:00 p.m. luncheon
Maggiano's Banquets
111 W. Grand Avenue
Chicago, IL
School Performance in Chicago: lessons from 20 years of increased options.
Andrew Broy, Gery Chico, and Tim King
Andrew Broy is the President of the Illinois Network of Charter Schools (INCS), a statewide advocacy and charter school support organization serving 156 charter campuses in Illinois that collectively educate more than 60,000 public school students. The son of a career CPS teacher, Andrew began his career as a high school English teacher and has been involved in education policy and law for more than 15 years. Since joining INCS in 2010, Andrew has grown the organization substantially and INCS now counts as members 154 of the charter schools in Illinois. Working directly with legislative leadership, INCS supported the enactment of the Illinois Charter School Quality Act of 2011, which established an independent charter school authorizer and created new quality standards for charter schools. INCS was also instrumental in crafting the district-charter compact with CPS, which led to the promotion of high-quality charter growth in Chicago. Prior to joining INCS, Andrew was a civil rights litigator in Atlanta, where he specialized in school finance disputes, desegregation cases, and public school law. Andrew has authored several amici briefs in United States Supreme Court cases, including cases challenging congressional authority to enact remedial civil rights statutes and a case involving the constitutionality of federal campaign finance reform. Andrew is an avid angler who lives in Chicago with his wife Keecia and three daughters, Simone, Noelle, and Malia.
Gery Chico combines an accomplished background in city government and education, law and business. He has practiced law and represented leading companies in Chicago and the nation over the past 28 years. Since April 2004, Mr. Chico has been a Senior Partner at the Chicago law firm of Chico & Nunes, P.C. Mr. Chico served as Chief of Staff to Chicago Mayor Richard M. Daley from 1992 through 1995. In 1995, Mayor Daley appointed Mr. Chico President of the Board of Trustees of the Chicago Public Schools, the nation's third largest school system. Mayor Daley reappointed Mr. Chico for a second term in 1999. During his tenure as President, the Chicago Public Schools initiated a broad series of nationally recognized education and fiscal reforms which led to six straight years of student performance increases, six years of balanced budgets, six years of labor peace and the unprecedented rebuilding of Chicago's public school buildings. All of this activity led to the turnaround of one of the most troubled public school systems in the nation. In June, 2011, Governor Pat Quinn named Mr. Chico as Chairman of the Illinois State Board of Education (ISBE). ISBE administers more than $10 Billion in funding each year for Illinois public schools. In 2010, Mr. Chico served as the Chairman of the City Colleges of Chicago. Prior to this appointment, Mr. Chico served as President of the Board of Commissioners of the Chicago Park District from 2007 - 2010. Mr. Chico twice served as a Commissioner of the Public Building Commission of Chicago. Mr. Chico currently serves as Trustee for DePaul University, Trustee for the National Museum of Mexican Art, and is a member of the Illinois Equal Justice Foundation.
Tim King is founder, President and CEO of Urban Prep Academies, a nonprofit organization operating a network of public college-prep boys' schools in Chicago (including the nation's first all-male charter high school) and related programs aimed at promoting college success. 100% of Urban Prep graduates—all African-American males and mostly from low-income families—have been admitted to four-year colleges/universities. Tim also serves as an Adjunct Lecturer at Northwestern University and has published in the Journal of Negro Education, Chronicle of Higher Education, Chicago Tribune, Chicago Sun Times, Huffington Post and New York Times. King was honored at the BET Awards as a recipient of the "Shine A Light" award for his work with Urban Prep Academies and has also been: named ABC World News "Person of the Week", Chicago Magazine's "Chicagoan of the Year", People Magazine's "Hero of the Year" and to Ebony Magazine's "Power 100" list; featured on Good Morning America, The Oprah Winfrey Show, The Moth/USA Networks' Characters Unite series, and Discovery Channel's documentary "Rise: The Promise of My Brother's Keeper"; and recognized by Presidents Barack Obama and Bill Clinton for his work with youth. Tim has completed post graduate work in Kenya and Italy; holds the Doctorate Honoris Causa from the Adler School; and has received the Bachelor of Science in Foreign Service and Juris Doctor Degrees from Georgetown University. Tim serves on several boards including the Chicago Park District Board of Commissioners to which he was appointed by Chicago Mayor Rahm Emanuel. Tim became the guardian of a former student orphaned when his mother died. That student was once homeless and now has graduated from college. Having a positive impact on this young man's life is the achievement of which Tim is the proudest.