Tribune blogger and teacher attacks CTU during Tribune forum
George N. Schmidt - September 14, 2011
A blogger for the Chicago Tribune currently teaching at Hancock High School in Chicago took up more time than any of the other essay contest winners during the question period at the education forum sponsored by the Chicago Tribune and PNC bank at the University of Illinois Forum on September 13, 2011. Ray Salazar, who told Substance he's been teaching at Hancock High School this year, blogs for the Chicago Tribune's "Chicago Now." All of the questions he asked during the forum were from various conservative talking points against the teacher unions, but since he repeated them as a long-time union member, Chicago Teachers Union President Karen Lewis tried to answer his questions politely, even referring to him as "Brother."
Chicago Tribune blogger Ray Salazar at the Tribune education forum on September 13 delivered his questions attacking the union's current positions. Chicago Tribune editorial page editor Bruce Dold, who moderated the forum, allowed Salazar to continue asking questions, pushing out the possibility of questions from the audience. Substance photo by George N. Schmidt.Salazar, who got the floor because he was one of the winners in a Tribune sponsored essay contest dominated the event for more than five minutes. Moderator Bruce Dold, the Tribune's editorial page editor, allowed him to ask three times as many questions as any of the others who had been invited to pose questions after writing about their CPS experiences. One result of the Salazar filibuster was that audience questions that had been collected during the eventing were never asked. The event effectively closed after Salazar finished. Salazar introduced himself as a writing teacher and 17-year union member. When asked by Substance after the event where he taught, Salazar said "Hancock High." When asked where he had also worked, he told Substance "alternative schools, central office." He said he worked for five years in the CPS central office, and when asked when he said during the years Arne Duncan was CPS CEO.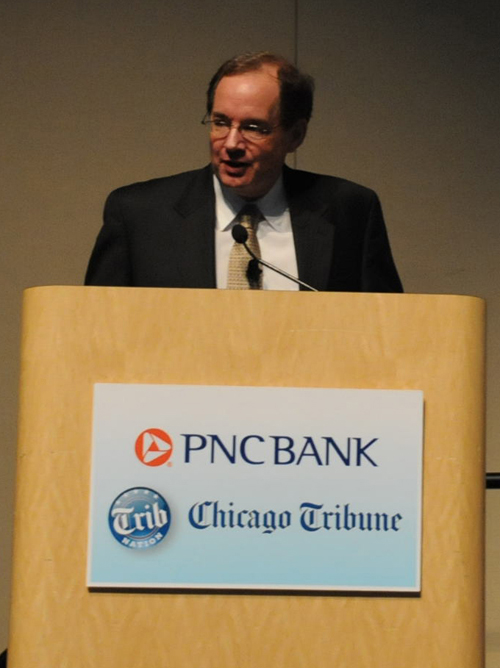 Chicago Tribune editorial page editor Bruce Dold moderated the event, but lost control of the questions when Salazar continued asking additional questions. By the time Salazar was finished, there was no time left for audience questions. Substance photo by George N. Schmidt.Salazar's questions included some of the classic right wing talking points used to attack teachers and teacher unions.
"Why does the union protect bad teachers?" he said.
Karen Lewis stated that the union protects due process.
"Why does the union oppose merit pay, when everyone knows that it's coming," Salazar said.
Lewis disagreed with the statement. Throughout the Salazar time, the moderator allowed him to go on and on, and CEO Jean-Claude Brizard for the most part was smiling.
Salazar also threw one question that caused a puzzled look on the face of CPS CEO Jean-Claude Brizard. Salazar demanded to know why there is no public high school in Chicago's "Latino Community" that has the words "college prep" in its name. Brizard answered that the words in a school's name had only limited meaning. The question seemed to ignore the facts of the current number of Latino students in all of the CPS "college prep academic magnet" high schools, implying that there should be one specifically for Latinos (and implying as well that the others were for either African Americans or whites).