CTU delegates urge members to vote yes on strike authorization
Gina Szulkowski - September 14, 2019
In hopes for a strong "yes" vote on Sept. 24 - Sept. 26, I sent the following email to the union members, following our afterschool meeting on Sept. 11.
CTU Brothers and Sisters,
The big takeaway from yesterday's Steinmetz College Prep union meeting is that CPS is stating they have put their best offer on the table – 14 percent raise over five years. It sounds okay, but this fight is not just about salary.
CPS want to remove teacher's rights:
• REACH observations and evaluations would no longer be grievable.
• All prep periods would be principal directed.
• Principals could require us to put in as many grades as they like per week/day.
• Charter expansion moritorium would be abolished.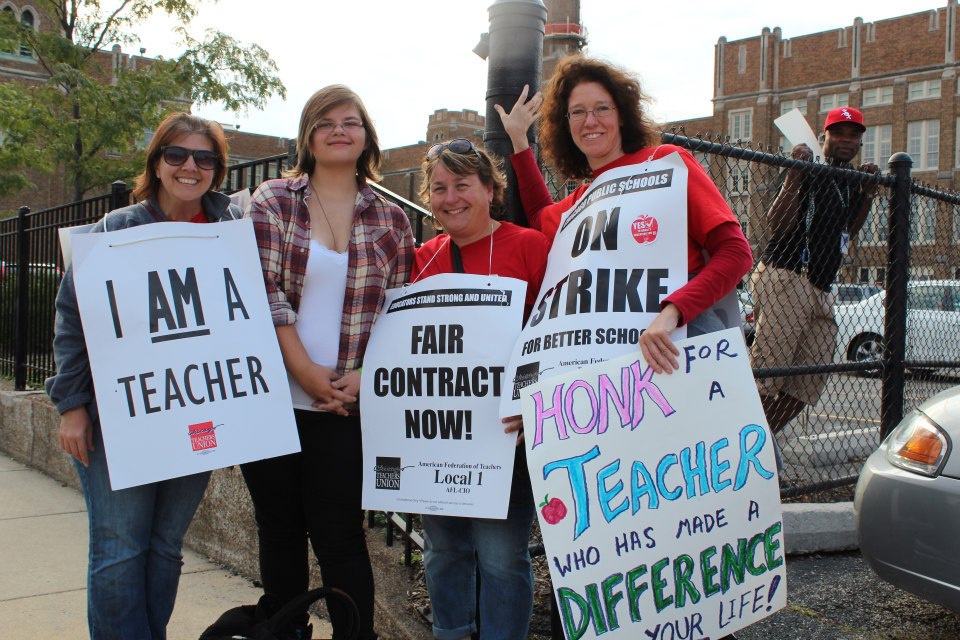 CTU delegate Gina Szulkowski (left) on the picket line in 2012 at Steinmetz High School.Yes, pay is important, but so is out mental health. CTU wants to
• strengthen language in the contract concerning staffing and class size
• have enforceable penalties for principals who stuff classes.
• maintain teacher directed preps
• maintain administrator best practices concerning REACH observations
• maintain the current grading policies (1 per week).
• continue the moratorium on charter expansion
Jesse mentioned in his email to the rank and file CTU members that Mayor Lightfoot said she 'does not bow to pressure." What he did not say when he started explaining how bad the CPS class size issues are (and have been), Mayor Lightfoot said, "I have been told teachers exaggerate their class size." She is listening to the people who advised Rahm Emanuel and Richard Daley on CPS; we need her to start listening to us.
Voting "yes" on the strike authorization will bring CPS back to the bargaining table. We need to get them to listen to us. We lose too much if we vote "no."
If you are interested in joining the Contract Action Team or would like to know what it is please see me any time before or after school. My lunch is 5th. Please wear red tomorrow! and every Friday.