Chicago Transit Authority workers COVID-19 infected
Dr. John Kugler - April 07, 2020
Many of the front line workers in our country are not getting tested, don't have the proper PPE or have their equipment cleaned after their shift ends endangering their lives and families. In Detroit Jason Hargrove, a bus driver in Detroit, posted a widely viewed Facebook video that underscored the dangers blue-collar workers face as they find themselves on the front lines of the pandemic. 11 Days After complaining about a Coughing passenger he died from the Coronavirus ..
Now the same story is unfolding in Chicago with Erek Slater a ATU 241 bus driver and shop steward and tells his story of being COVID-19 positive.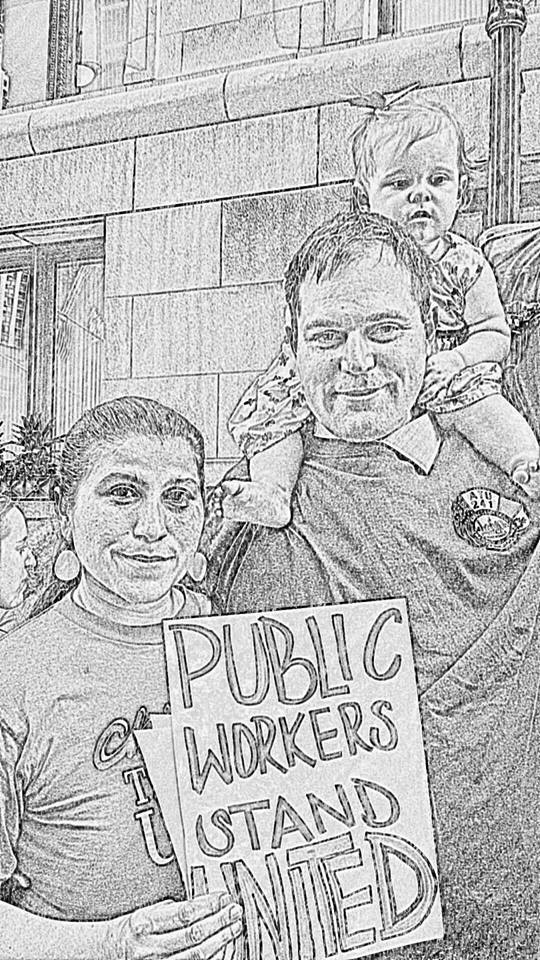 Erek Slater and family. Facebook imageI was just informed that I tested positive for COVID-19. I know of at least four other coworkers who have tested positive in just my Chicago Transit Authority (CTA) bus garage. I am concerned many more are positive but haven't been tested.
I was fortunate that my doctor ordered me to isolate several days before I could get tested (it was a battle just to get tested!). How can they not test front-line transit workers!? Still!
My father, Les Slater, is in isolation at the hospital. I ask everyone to keep him in your thoughts…
Thursday night, myself and other coworkers met online with a public transit train conductor in NYC. He told us our possible future: Thousands of transit workers quarantined, hundreds testing positive and 14 dead transit workers – and the virus hasn't reached its peak yet. He told us a familiar story of groups of workers raising the alarm and making necessary demands of the transit agencies and government, only to get half-way measures putting transit workers and passengers in great danger.
We too in Chicago have been shouting as loud as we can: If there is NO DAILY DEEP CLEANING, NO PPE, NO TESTING, NO UNION CONTROL OF SAFETY…. THEN WE DON'T WORK! Safety first!
Seeing that we are being left to fend for ourselves, many workers have attempted to call in sick only to be mired in bureaucratic confusion by managers who see us as liars and petty criminals. Many workers are fearful that they will be fired or not paid if they stay home – even when it is medically and socially appropriate that we do so. I am concerned that this has greatly contributed to the CTA and PACE acting as a transmission belt for the virus to the population. It is still doing so!
Groups of transit workers have drafted the demand statements linked below. We must not wait to take action to force the city and state government to take the necessary steps for our safety and the safety of our working-class communities.
Chicago Transit Workers Emergency Call to Action Plan #TransitWorkersDeserveBetter
https://www.facebook.com/transitworkersunite/posts/572603876686762
---
To unsubscribe: List help: ...
[Message clipped] View entire message