Chicago Amazon workers stage a wildcat strike on Chicago's southside
Dr. John Kugler - April 04, 2020
Amazon workers learned that two employees tested positive for COVID-19 yet Amazon refuses to shut down the warehouse and do a deep cleaning. Amazon Distribution Workers at 28th and Western on Chicago's Southside staged a wildcat strike at 6:45 a.m .April 4, 2020 .
From Facebook page DCH1 Amazonians United: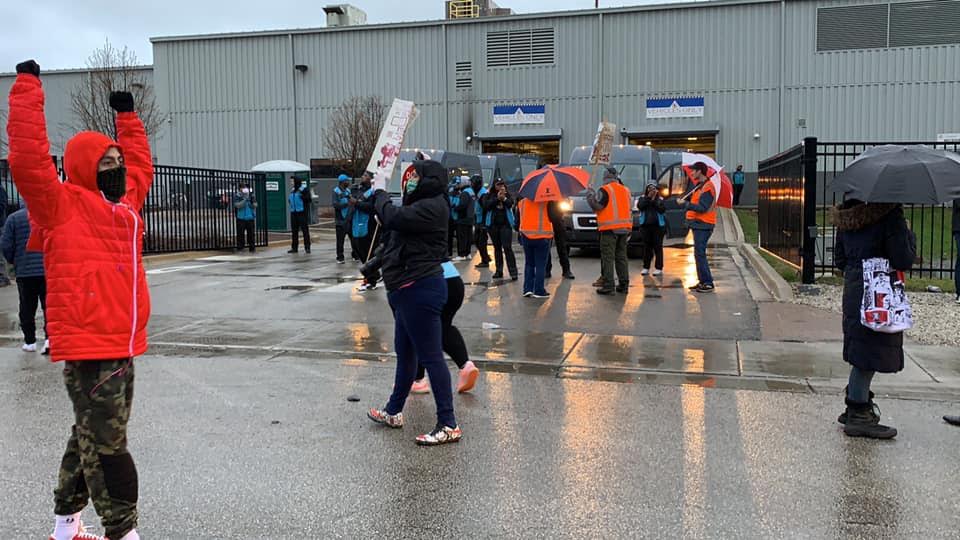 Amazon workers stage wildcat safety strike on April 4. Photo by John Kugler.Amazon DCH1 workers went on Safety Strike for the fourth time this week, demanding that Amazon shut DCH1 down for 14 days, with pay for ALL workers. This is a fight for our lives, we're not playin. Many coworkers who were going into work decided to join the strike instead.
We were standing in front of our facility, chanting and with our signs, then management came out and threatened us. We tried talking to them about our concerns, but they would just continue threatening us and ignoring our voices. Then, all of a sudden, over 50 cars started rollin through in front of Amazon.
We didn't know what was going on then we saw they were driving through in solidarity with us.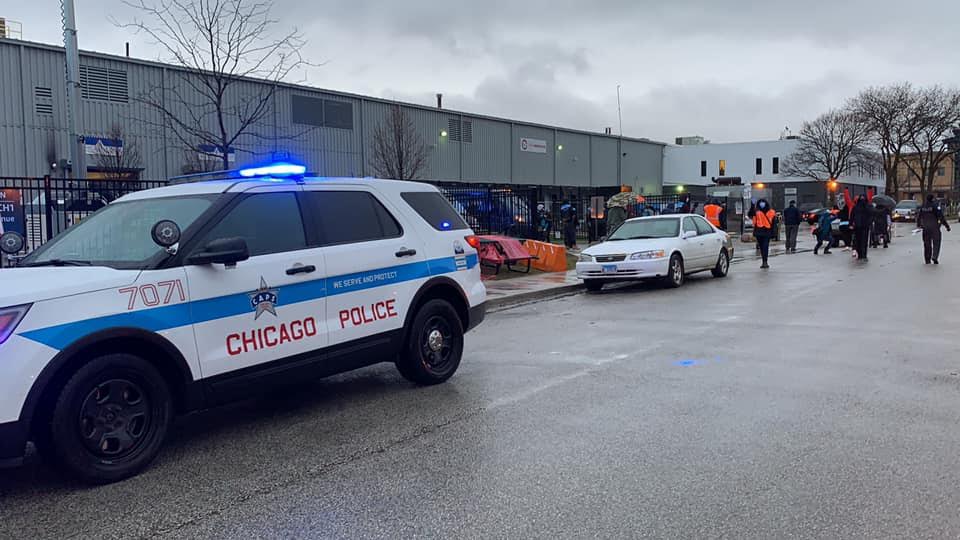 Police followed Amazon management directives until Alderman Byron Sigcho Lopez for the 25th Ward and his wife Loreen Targos slowed them down. Photo by John Kugler It was like a huge caravan driving up and down the street, honking and in support of our Safety Strike. Some of the signs they had was #PrimememberCaravan, #PrimeMemberSolidarity and #CommunitySolidarity amongst many others. Amazon called the cops and they came real quick and started harassing all the drivers of these cars, threatening them with tickets and banging on their windows. We saw real clearly today that police were there to protect Amazon management and Amazon's profits.
But Alderman Byron Sigcho Lopez for the 25th Ward and his powerful wife Loreen Targos stood there right alongside us, in full support of our demands, and they definitely made the police chill as much as they could because the cops were trying to give everyone tickets. Other alderman and politicians should take notes.
We appreciate your solidarity from the bottom of our hearts Byron and Loreen!!
Management was trying to hurry and send the Amazon vans out, but Amazon drivers couldn't exit Amazon to start their deliveries because the street was so full. Our managers, who wouldn't even look at our demands or hear our concerns, came out and started telling the police what to do, as if the police were a part of Amazon management, and the police obeyed.
Amazon drivers, stuck in the driveway, came out of their vans and they were in complete support of our safety strike. Many Amazon drivers hadn't even been told by management that there are now multiple confirmed positive coronavirus cases at DCH1. They were angered to hear that their health was being endangered too, and we told them we're demanding a shut down for two weeks with pay for us all, including drivers.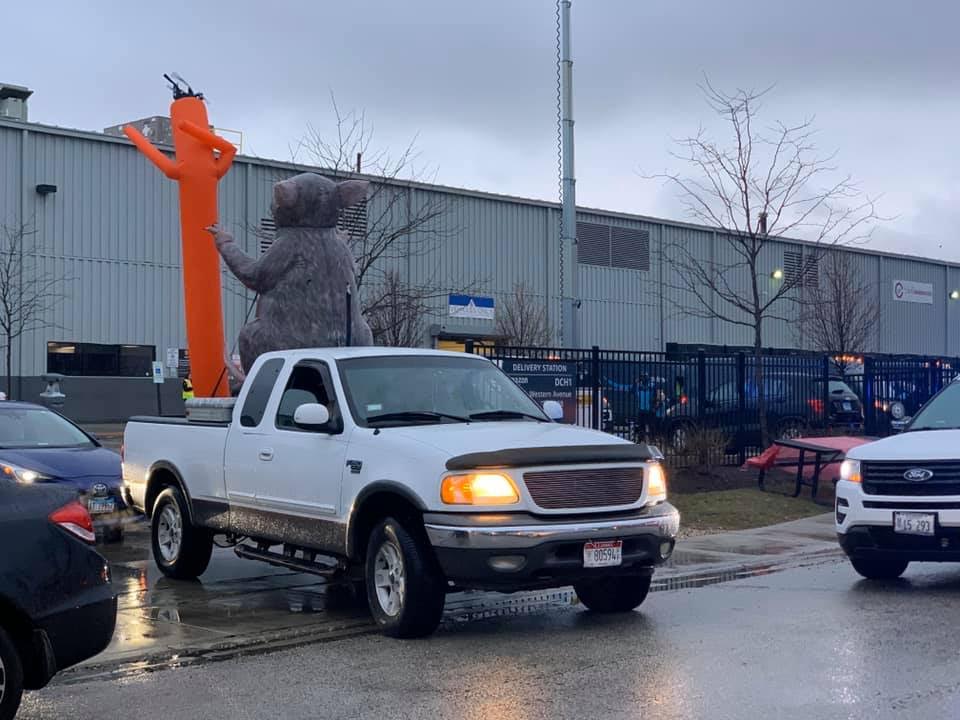 Scabby the Rat at Amazon, April 4, 2020. Photo by John KuglerDrivers are hired through independent contractors, but Amazon does that purposefully so that they could exploit the drivers more easily. We are demanding that DCH1 shut down and pay us all for two weeks of quarantine, including the drivers, the cleaning crew, and all the workers that make Amazon run. This is just the beginning, we won't back down, workers everywhere are rising up, and the community is self-organizing and coming through in solidarity. Our movement grows, solidarity grows, worker power grows.
Flyer is below
-------------------------------------------------
At the request of a labor group called "Amazonians United", we are am organizing a strike support, 100 car caravan for this Saturday April 4th from 6:45am until 8:30am.
Caravan participants will meet at the Rauner YMCA parking lot, located at 2700 S. Western Ave at 6:45am. Once assembled, the Caravan will slow roll across Western onto 28 th Street, passing through the Amazon DCH1 parking lot and loading area, repeatedly, in support of the striking workers at DCH1. The workers will be assembled outside. We will be honking. The struggle: Amazon workers at DCH1 went out on strike on Monday night and Tuesday morning.
They have since returned to work, but will be walking out again on Friday night and Saturday morning.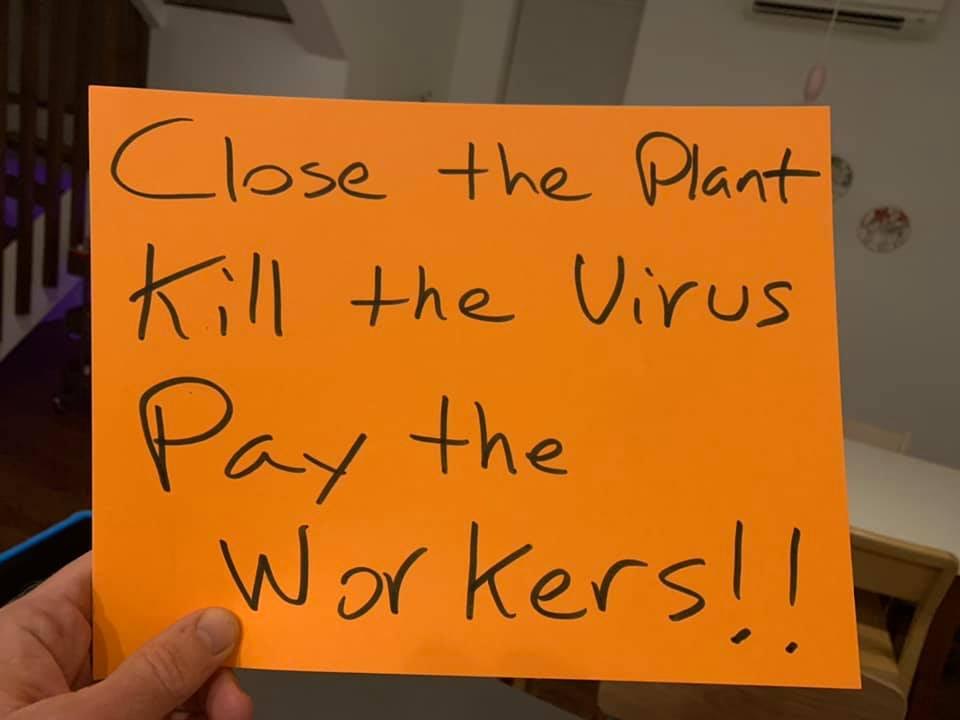 Safety demands of Amazon wild cat strikers. Photo by John Kugler.The fight is intensifying. DCH1 Workers want:
1) The warehouse to be closed and deep cleaned for 2 weeks (several workers have contracted Covid 19)
2) Improved Health and Safety measures and cleaning supplies
3) Amazon to cover all medical bills for workers and family members that contract the Coronavirus
4) Amazon to stop processing all non-essential items through DCH1
5) A reduced work rate so that workers can practice social distancing, and an end to all rate-based write-ups. 6) Full pay for all workers who must self-quarantine due to medical issues, government mandate, or who must care for a loved one.
7) Amazon to communicate all Covid 19 related issues transparently to all workers as soon as the information is known.
The Protest: It's easy to stay safe and join the protest. Put on a facemask if you want. Keep the windows rolled tight, and make your signs at home.