What veterans need — Interview with U.S. Senator Tammy Duckworth
Dr. John Kugler - June 01, 2019
Substance interviewed U.S.Senator Tammy Duckworth from Illinois during the Association for Career and Technical Education National Policy Seminar in Washington DC on March 27, 2019.
Substance: Thank you for meeting with us Senator Duckworth. Is it all right if I ask you a couple of questions?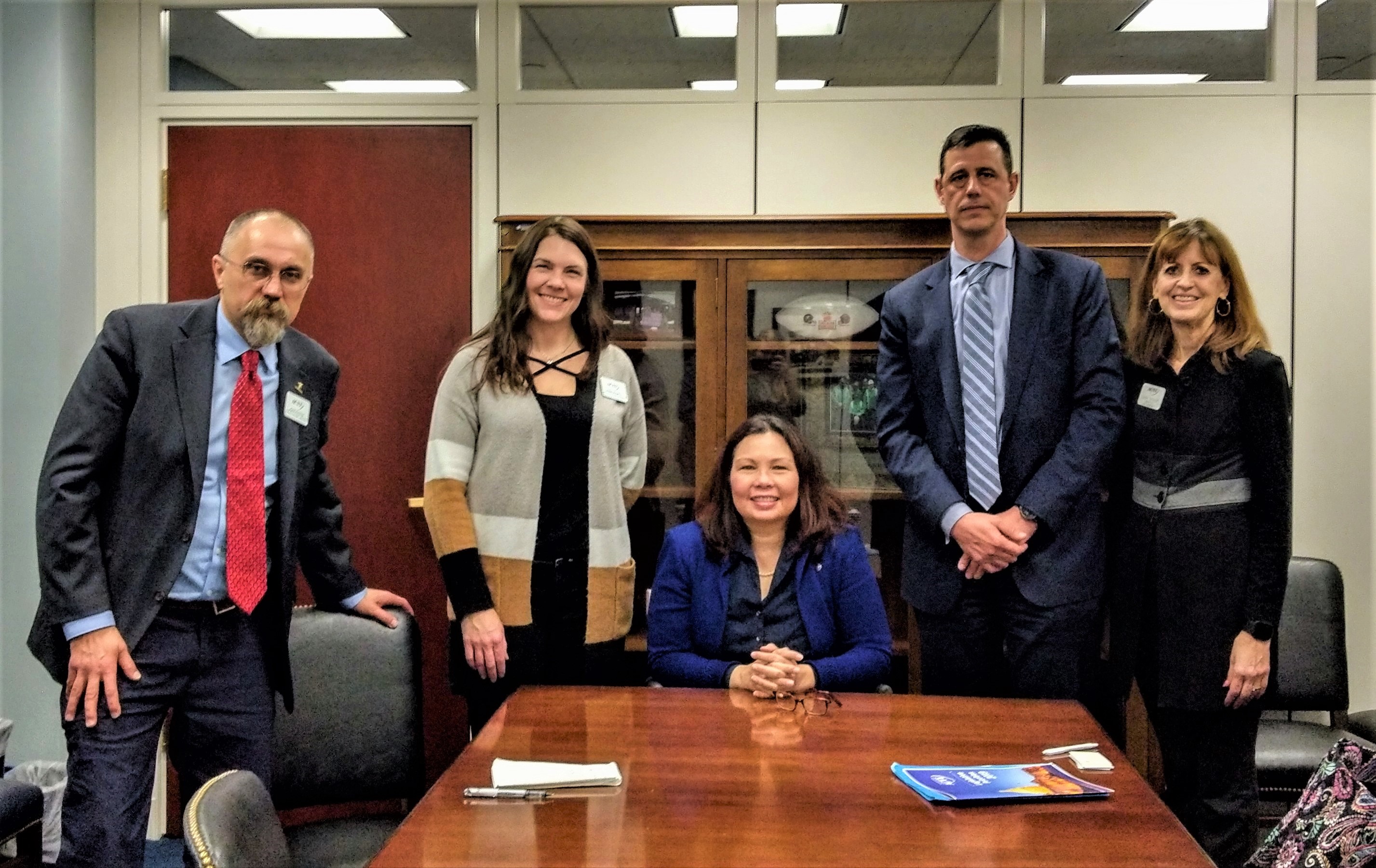 IACTE President Dr. John Kugler, ACTE Region III Fellow Angie Koontz, US Senator Tammy Duckworth, Jason Blake Associated Equipment Distributors, Cindy Stover Executive Director IACTEDuckworth: Sure, but just to let you know, everyone that comes to these offices wants something from us and expects politicians that have all the answers.
Substance: Yeah, I understand. I've been doing this for a few years now, so I figured that if you don't mind, I'll try something different.
Duckworth: Okay, let's see.
Substance: Well after doing a lot of these visits and talks with politicians and listening to what they have to say, I think it's time for us, the constituents, to change how we interact with you guys. Instead of traveling all this way, dressing up nice, making appointments and then asking for things we need done; maybe it's time for us to listen. So what do you need help with, Senator? How do we living in communities support our elected leaders?
Duckworth: Well that's new. Are you sure you want to hear what we need?
Substance: What I think is important is to listen to you as an individual and see how you need help doing your job, since we're supposed to be working together to make things better in the future. What's important to you? What are you hearing that's coming down the road that you might need help with?
Duckworth: Well you know I'm a big proponent for veteran's rights and supports after returning from active duty. Not only the big-ticket items like the Veterans Affairs and medical help if someone is wounded, but there are so many services that veterans need that aren't just about being wounded and after care. One of the biggest issues I see is that veterans have a hard time getting jobs when they try to transition back to civilian life.
Substance: I thought that since people were in the military service that all their training could be transferable to civilian life and that civilian employers would you want to hire veterans.
Duckworth: That isn't exactly right and veterans have to jump sometimes through more hoops than regular people. Not only do we have to show that we are stable, but that we don't have any issues lingering from our active service. We have a hard time explaining all the work we do in the military, including the fact that most of our training can't be transferred to civilian credentials or certificates. For example, a good friend of mine that served in Iraq and logged hundreds of thousands of miles as a truck driver through some of the worst areas in the world for IEDs and snipers couldn't for the life of him, get a truck driving job when he returned back to the States. Employers told him he had to go get retrained for a CDL license and once he had done all that training that he can come and then apply for the job to be a truck driver. Here is a guy that can make it leading a convoy while being shot at and bombs in the road, to get from point A to point B and not damage any cargo, yet he can't get a job hauling grapefruits from Florida to Illinois. That makes me mad.
Substance: I didn't know that. I thought whatever you did in the military you automatically are qualified for that in civilian life.
Duckworth: Nope. I know the Army has some reciprocity agreements with associations but the problem is there is no standardization across our nation for training for very specific jobs, like a CDL. The military has everything proceduralized and documented, but it doesn't seem like the civilian world accepts that training or credentials. I know on a limited basis some military training is directly transferable to civilian jobs, but that's far-and-few-in-between. If you want to know what I really need help with, is to know what employers need to help get veterans employed. We need to know which credentials or certificates veterans have to redo once they get out of the military. Then we need to have the military work with civilian associations to make sure whatever credentials are out there in the civilian world and a matching credential if they get trained in some skill in the military. This saves both time and money for veterans, who will come out of active service; plus, it's an emotional boost to know your service and military training can help you get a job after active duty. Just imagine my friend who was that truck driver in Iraq having two take an $8 an hour job at a grocery store as a stock clerk, while he has to go and get a CDL license to learn how to drive a truck. It doesn't make any sense.
Substance: Yeah, that's crazy.
Duckworth: Everything is like that when you go from the military to civilian life. For instance, and I have to warn you what I'm about to say might make people uncomfortable, if you were a medic you had to do all kinds of things that you can't even imagine for your fellow soldiers or injured on the battlefield, like scooping up guts into people just to keep them alive. You have to make do with supplies you didn't have to keep people alive, but when you came back into civilian life, you're not even qualified to be a medical technician in a clinic or hospital. You're told to go back to school and spend years getting trained on how to help people if they're injured, yet you have combat medical field experience that no one could ever learn at a university or college.
Substance: Yeah, they don't talk about that on the news, Senator Duckworth. We didn't know it was that bad for returning veterans, so maybe one of the things that we need to do it's talk to the military and ask them for whatever regulations or training they have that is specialized and start working with Workforce Councils in our states to match up credentials and licenses for veterans coming back from overseas.
Duckworth: John, the problem is every state and every location is different, so that's a lot of stuff to do.
Substance: That's why it's more important than ever that we the constituents, start asking what you politicians need help with, otherwise we'll be going over the same old problems 10 to 20 years from now and nothing will be happening to improve the situation. That's why those of us that are part of associations or big groups should be using our leverage and our professional knowledge the help our elected legislators pass laws that actually help individuals have a better life and less trouble.
[Duckworth: Well if you can do that then everything will run smooth. My office is open, you can contact my staff anytime with ideas and how to improve job training not only for veterans, but for anybody that needs work. Thanks for coming to Washington DC.
-------------------------------------------------------------------------------------------------------
Tammy Duckworth (born March 12, 1968) is an American politician and former U.S. Army lieutenant colonel who has served as the junior United States Senator for Illinois since 2017. A member of the Democratic Party, she represented Illinois's 8th district in the United States House of Representatives from 2013 to 2017. Duckworth defeated Republican incumbent Mark Kirk in the 2016 election for a seat in the United States Senate.
Duckworth was the first Thai-American woman elected to Congress, and the first born in Thailand, the first woman with a disability to be elected to Congress, the first female double amputee in the Senate, and the first Senator to give birth while in office.
An Iraq War veteran, Duckworth served as a U.S. Army helicopter pilot and suffered severe combat wounds, which caused her to lose both of her legs and some mobility in her right arm. She was the first female double amputee from the war. Despite her grievous injuries, she sought and obtained a medical waiver which allowed her to continue serving as a lieutenant colonel in the Illinois Army National Guard along with her husband, Major Bryan W. Bowlsbey, a signal officer and fellow Iraq War veteran, until her retirement from the Army in October 2014. Duckworth attended Singapore American School, and for a few months in her senior year was at the International School Bangkok. The family settled in Hawaii when she was sixteen. Her father became unemployed for a time and the family relied on public assistance. She graduated with honors from McKinley High School in Honolulu, Hawaii, in 1985, having skipped the ninth grade. She graduated from the University of Hawaii in 1989 with a Bachelor of Arts in political science, and later received a Master of Arts in international affairs from George Washington University's Elliott School of International Affairs. She completed a PhD in Human Services at Capella University in March 2015.
https://en.wikipedia.org/wiki/Tammy_Duckworth
...
[Message clipped] View entire message
Attachments area