'Claypool Cronies' hang in with $200,000 per year jobs, even as lawyer Robert Marmer joins Forrest Claypool at the Exit door from Chicago Public Schools...
George N. Schmidt - December 13, 2017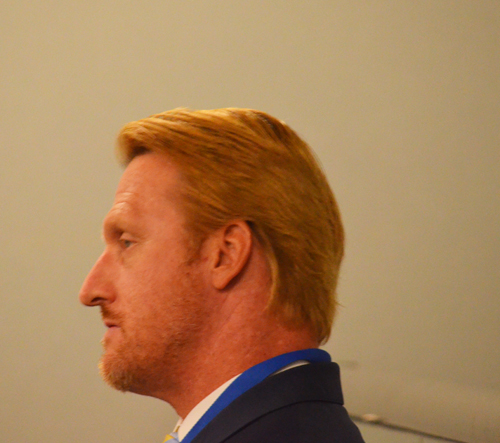 By the October 2015 Chicago Board of Education meeting, Doug Kuchia was being paid $175,000 per year as "Chief of Staff to the CEO" (not to be confused with a dozen other Chiefs of Staff by then at CPS) following his appointment to the executive position by Forrest Claypool. Kuchia was one of more than a dozen "Claypool Cronies" brought into CPS by the newly appointed Chief Executive Officer after Mayor Rahm Emanuel appointed Claypool to succeed the disgraced Barbara Byrd Bennett at the top of the nation's third largest school system. All of the Claypool cronies came from the Chicago Park District and the Chicago Transit Authority, with no experience in education or educational administration. As of mid-December 2017, despite Claypool's resignation most of them are still in office at CPS. Substance photo by George N. Schmidt. With the December 12, 2017 announcement that Robert Marmer would be leaving his job as "Chief Counsel" (the top lawyer) at Chicago Public Schools, it can be said that the first of the "Claypool Cronies" has headed to the Exit Door at the CPS's downtown headquarters. But given the fact that Claypool brought in more than a dozen highly paid (six figures plus major benefits) and majorly unqualified people from his former crony politician days, the questions about the continuing costs of the Claypool administration will continue into the New Year.
Within the first six months after Claypool was appointed in July 2015 by Mayor Rahm Emanuel to succeed the disgraced Barbara Byrd Bennett, Claypool had filled the top ranks of CPS with his cronies from his days as head of the Chicago Park District and the Chicago Transit Authority. in some cases, Claypool created new job titles (such as Executive Vice President for Finances) and in others he just put people into administrative jobs that had more or less been there. All of the jobs cost taxpayers at least $200,000 per person per year (pay and benefits), and members of the Board of Education ignored the extra costs while proclaiming that they were "broke." The total cost of the Claypool Cronies, including Robert Marmer, was well in excess of $3 million per year, according to a conservative Substance estimate. How long they will remain at CPS now that Claypool and Marmer are gone remains to be seen.
But on December 13, the Chicago Sun-Times began the reporting about the end of the Claypool years with the note that Robert Marmer was also departing his time as an "educational leader."
CPS lawyer quits days after ethics report that cost Claypool his job, Chicago Sun-Times, POLITICS 12/12/2017, 06:39pm
Lauren FitzPatrick and Dan Mihalopoulos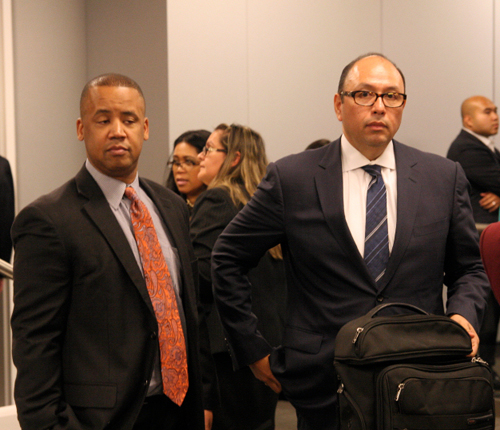 By the November 2015 meeting of the Chicago Board of Education, the newly arrived "Claypool Cronies" were finding their seats in the executive section of Board of Education meetings. Above, two of them. Substance photo by George N. Schmidt.Ronald Marmer resigned as the top attorney for the Chicago Public Schools on Tuesday, a week after an internal report cited him for an ethics violation in an investigation that cost CPS CEO Forrest Claypool his job.
"I am resigning as general counsel effective December 22, 2017," Marmer said in an email to colleagues.
Claypool was forced to step down Friday after Nicholas Schuler, the school system's inspector general, called for his firing for "repeatedly lying" during Schuler's investigation of Marmer.
Schuler also called on the Chicago Board of Education to discipline Marmer, a Claypool friend and past campaign contributor hired in 2015, soon after Mayor Rahm Emanuel made Claypool his fourth schools chief.
Schuler's investigation, prompted by reports in the Chicago Sun-Times, found that Marmer violated CPS' prohibition against employees overseeing work of outside contractors with which they have a "business relationship" — any deal worth at least $2,500 a year.
In financial disclosure forms filed with CPS, Marmer said he was getting a $1 million severance from the law firm Jenner & Block, paid in five yearly checks of $200,000, through 2018.
Internal CPS emails obtained last year by the Sun-Times showed Marmer began overseeing Jenner & Block's work for the schools almost immediately.
Schuler said Claypool and Marmer disregarded the advice of the school system's in-house ethics adviser, three other staff attorneys and two outside lawyers by overseeing work Jenner & Block was hired to do for CPS, preparing a lawsuit against the state to seek additional school funding. The seventh lawyer Claypool consulted — a Claypool campaign contributor — said there was no problem having Marmer oversee Jenner & Block.
Schuler said Marmer — paid $185,000 a year by CPS — altered the membership of CPS' ethics committee in the middle of the probe of his conduct, creating "the appearance of impropriety."
"Marmer has clearly displayed poor judgement," Schuler said. "His involvement in the hunt for his own exonerating opinion was improper, and his changes to the ethics committee were misguided."
Marmer worked for Jenner & Block from 1978 until 1993 and from 1997 until 2013, state records show