Trump's endorsement on British Nazis continues his -- and his family's -- fascination with fascism...
George N. Schmidt - December 01, 2017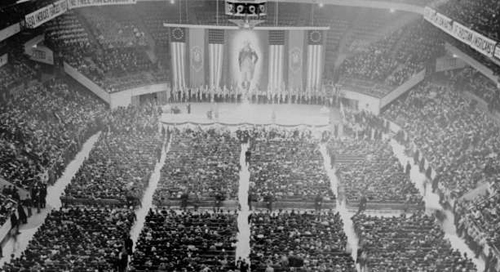 More than 20,000 American Nazis and their supporters rallied in New York's Madison Square Garden in 1939. The Nazis and their supports pushed their "America First" party line into the 1940s, claiming that the United States should avoid the European war as Hitler's legions took over most of Europe unitl finally stopped by the Russians in 1941. After Hitler declared war on the United States, the Nazis who had pushed their "Make America Great Again" line went underground for the duration of World War II, only to pop up again immediately after the war's end, featuring McCarthyism and anti-union activities. Among the most reactionary capitalists in New York City was Fred Trump, father of Donald Trump. Fred Trump was active with the KKK and other groups as early as the 1920s, according to some press reports.The most recent controversy created by Donald Trump's Tweets has exposed another example of the U.S. President's endorsement of fascism -- and in many cases of outright Nazis. Although Trump and his family have long been autocrats and reactionaries, the decision by the President of the United States to re-Tweet three videos first shared by a Neo-Nazi organization in England has exposed even more deeply Trump's most firmly held beliefs.
On November 29, 2017, Donald Trump re-Tweeted three videos that had been circulated by a British Nazi organization. Trump's praise of the group gave the group, which is minuscule in size, a new burst of energy. But Trump's action prompted British Prime Minister Theresa May to directly criticize Trump, who responded by defending his actions. Trump's response was echoed by White House Press Secretary Sarah Sanders.
Trump's affection for dictators has long been a scandal to some. But his own family history indicates that the problem goes back generations. Until his disowned him after it was discovered the lawyer had AIDS, Trump took lessons in how to be a reactionary from Roy Cohn, who worked with Senator Joseph McCarthy and helped instigate the "McCarthyist" purges. It was no accident that Trump's "Make America Great Again" (MAGA) slogan echoed the 1932 election slogan of Adolf Hitler, who campaigned at the head of German Nazi tickets to "Make Germany Great Again." Although not a deep student of history, Trump reportedly kept a book of Hitler's speeches near his bed, according to his former wife. Trump's father was such a notorious racist in New York City that Woody Guthrie devoted a song -- 'Old Man Trump" to Fred Trump, Donald Trump's father.
The British newspaper The Guardian exposed the weakness of Britain First in a November 30 story. But for Trump's recent support, the group would be exposed for its fringe politics and fascist anti-immigrant views. The Guardian wrote:
By Ian Cobain
Friday 1 December 2017 05.43 EST Like Dorothy discovering that the Wizard of Oz is just a little old man behind a curtain, most people who look closely at Britain First conclude sooner or later that there is far less to them than meets the eye.
Behind the 1.9m Facebook likes, the 27,000 Twitter followers and the countless videos of speeches, stands a party with a minute membership, incoherent policies and a negligible chance of electoral success.
After a Scottish anti-abortion activist called Jim Dowson taught Britain First's leader, Paul Golding, and its deputy, Jayda Fransen, how to exploit social media, the pair achieved an Oz-like online presence, appearing at times to be quite voluminous.
As a consequence, Britain First's notoriety precedes it whenever a handful of members makes foray out into the real world, attempting to invade halal butchers or staging so-called Christian marches through predominantly Muslim neighbourhoods.
Despite their understanding of social media, however, Golding and Fransen could never have dreamed that their digital Islamophobia would be given such a leg-up by the president of the US.
Once he did, retweeting to his 43.7 million followers a series of three videos Fransen had posted, she immediately tweeted: "Please Mr President, do it again!"
Formed in May 2011 by disgruntled former members of the far-right British National party (BNP), Britain First is estimated to have about 800 members. When it holds its annual conference in Bedfordshire next Saturday – at a venue yet to be publicly disclosed – it is expected a few hundred people will attend at most.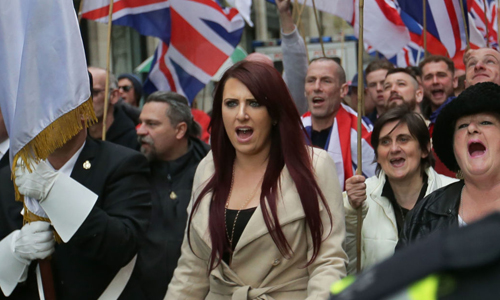 Until Donald Trump's re-Tweets of three misrepresented videos, Jayda Fransen and "Britain First" was a small fringe group that had repeatedly been forced to stop street harassment of Muslims and threats to "invade" mosques. Following Trump's November 29 re-Tweets of the groups videos, Fransen was elated, while British officials, including Prime Minister Theresa May, called Trump out for his latest Nazi nonsense.The party's founders appear initially to have hoped it would become a powerful anti-immigration street movement. When that did not succeed, it began contesting a number of elections: Golding, a former BNP councillor, stood in the 2016 London mayoral elections, winning 31,372 votes (1.2%). When Fransen contested the Rochester and Strood parliamentary seat in a 2014 byelection, she polled just 56 votes (0.1%).
Four weeks ago, Britain First was deregistered by the UK's elections watchdog, the Electoral Commission, after it failed to confirm that its registered details were correct and pay a routine fee of £25. The party cannot now contest ballots, and the digital world appears to be the only space within which it might thrive.
Dowson, who is also a former BNP member and founder of Britain First, has since left the party. Before he did so, he helped Golding and Fransen understand how social media could amplify their message, according to the anti-racist organisation Hope Not Hate.
Accuracy and context have never been an issue in the Britain First output. One of the videos retweeted by Trump, which purports to show a Muslim immigrant beating up a Dutch boy, actually shows one Dutch boy attacking another, according to officials in the North Holland town where it was filmed.
The number of people following the party on social media, and also following Golding and Fransen, is growing steadily and appears to expand more quickly after a terrorist attack in the UK.
Dowson is also said to have explained to Golding and Fransen how the internet could be used to raise funds. The party's website was registered by Britain First Merchandise Ltd, the company that Golding and Fransen established three years ago to sell hoodies, hats and polo shirts emblazoned with the party's logo.
Golding and Fransen have registered a number of other companies, including Albion Promotions and Britannia Campaigning, from addresses in London, Belfast and County Down.
The Britain First website states that the party's policies include the introduction of a complete ban on Islam, prohibiting the media from using the word racism and paying people "of foreign descent" to leave the country permanently.
The party claims to take a hard line on law and order, backing the restoration of capital punishment for convicted paedophiles, terrorists and murders, the routine arming of the police and the introduction of "chain gangs".
Despite this, some of its leading members appear to have difficulty remaining on the right side of the law: a number have convictions for harassment and one has been jailed for breaching a court order obtained by Bedfordshire police that prohibits him from entering any mosque or Islamic cultural centre in England and Wales.
Apparently unaware that political uniforms have been unlawful in Britain since 1936 – under legislation that targeted Oswald Mosley's fascist blackshirts – some party members have also been prosecuted for wearing the hats and hoodies sold through its website.
The party found itself linked to the murder of Jo Cox in June 2016 after her killer, Thomas Mair, repeatedly shouted "Britain first" as he stabbed and shot the Labour MP to death. While the judge who sentenced Mair to life imprisonment condemned him as a white supremacist and a Nazi sympathiser, there is no evidence that he had ever been a member of Britain First.
The party issued a statement condemning the murder as an outrage but also defending what it termed direct action. Since being banned from entering mosques, leading members of the party have taken to invading restaurants that sell halal meat and posting videos of the incidents on the party's website and Facebook page.
Golding, 35, and Fransen, 31, who are both from south-east London, are due to appear in court in Kent charged with religiously aggravated harassment. The charges follow a police investigation into online videos and the distribution of leaflets in the county.
Fransen was also arrested in Kent earlier this month and taken to Belfast, where she was charged with using "threatening, abusive, insulting words or behaviour" during a rally in the city last August. She is due to appear in court in the city before the end of the year. In one of her most recent tweets, she implored Trump to intervene in the case, in defence of free speech and to save her from prison.
Golding has repeatedly declined to speak to the Guardian. Fransen could not be contacted for comment