Barbara Byrd Bennett gets four and a half years in federal prison in CPS corruption case... CTU officials mum on major example of budget finagling...
George N. Schmidt - April 28, 2017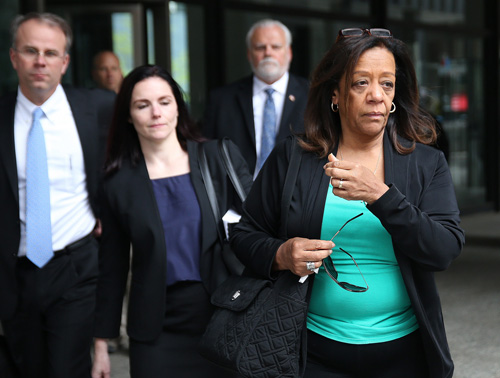 Barbara Byrd Bennett leaving federal court on April 28, 2017 following her sentencing in the "SUPES scandal." She got four and a half years in prison for her role.While at least one major Chicago Teachers Union official and many others sat in the courtroom of the Dirksen federal building in Chicago, a federal judge sentenced former Chicago Public Schools "Chief Executive Officer" Barbara Byrd Bennett to four-and-a-half years in prison for corruption in the "SUPES scandal." The scandal involved steering privatized principal training contracts (no bid) to suburban Chicago firms with which Byrd Bennett had ties and which had pushed for her hiring with mayor Rahm Emanuel in 2012.
Following the sentencing, the CTU issued a statement saying that the Byrd Bennett scandal was another reason why it was time for Chicago to get an elected school board. The main public statements to the media came from community activist Wendy Katten, who noted that CPS was still issuing no-bid contracts despite what should have been learned from the SUPES scandal.
Byrd Bennett was brought into Chicago as a consultant in early 2012, as contract negotiations were taking place between the Chicago Board of Education and the Chicago Teachers Union. The failure of those negotiations to reach a contract resulted in the seven (school) days strike in September 2012. At the time of the strike, Jean-Claude Brizard was CEO of CPS, but by the time of the strike Byrd Bennett had been elevated by the members of the Board of Education from the position of consultant to the post of "Chief Education Officer." According to news reports, Mayor Rahm Emanuel selected Byrd Bennett to replace Brizard (who went into a job at the College Board in New Jersey) following Emanuel's dissatisfaction with Brizard's job as CEO of the nation's third largest school system.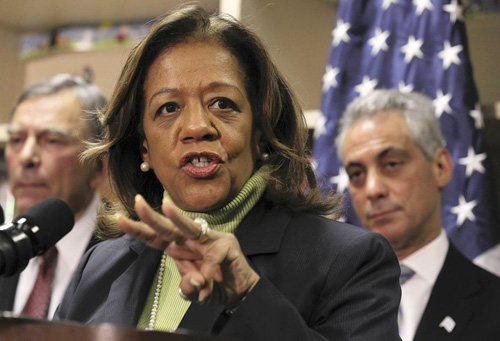 At a press conference explaining the closing of 50 Chicago public schools, Barbara Byrd Bennett stood between two of her most powerful supporters, Board of Education President David Vitale (left rear) and Chicago Mayor Rahm Emanuel (right rear). Byrd Bennett was brought into Chicago from Detroit, where she had overseen similar cuts, by Rahm Emanuel, and she was supported during her time as Chief Executive Officer of CPS by Vitale. The Board almost always voted unanimously to support her proposals, several of which profited groups with which she had affiliations.By the beginning of 2013, Byrd Bennett was firmly in control of CPS and was cultivating relations with the news media (except Substance, which she tried to exclude from media events) in the way she had done previously in New York City, Washington D.C., Cleveland, and Detroit. Despite the growing problems facing the city's schools, Byrd Bennett remained popular with some. However, by leading the system into the closing of 50 schools in 2013, even her considerable skills couldn't prevent her eclipse. She had been affiliated with "SUPES Academy" prior to being brought to Chicago by Emanuel from Detroit. In Detroit, she had helped oversee massive cuts in Detroit public schools and the expansion of Detroit charter schools.
Byrd Bennett reportedly cried in court on April 28 as she gave a ten-minuted statement to the court and public.
CHICAGO TRIBUNE STORY...
Byrd-Bennett sobs while trying to explain corruption, gets 4 1/2 years in prison
by Jason Meisner and Juan Perez Jr. Chicago Tribune
Former Chicago Public Schools CEO Barbara Byrd-Bennett began to sob in a federal courtroom Friday as she struggled to explain where "the tipping point" was that led her down a path of corruption.
The pressure of leading the nation's third-largest school system was enormous, she said. The mayor had shuttered dozens of schools, there was a bitter teachers strike, relentless budget issues and students dying virtually every day from gun violence. Still, those stresses were no excuse for lining her own pockets, she said.
"Oh, your honor, I wish I had magic words or a better explanation," said Byrd-Bennett, her voice cracking as she stood at the lectern reading from prepared notes.
Prosecutors, however, said the motive was simple to explain: "Naked greed."
In the end, U.S. District Judge Edmond Chang sentenced Byrd-Bennett to 4 1/2 years in prison for scheming to collect hundreds of thousands of dollars in kickbacks in return for steering lucrative contracts to SUPES Academy, an education consulting firm where she had formerly worked.
The hourlong hearing capped a stunning fall from grace for Byrd-Bennett, who was considered a star in urban education when Mayor Rahm Emanuel handpicked her to lead the city's cash-strapped school district.
In handing down the sentence, Chang said he needed to send a message to other public officials and corrupt vendors that they face significant time behind bars if they're caught defrauding the public for their own financial gain. It's a message that so far has not gotten through, the judge said.
"It's distressing that Chicago has not — and seems unable to — shed its image of public corruption," Chang said to dozens of spectators packed into his 21st-floor courtroom. "The people are waiting to find out if Chicago can ever be a city that works for its people and not for corrupt officials and people willing to pay bribes."
Despite the stern talk, Chang's sentence was three years less than what prosecutors had requested and also well below the seven-year term given to SUPES co-founder Gary Solomon, who has been described by prosecutors as the mastermind of the kickback scheme but was not a public official.
In cutting her somewhat of a break, Chang cited Byrd-Bennett's age — she turns 68 in July — and ultimate cooperation with authorities in the investigation, as well as the dozens of letters he received extolling her life's work as an educator.
Still, Byrd-Bennett needs to serve significant prison time because her corruption "infected the public education system" and made citizens more cynical that city officials are working on their behalf, Chang said.
"You know better than most that this is not some abstraction," Chang told Byrd-Bennett. "It's a real and concrete problem."
Earlier Friday, Chang sentenced Byrd-Bennett's co-defendant, former SUPES official Thomas Vranas, to 18 months in prison for his role in the massive bribery scandal.
Byrd-Bennett pleaded guilty in October 2015 to a single count of wire fraud. She admitted in a plea agreement with prosecutors to steering more than $23 million in no-bid contracts to SUPES.
In exchange for Byrd-Bennett's influence, Solomon and Vranas gave her tickets to sporting events, meals and other perks, but no cash actually exchanged hands. Instead, Byrd-Bennett was promised hundreds of thousands of dollars as a "signing bonus" once she left her duties at CPS and rejoined SUPES as a consultant, her plea deal said. The bonus was to be concealed in trust accounts set up in the names her twin grandsons — with the cash available to her once she left CPS.
A CPS committee set up to evaluate no-bid contracts initially balked at awarding SUPES a noncompetitive deal but later approved the plan, records show.
In pushing for the contracts, Byrd-Bennett admitted she lied to other CPS administrators, telling them she had no financial connection with the company. When one district official raised concerns about the no-bid deal, Byrd-Bennett effectively had him fired, according to court records.
Much of the case centered on emails sent between Solomon and Byrd-Bennett that seemed to make no effort to conceal the alleged kickback scheme.
Solomon told Byrd-Bennett in one 2012 email, "If you only join for the day, you will be the highest paid person on the planet for that day. Regardless, it will be paid out on day one," according to court records.
In another message, Byrd-Bennett implied she needed cash because she had "tuition to pay and casinos to visit," records show.
In court Friday, Assistant U.S. Attorney Megan Church said the email exchanges gave the whole scheme an air of ridiculousness.
"How could anyone be so stupid to send emails that are so open, so brazen about exchanging money for official action?" Church said.
Chang agreed, saying he was startled by the "casualness" of the corruption.
"The emails were even sprinkled with humor, of all things," Chang said. "It sends a signal to the court that you and Mr. Solomon didn't think you were going to get caught."
While Byrd-Bennett became the public face of the scandal, the Tribune had reported previously that Solomon's ties to the Emanuel administration go back to the beginning of Emanuel's tenure in office, predating the arrival of Byrd-Bennett. In fact, Solomon helped recruit Emanuel's first schools CEO, Jean-Claude Brizard, at the request of the mayor-elect's transition team in February 2011.
Solomon went on to recommend Byrd-Bennett, who was the lead trainer at SUPES when CPS hired her as chief education officer in April 2012.
Emanuel spokesman Adam Collins said in an emailed statement Friday that Byrd-Bennett had "betrayed the public trust."
DNA INFO story....
THE LOOP — Former Chicago Public Schools CEO Barbara Byrd-Bennett was hit Friday with a 4 ½-year federal prison sentence for defrauding the school system she was hired to lead.
U.S. District Court Judge Edmond Chang called her crime "egregious" and another example of public officials thinking they can get away with cheating the public. Byrd-Bennett has to turn herself in Aug. 28 and serve her time in a federal prison in West Virginia.
Earlier in the afternoon, before being sentenced, a sobbing Byrd-Bennett addressed the judge and said she was ashamed. Prosecutors said she steered $23 million worth of contracts for principal training to her former firm in return for kickbacks of cash, meals, tickets to sporting events and a job after she left CPS.
"I stand here at the most difficult moment of my life," she told Chang. "What I did was wrong. I am ashamed. ... I have no one to blame but myself. I am responsible."
Byrd-Bennett cried throughout most of her 10-minute speech to Chang, and became nearly inaudible at times.
Byrd-Bennett, who her former boss Mayor Rahm Emanuel used to call "Triple-B," told Chang she struggled to cope with "relentless budget deficits," having to close more than 50 schools and seeing the impact of Chicago violence on students and their families.
The job, she told the judge, was much harder than she thought it would be.
Byrd-Bennett said she had been blinded by "her ego and a sense of entitlement."
The former schools leader said she would have to live with her "tarnished reputation" for the rest of my life.
"I hope and pray I can redeem myself," Byrd-Bennett told the judge.
Earlier in the hearing, U.S. Attorney Megan Church said Byrd-Bennett "sold out" her integrity for the promise of cash. They asked Chang to hold her accountable — and send a message to other city officials.
Byrd-Bennett's conduct "cost CPS millions of dollars that it does not have," Church told the judge.
Church said Byrd-Bennett's case was "heartbreaking" because she "should have been looking out for students, parents and teachers."
"Instead, she chose to rip off the school system," Church said.
Not only did Byrd-Bennett defraud the school system, but she discussed the scheme over emails "openly, brazenly," Church said.
"She did not think she was going to get caught," Church said.
Her indictment included an email she sent to her former firm, saying, "I have tuition to pay and casinos to visit." She reportedly planned to pay tuition for her twin grandsons.
Michael Scudder, one of Byrd-Bennett's attorneys, agreed she committed a "terrible breach of the public trust," but asked Chang to consider her entire career, which he said Byrd-Bennett had dedicated to children.
Chang said he had done just that in deciding on the 4½ year sentence.
Byrd-Bennett's conduct "infected" the public education system and exacerbated the budget crisis engulfing the school system.
Chang said he believed Byrd-Bennett was truly remorseful, but said the evidence proved that her crime was "not a spur of the moment lapse but a scheme designed to span months and years."
The sentence was designed to send a message to other Chicago officials considering committing illegal acts to line their pockets.
"It is distressing that Chicago seems unable to shed its tradition of public corruption," Chang said. "Can Chicago ever be a city that works for its people?"
The judge also ordered Byrd-Bennett to pay $102,000 in fines and restitution.
Acting U.S. Attorney Joel Levin said it was particularly "offensive" that Byrd-Bennett's "tragic scheme" defrauded the school system of funds meant to be used to educate Chicago's children.
Court officials said Byrd-Bennett's scheme defrauded CPS of $2.9 million.
In October 2015, Byrd-Bennett pleaded guilty to a single count of wire fraud as part of a plea deal with federal prosecutors, admitting she steered the contracts.
Lawyers for Byrd-Bennett — who earned $313,000 in salary and benefits as CPS chief — had asked federal officials to sentence her to no more than 3½ years in prison.
Adam Collins, a spokesman for Emanuel, said Byrd-Bennett "turned her back" on Chicago's kids.
"Barbara betrayed the public trust. She broke the law. She turned her back on the very children she was entrusted to serve, and the children of Chicago are owed much better than that. Today's decision is a reminder that no one is above the law, and with justice now served the entire CPS community can continue to focus on building on the record academic success of Chicago students," Collins said.
A statement from the Chicago Teachers Union said Byrd-Bennett's sentence made it clear that it was long past time for Chicago's school board members to be elected — rather than appointed by Emanuel, who handpicked Byrd-Bennett.
The scandal is just one "scandal on a list of embarrassments and transgressions Chicagoans have endured under the Rahm Emanuel administration," the union said in a statement.
Bennett's lawyers said she would use a shortened prison sentenced to convince superintendents and school districts on the need to "redouble their efforts to avoid conflicts of interest with consultants and providers."
Although she initially lied to investigators and deleted incriminating emails after the investigation had started, Byrd-Bennett later pleaded guilty and agreed to testify against Gary Solomon and Thomas Vranas, co-owners of the SUPES Academy and Synesi Associates.
Byrd-Bennett never saw a dime from the scheme, agreeing to be paid 10 percent of the contracts' value in "bribes and kickbacks" as a so-called "signing bonus" on the day she returned to work for Solomon and Vranas.
Had she not pled guilty and agreed to testify against Solomon and Vranas, Byrd-Bennett could have been sentenced to more than 20 years in prison.
Both Solomon and Vranas eventually pleaded guilty.
In March, Chang sentenced Solomon — whom prosecutors called the mastermind of the scheme — to seven years in prison. Solomon has appealed that sentence.
Vranas was sentenced Friday morning by Chang to 18 months in prison. Prosecutors had asked that he be sentenced to more than three years in prison, while Vranas' attorneys asked that he be sentenced to probation.
Byrd-Bennett has been sued by the school district for $65 million.