'Sanctuary City' Chicago to continue despite Trump, Rahm Emanuel promises... Designation and its power began in 1985 under Harold Washington...
George N. Schmidt - November 14, 2016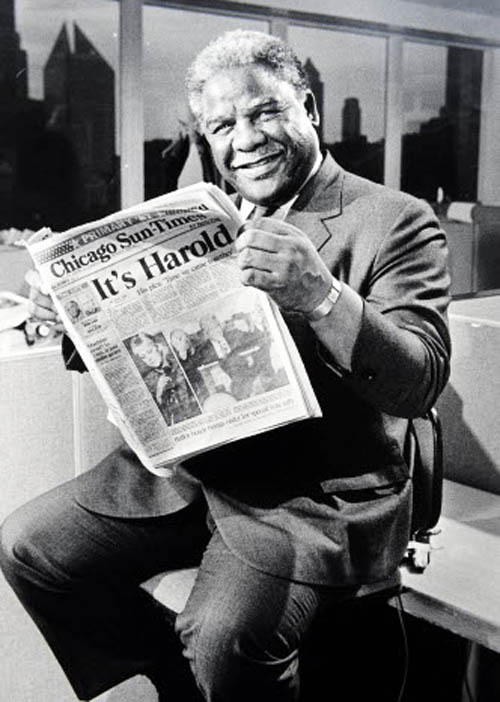 Chicago has remained a "Sanctuary City" since Mayor Harold Washington (above at his election in 1983) designated the city as such in 1985. Even as President Barack Obama was deporting the largest number of immigrants in history, Chicago, under mayors Richard M. Daley and Rahm Emanuel, continued to preserve the Sanctuary City designation. Now, President Elect Donald Trump has promised to take away federal funds from cities that remain Sanctuary Cities. Los Angeles and New York City have also announced, along with Chicago, that they will remain sanctuaries.Chicago will remain a "Sanctuary City" despite threats from President Elect Donald Trump. For those who don't remember, Harold Washington designated Chicago as what has become known as a "sanctuary city" in 1985. The designation has remained that way ever since. What it means to teachers is very important: Chicago teachers are not required to provide federal authorities with information that might reveal whether some of our children are "illegal" immigrants. At various times during my teaching career and career as a union delegate at Amundsen and Bowen high schools in Chicago during those years, I have had to remind our colleagues that they are required to respect the "sanctuary" designation. Some Chicago teachers voted for Donald Trump, as readers of Substance know. [Disclosure: This reporter and his family voted for Hillary Clinton, and prior to that supported Bernie Sanders...].
Since he began his election campaign, Donald Trump has made immigrant bashing a centerpiece of his racist and nativist platform. And he has attacked "Sanctuary Cities" almost as nastily as he has attacked most immigrants. But this week Chicago Mayor Rahm Emanuel told the world that under his administration Chicago will remain a Sanctuary City.
FOLLOWING ARE VARIOUS STORIES OUTLINING WHAT EMANUEL'S PROMISE MEANS...
TRIBUNE STORY NOVEMBER 15, 2016...
Emanuel stands by sanctuary, Mayor uses immigration issue as chance to challenge Trump's funding threats, By John Byrne, Hal Dardick and Bill Ruthhart, Chicago Tribune
Mayor Rahm Emanuel on Monday promised to protect immigrants from deportation, even as president-elect Donald Trump has pledged to remove as many as 3 million immigrants who have criminal records and are living in the country illegally.
For more than three decades, Chicago has been a sanctuary city, where local laws prohibit government workers and police officers from asking about residents' immigration status. The mayor said that tradition would continue.
"To all those who are, after Tuesday's election, very nervous and filled with anxiety as we've spoken to, you are safe in Chicago, you are secure in Chicago and you are supported in Chicago," Emanuel said. "Chicago will always be a sanctuary city."
That vow is running headlong into Trump, who campaigned on blocking federal funding to sanctuary cities, ramping up deportations, increasing prison sentences for those who re-enter and building a wall along the Mexican border.
But the rise of Trump and the nation's rapidly changing political landscape provides a mayor who's been trying to rebuild his image with a political opportunity in a city full of immigrants and diverse neighborhoods.
Emanuel, after all, is the guy who famously offered up the credo "never let a serious crisis go to waste" as he prepared to push President-elect Barack Obama's Great Recession economic agenda in 2008. In this case, Trump's inflammatory rhetoric toward Mexicans and his immigration policies give Emanuel a political rallying point among Latinos after the mayor's popularity dropped sharply following the Laquan McDonald police shooting controversy.
Many Latinos, however, still look at Emanuel with a wary eye on immigration, given his relatively late religion on the issue. In the Obama White House, Emanuel advised against pursuing immigration reform in that first year, having once called it the "third rail of politics." In the Clinton White House, Emanuel suggested hard-line immigration policies to achieve "record deportations of criminal aliens."
Twenty years later, Trump has talked about the same target Emanuel backed for Clinton — deporting immigrants with criminal records who are in the U.S. illegally.
"What we are going to do is get the people that are criminal and have criminal records, gang members, drug dealers, where a lot of these people, probably 2 million, it could be even 3 million, we are getting them out of our country or we are going to incarcerate," Trump told "60 Minutes" in an interview that aired Sunday night. "But we're getting them out of our country. They're here illegally."
For his part, Emanuel has not spoken to any of these specific policy proposals from Trump — and the mayor has not said he'd protect immigrants with criminal records who are here illegally. Instead, Emanuel has struck a more general tone of sympathizing with immigrants.
"Now, administrations may change, but our values and principles as it relates to inclusion does not," Emanuel said at a Monday event with immigrants' rights advocates to discuss expanding mental health services for those worried Trump will deport them or their families. "People from all faiths, all backgrounds and all parts of the world have beaten their path to the city of Chicago because Chicago offers them and — more importantly, as the son and the grandson of an immigrant — their children and grandchildren a chance at the American dream."
Trump proposals
In his "Contract with the American Voter" prior to his election, Trump said he would take three actions on immigration during his first day in office: Cancel all federal funding to sanctuary cities, start deporting more than 2 million "criminal illegal immigrants" and suspend immigration from "terror-prone regions where vetting cannot safely occur."
During his first 100 days in office, Trump has said he will introduce legislation to build a wall on the country's southern border with Mexico, enact a minimum two-year mandatory federal prison sentence for those who re-enter the country after being deported and increase penalties for overstaying a visa.
It's unclear how many of those priorities Trump will push hard for, and how many turn out to be little more than campaign rhetoric or ideas he decides not to pursue while spending his post-victory political capital elsewhere.
Cutting off all federal funding to sanctuary cities would require action by a Republican-controlled Congress and, if passed, could cost Chicago significantly. This year, the city is receiving a little more than $1 billion in federal grant funding for myriad programs, including early childhood education, transportation, policing, health initiatives, public assistance programs and disaster management. Next year, the city is counting on more than $1.3 billion from the federal government.
The Justice Department released a report in May saying the city could stand to lose nearly $29 million in annual justice grants if found to be in violation of federal laws on detaining people to be turned over to immigration agents for possible deportation.
Democratic U.S. Rep. Mike Quigley, of Chicago, said he worries about Trump's threat to turn off that federal spigot, but said he thinks the new president ultimately will soft-pedal that while seeking congressional backing for other initiatives.
"In the final analysis, though, I think if the president wants to do what he talks about, for example with a big infrastructure package, he's going to need support across the aisle," Quigley said on WLS-AM 890's "Connected to Chicago" show that aired Sunday. "And if he says none for Chicago, he's not going to get any support from anybody in Chicago, frankly in the Chicagoland area."
Emanuel has said he's not worried about a Trump administration penalizing Chicago for its political resistance to the Republican's policies, but the mayor's immigration remarks will put him at odds with a new White House where he already will find his clout immeasurably diminished after eight years of nearly unfettered access to the Obama administration.
Emanuel has supported Obama's immigration polices, including the president's 2014 executive order. That policy, which the Supreme Court blocked in June with a 4-4 tie, would have allowed as many as 5 million immigrants here without legal permission to apply for a program that would protect them from deportation and offer them work permits.
The mayor also has pledged to stand up for so-called "Dreamers," those who benefited from Obama's Deferred Action for Childhood Arrivals that offered legal protection to about 742,000 people who were brought to the U.S. as children and stayed here illegally. Trump said during the campaign he would rescind that executive order that created DACA.
On Monday, DACA beneficiary Luis Gomez, who came to Chicago from Mexico as an 11-year-old and is now studying at the Illinois Institute of Technology, said he worries about his ability to continue his studies and get a job if Trump follows through on that threat. And in an illustration of the difficulties anti-Trump forces face in building a unified front in the wake of Democrat Hillary Clinton's failed presidential bid, Gomez scolded Emanuel and U.S. Rep. Gutierrez, D-Chicago.
"Rep. Gutierrez, if unity is to be achieved, you need to stop categorizing and separating the undocumented community between deportables and Dreamers. I demand that you stand behind all immigrants, not just immigrants without a criminal record," Gomez said as Emanuel and Gutierrez stood directly behind him. "Mayor Emanuel, the welcoming city ordinance only protects immigrants without criminal records. I demand you extend protection in the city ordinance to those who belong to my community with a record."
Emanuel has not promised to protect immigrants with criminal records who are living in the U.S. without legal permission. And Gutierrez said such people should be deported.
Years ago, Gutierrez blamed Emanuel for Obama not taking up immigration reform early in his first term. During Emanuel's first run for mayor, Gutierrez recorded automated phone calls against him and appeared in Spanish-language TV ads to proclaim, "When Rahm Emanuel could have used his power to help us, he turned his back to us and our most vulnerable families."
Since then, Gutierrez has buried the hatchet with Emanuel, as the mayor has shared the congressman's position on immigration issues.
Emanuel also has enjoyed widespread support from the City Council's Latino aldermen.
Sanctuary policies
Emanuel's public statements reaffirming Chicago's sanctuary city status come as the mayors of New York, Los Angeles, Seattle, Philadelphia, Minneapolis and other major cities also have done so since Trump's election.
The morning after Trump's victory, Emanuel took the rare step of giving a speech at the start of the City Council meeting. The mayor argued the multicultural slate of politicians who won in Illinois on Nov. 8 shows the strength of the immigrant ideals he said give the area its vitality.
Speaking to reporters after the meeting, Emanuel said he understands how Trump's win has heightened the anxiety of immigrants who are living in the country without permission and pledged to fight forcefully for immigrants' rights in light of the anti-immigrant rhetoric Trump used throughout his campaign.
On Sunday, Emanuel issued a statement urging immigrants concerned about their rights to call the city's 311 center to get information about legal resources and other programs at their disposal.
Chicago's status as a sanctuary city stretches to 1985, when Mayor Harold Washington issued an executive order prohibiting city agencies from inquiring about immigration status when providing services. That included police not asking crime victims or witnesses about their immigration status.
Emanuel went a step further in 2012, sponsoring a City Council-approved ordinance that said Chicago police could turn over information to federal immigration agents on immigrants only if they are wanted on a criminal warrant or have been convicted of a serious crime. This year, the City Council approved an Emanuel-endorsed ordinance to provide municipal ID cards to immigrants who are in the country without permission.
The Chicago law prohibits police from providing U.S. Customs and Immigration Enforcement officials access to people who are in the Police Department's custody, unless officers are "acting pursuant to a legitimate law enforcement purpose that is unrelated to the enforcement of a civil immigration law." In practice, that means police aren't supposed to turn over immigrants living in the U.S. without permission unless they are wanted on a criminal warrant or have serious criminal convictions.
Chicago's law also prohibits officers from allowing ICE agents to use their facilities for interviews or investigation. And it bars on-duty officers from responding to ICE inquiries or talking to ICE officials about a person's custody status or release date.
HERE IS THE DNA INFO STORY ON THAT ANNOUNCEMENT:
Chicago A 'Sanctuary' For Immigrants Despite Trump's Win, Rahm Says, By Heather Cherone, DNA Info Chicago, November 13, 2016 4:41pm
Chicago will remain a sanctuary city despite President-elect Donald Trump's promise to withhold federal funds from cities that protect undocumented immigrants from deportation, Mayor Rahm Emanuel said Sunday in a statement. Chicago will remain a sanctuary city despite President-elect Donald Trump's promise to withhold federal funds from cities that protect undocumented immigrants from deportation, Mayor Rahm Emanuel said Sunday in a statement.
Emanuel's announcement follows statements on Friday by Los Angeles Mayor Eric Garcetti, New York Mayor Bill DeBlasio and San Francisco Mayor Ed Lee that they would not alter policies that restrict their cities' cooperation with U.S. immigration authorities.
Trump during an interview that aired Sunday on CBS' 60 Minutes said he would "immediately" deport up to 3 million immigrants who are "criminal and have criminal records," citing "gang members, drug dealers." Said Trump: "We are getting them out of the country, or we are going to incarcerate."
In Emanuel's statement, the mayor said he wanted "to assure all of our families that Chicago is and will remain a Sanctuary City."
"Chicago has been a city of immigrants since it was founded. We have always welcomed people of all faiths and backgrounds, and while the [White House] administration will change, our values and our commitment to inclusion will not," Emanuel said.
City operators who field calls to the city's 3-1-1 system will get "special instructions" to help those concerned about their status in the wake of Trump's election, Emanuel said.
In 1985, then-Mayor Harold Washington signed a sanctuary city policy that prohibited city agencies from asking people about their immigration status though the Chicago Police Department does run background checks on criminal suspects.
In a 2012 appearance at a Little Village school, Emanuel told reporters that the police department is not an "adjunct for the immigration service."
"We're not going to turn people over to ICE" — the U.S. Immigration and Customs Enforcement Agency," Emanuel said according to a Tribune report on the 2012 event.
Trump made immigration a central issue of the presidential campaign. He has vowed to build a wall between the U.S. and Mexico, to deport 11 million undocumented immigrants and to ban Muslims from entering the United States.
In addition, the president-elect vowed to impose financial penalties on sanctuary cities that shelter undocumented immigrants. There are 37 sanctuary cities in the United States.
On Wednesday, Emanuel said many Chicagoans went to sleep Tuesday night after the election and woke up "despondent this morning and fearing for their future and fearing for the future of their children."
Emanuel acknowledged that undocumented immigrants were fearful that a Trump victory means his administration will move to deport them.
"Do not lose hope, because America embraces you," Emanuel said, speaking directly to undocumented immigrants. "Your dreams are honored here."
Included in the mayor's proposed 2017 budget is $1 million to establish a municipal identification card for undocumented immigrants.
"I know your sense of fear," Emanuel said. "We are a welcoming city. We will stay a welcoming city."
RAHM EMANUEL'S CITY HALL PRESS RELEASE...
FOR IMMEDIATE RELEASE
November 13, 2016
CONTACT:
Mayor's Press Office
312.744.3334
press@cityofchicago.org
MAYOR EMANUEL REITERATES CHICAGO'S STATUS AS SANCTUARY CITY
Urges Residents with Questions to Call 311
Mayor Rahm Emanuel today reiterated Chicago's commitment to being a sanctuary city for immigrants and announced the city's 311 operators have been given special instruction to assist anyone with concerns or questions about their status in Chicago or the United States.
"Since the Presidential Election, there has been a sense of uncertainty among many immigrant communities in Chicago and across the nation. I want to assure all of our families that Chicago is and will remain a Sanctuary City," said Mayor Emanuel. "Chicago has been a city of immigrants since it was founded. We have always welcomed people of all faiths and backgrounds, and while the administration will change, our values and our commitment to inclusion will not."
Residents are encouraged to call 311 for information about legal resources, as well as other supportive services. Families can also learn more about Chicago's upcoming Municipal ID program by calling 311. Under a provision in the Mayor's recently announced budget, the City will begin issuing Municipal IDs in late 2017 to ensure all Chicago residents have access to official identification. Community meetings will be scheduled throughout next year to provide more information.
To learn more about the Municipal ID program or for a list of community meetings, visit
https://www.cityofchicago.org/officeofnewamericans, or call 311.