Chicago teachers continue participation in Pride Parade on June 26... President Barack Obama proclaims Stonewall a historic site... The 2016 Pride Parade as history and as current events...
George N. Schmidt - June 25, 2016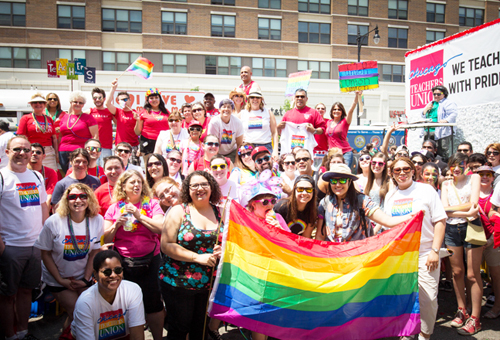 Chicago teachers and other CTU members at the 2015 Pride Parade in Chicago. CTU photo.The Chicago Teachers Union will again be a major part of the groups participating in the Pride Parade on June 26, 2016. The Chicago Teachers Union will join the 47th Annual Chicago Pride Parade on Sunday, June 26, 2016, the CTU reported.
"This will be the sixth consecutive year that our union's LGBTQI members, allies and friends will participate in what promises to be one of the biggest and most important Pride parades in some time," a CTU message to members stated. "Arrive at our float (Broadway & Montrose) at 11:30 a.m. to participate."
The participation of the CTU in the Chicago Pride Parade will take place at the time that the Obama administration has proclaimed that Stonewall has become a national historic site. A moving video narrated at the beginning by the President of the United States is at the URL: https://www.whitehouse.gov/blog/2016/06/24/president-obama-designates-stonewall-national-monument
The official announcement, available at whitehouse.gov, was made on June 24, 2016:
President Obama Designates Stonewall National Monument, JUNE 24, 2016 AT 12:00 PM ET BY SIMONE LEIRO
Summary: Today, President Obama designated Stonewall National Monument to honor the broad LGBT equality movement.
Today, President Obama designated a new national monument at the historic site of the Stonewall Uprising in New York City to honor the broad LGBT equality movement.
The new 'Stonewall National Monument' will protect the area where, on June 28, 1969, a community's uprising in response to a police raid sparked the modern LGBT civil rights movement in the United States.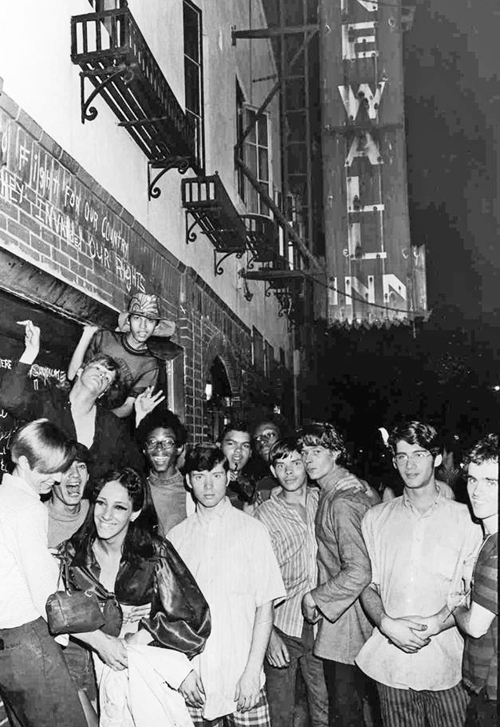 Like so many historic events, the actual Stonewall rebellion is memorialized by only a few photographs taken at the time. On the far right in the above photo of the "kids" who actually did the fighting is the New York artist Thomas Lanigan Schmidt. According to Tom Schmidt, virtually all of the others in the famous above photo and its companion photo are now dead -- except one. Check out the video to learn more about the Stonewall Uprising and how it sparked a movement for LGBT equality:
"I'm designating the Stonewall National Monument as the newest addition to America's National Park System. Stonewall will be our first national monument to tell the story of the struggle for LGBT rights. I believe our national parks should reflect the full story of our country, the richness and diversity and uniquely American spirit that has always defined us. That we are stronger together. That out of many, we are one."
President Obama
In addition to protecting more land and water than any President in history -- more than 265 million acres -- President Obama has sought to protect places that are diverse, culturally and historically significant, and that reflect the story of all Americans.
Earlier this year, President Obama designated the Belmont-Paul Women's Equality National Monument, a site that has been central to the fight for women's equality for over a century.
By honoring the history and accomplishments of the movement for LGBT equality, today's designation will be a historic moment in this effort towards a more inclusive National Park System. The President's designation of Stonewall National Monument is just one example of his ongoing commitment to equality, for all Americans no matter who they love. Find out about just a few of the President's actions to advance justice and equality for all, including LGBT Americans:
Preventing Hate Crimes: Overcoming years of partisan gridlock, the President worked with Congress to pass and sign into law the Matthew Shepard and James Byrd, Jr. Hate Crimes Prevention Act into law in October 2009, which extends the coverage of federal hate crimes law to include attacks based on the victim's actual or perceived sexual orientation or gender identity.
Ending Discrimination in Healthcare: In March 2010, the Affordable Care Act was signed into law by President Obama and it ensured that companies can not discriminate against anyone just because he or she is lesbian, gay, bisexual, or transgender.
HIV/AIDS Strategy: President Obama developed and released the first comprehensive National HIV/AIDS Strategy for the United States in 2010, updated it through 2020, and is implementing it to address the disparities faced especially by gay and bisexual men of all races and ethnicities and transgender women of color. Repealing Don't Ask Don't Tell: The President signed bipartisan legislation to repeal Don't Ask Don't Tell on December 22, 2010, allowing gay, lesbian, and bisexual Americans to serve openly in the Armed Forces without fear of being dismissed from service.
No longer enforcing the Defense of Marriage Act: In February 2011, the President and Attorney General announced that the Department of Justice would no longer defend the Defense of Marriage Act's provision defining marriage under federal law as only between a man and woman, a provision subsequently struck down as unconstitutional by a landmark Supreme Court's decision.
Prohibiting LGBT Discrimination for Federal Contractors: In July 2014, the President signed an Executive Order prohibiting federal contractors from discriminating against any employee or applicant for employment "because of race, color, religion, sex, sexual orientation, gender identity, or national origin," continuing to set an example as a model employer that does right by its employees.
Conversion Therapy: The President has supported legislative efforts to ban the use of so-called "conversion therapy" against minors and released a Substance Abuse and Mental Health Services Administration (SAMHSA) study condemning the practice.
Promoting the rights of LGBT people the world over: President Obama issued a presidential memorandum that directs all federal agencies engaged abroad to ensure that U.S. diplomacy and foreign assistance promote and protect the human rights of LGBT persons.
A moving video is also available...