Rauner loses... CPS is not 'bankrupt', reports ISBE investigation... CPS lies about those 'billion dollar deficit(s)' have been going on for the last five 'Chief Executive Officer(s)'...
George N. Schmidt - May 08, 2016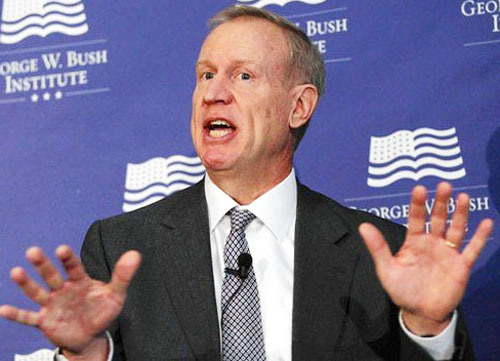 Illinois Governor Bruce Rauner at the George W. Bush Institute. Question: Who was the first "Chief Executive Officer" of the nation's third largest school system who proclaimed, with no evidence but some creatively arranged accounting, that CPS was facing a "billion dollar deficit"?
Answer: Ron Huberman.
Question: Who was the first schools chief in Chicago who proclaimed, without evidence, that the school system was facing a huge "deficit"? (In the beginning, the claim was $300 million)?
Answer: Ted Kimbrough.
Question: What did cynical CPS insiders call those "deficit" claims since the early 1990s?
Answer: The "Magic Number".
And so in 2016, nearly three decades after CPS and city officials first agreed to make the big lie about CPS finances bigger, the latest CEO (this time, a guy who worked at the Chicago Transit Authority, then at City Hall, named Forrest Claypool) has told the world that CPS was facing a "billion dollars deficit." And because of that proclamation, the governor of one of the largest states in the USA demanded that the nation's third largest school system be declared "bankrupt."
However, at some point, even big lies have to crash into a few inconvenient facts. And so it was in May 2016 that Governor Bruce Rauner's hand picked Illinois States Board of Education told the world that CPS was not -- NOT -- bankrupt. Which was no surprise to anyone who (like this reporter) has been actually studying the Chicago Board of Education's annual audited financial reports (the CAFR) for the past decade or three. The facts don't uphold the lies coming from those who proclaim that "billion dollar deficit" or those who second that claim by spouting smaller lies under the slogan "Broke On Purpose."
Everyone with even the most basic understanding of bankruptcy law and Illinois school finances knows that it's nearly impossible to proclaim that a governmental entity with a budget of around $6 billion and virtually guaranteed annual revenues of almost $6 billion is far from "broke" -- not "bankrupt" and in most ways not "broke on purpose." But for several months, Illinois's Ayn Randist governor Bruce Rauner, in addition to his other notions, has claimed that Chicago Public Schools should be declared "bankrupt." As Rauner, like his fellow Republican leader Donald Trump, knows, bankruptcy is often a way in the private sector to avoid paying legal debts.
And so it had come to pass that Rauner tried a ploy to get CPS out from under some of the largest remaining union contracts in the state. But his claim failed, as even Rauner's hand-picked state school board could not justify seconding the governor's claim.
The Chicago Tribune reported on May 7, 2016, that contrary to the wishes of Governor Bruce Rauner, Chicago Public Schools is not in desperate financial situation and therefore cannot be declared a sort of insolvent.
TRIBUNE ARTICLE:
State: CPS doesn't warrant financial intervention, By Juan Perez Jr., Chicago Tribune May 7, 2016
Despite Chicago Public Schools' financial straits, a state investigation concluded the district's books don't warrant an intervention from Springfield.
The Illinois State Board of Education's finding that CPS is not in "financial difficulty" as defined by state law represents a blow to Gov. Bruce Rauner's efforts to give the state greater control over district finances.
For now, ISBE has signaled it will simply continue to keep an eye on CPS.
ISBE launched its investigation of CPS finances in February after Rauner ordered a review of the district's books as part of his call for a state takeover of the troubled system. The Illinois attorney general's office subsequently concluded Illinois has limited authority over CPS' finances.
Materials prepared for ISBE's monthly meeting on Wednesday state that CPS is planning to cut $120 million in its coming budget year, and that the district continues to face massive and growing payments to fund teacher pensions.
ISBE officials said the $120 million in cuts means CPS can stave off a "negative operational budget" until the district's 2019 fiscal year. Without the cuts, ISBE said CPS would have no cash balance to pay its bills as early as its 2018 fiscal year.
But CPS doesn't at this time meet any of five criteria that would prompt the system to fall into "financial difficulty," ISBE found."It's clear in our analysis CPS has financial challenges and a spending problem," ISBE spokeswoman Laine Evans said in a statement. "However, at this time they do not meet the criteria for certification of financial difficulty, as defined per statute. ISBE will continue to monitor the situation and the district's finances."
CPS spokeswoman Emily Bittner said in a statement that ISBE's "decision demonstrates that Gov. Rauner's attempts to drive CPS into bankruptcy are misguided and wrong."
The district faces a pension bill of about $675 million next month. CPS officials have said the district can make the pension payment only with the help of hundreds of millions of dollars worth of short-term borrowing. Even after borrowing money through a strategy that resembles a payday loan, the district projects it would end its current budget year with about $24 million in cash. That amounts to less than two days worth of operating expenses.
CPS CEO Forrest Claypool has said the district needs a new line of credit to remain solvent in the coming budget year and has sought to pressure Springfield lawmakers — so far without success — to overhaul the state's current school funding formula. "You don't need an actuary or an accountant to know CPS has financial problems, otherwise the district wouldn't be repeatedly asking the state for an additional half a billion dollars," Rauner spokeswoman Catherine Kelly said in a statement. "It's clear the district is in financial distress."
ISBE put CPS on "financial watch status" in March 2015, which allows the state to request financial information and determine if the school system can be deemed to be in financial difficulty.The state asked CPS to turn over a large amount of financial information, including details on the district's cash flow and major contracts. The school district retorted that much of that information was available online, but passed it along anyway while asserting Rauner's moves to take over the district had no legal basis.
Attorney General Lisa Madigan agreed with the district last month, issuing an opinion that concluded the state has limited authority over CPS finances.