Another attack on those who work in the city's schools by Emanuel's appointees and Claypool's cronies ... CPS, Claypool, order another theft from CTU members -- and others working for CPS... PSRP bonus of a mere $250 ripped off...
George N. Schmidt - April 14, 2016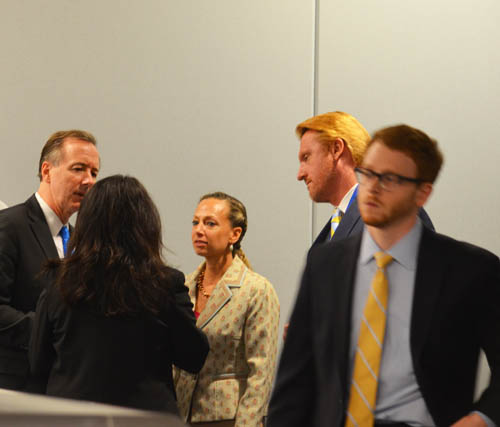 A month after he was appointed by Mayor Rahm Emanuel as "Chief Executive Officer" of Chicago's public schools, Forrest Claypool was photographed bringing in some of the members of his "team" at the August 26, 2015 Board of Education meeting (above). Substance photo byGeorge N. Schmidt.One the eve of Spring vacation for the city's real public schools (and for most of the charter schools), Chicago Public Schools executives ordered that a contractual bonus for PSRPs be rescinded. The action by Forrest Claypool and his executive "team" is the latest attack on those who work in the nation's third largest schools system by a group of administrators who have been in power less than a year. Following his appointment by Mayor Rahm Emanuel in July 2015, "Chief Executive Officer" Forrest Claypool replaced the existing CPS leadership staff with a group of expensive cronies from among those who worked with him at the Chicago Transit Authority. Claypool had been Emanuel's Chief of Staff prior to his appointment in July 2015.
CTU PRESS RELEASE...
CONTRACTUAL BONUSES CANCELED BY VICIOUS EDICT
Paraprofessionals and school related personnel will take an unexpected hit in the paycheck this Friday. For more than a decade, PSRPs in the Chicago Public Schools have received a spring break bonus of $250 that supplements the salaries of members at the low end of our pay spectrum. In a move that will net the district less than one ten-thousandth of its annual budget, Forrest Claypool will violate Article 36-7 of the contract and refuse negotiated compensation to the CTU members who can least afford a surprise hit to their bank accounts.
CTU WILL FIGHT THIS ATTACK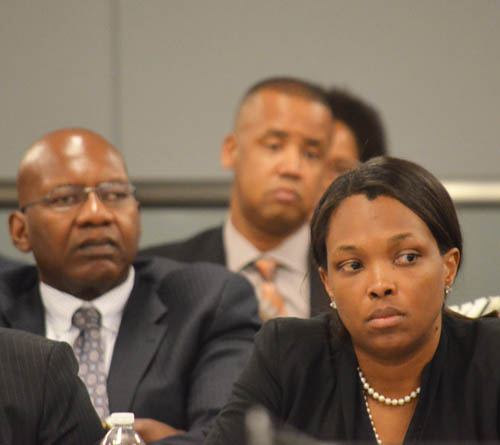 Three of the newly appointed top executives of America's third largest school system at the August 26, 2015 meeting of the Chicago Board of Education. Only one of them had ever worked in Chicago's schools, as CEO Forrest Claypool began thrusting his team into the top ranks of CPS. Substance photo by George N. Schmidt.CTU will use every tool at our immediate disposal to fight this. The officers have demanded the reinstatement of this pay and an Unfair Labor Practices charge is already being filed with the labor board. This attack will only hinder CPS in negotiations and make angry CTU members ready to fight harder. PSRPs have made it clear below. CPS must not know about our PSRPs' fighting spirit. They will learn.