Schools across Chicago 'ready to explode' as lack of security and substitute services combine to create a perfect storm of chaos at at least 100 of Chicago's real public schools (and at many of the charters as well)...
George N. Schmidt - April 12, 2016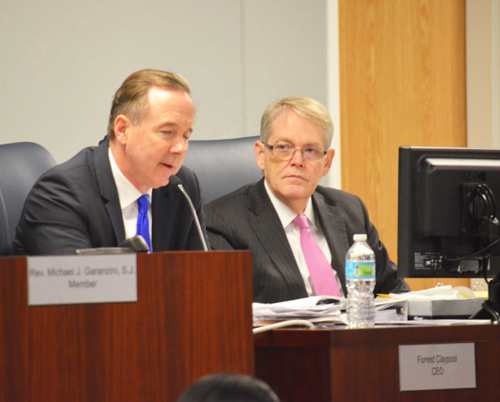 Under the Amendatory Act of 1995, Chicago's mayor has the power to continue to appoint unqualified clout-heavy politicians and cronies to the top positions overseeing Chicago's public school system, the third largest in the USA. Hence, by the February 24, 2016 meeting of the Chicago Board of Education, Forrest Claypool (above left) could go from being "Chief of Staff" to Mayor Rahm Emanuel to being "Chief Executive Officer" of Chicago Public Schools -- despite the fact that Claypool was almost completely ignorant of the city's complex and massive school system (his previous expertise was in public transit, as head of the CTA). Virtually as soon as he took office in July 2015, Claypool began lying about the massive ($6 billion) CPS budget and bringing in a small army of expensive cronies from the old days when he was in charge of the Chicago Transit Authority. Above, Claypool crony Robert Marmer became the school system's General Counsel despite the fact that Marmer, like Claypool, knew almost nothing about the city's public schools. Substance photo by George N. Schmidt. Thanks to a combination of "austerity" budgeting (often based on false claims about the size of a Chicago school budget "shortfall"), police cutbacks (and retirements), a bankrupt ideology of corporate "school reform," and mismanagement of local Chicago Public Schools security resources, at least 100 of Chicago's nearly 600 real public schools are facing a crisis caused by centralized factors but landing in the halls and classrooms of the schools themselves. Gang violence in and around many schools -- not only on the south and west sides as proclaimed by certain ignorant analyses by a faction of the leadership of the city's teachers union -- has escalated to a degree not seen since the late 1990s and early 2000s. And the failure of the Claypool administration to even recognize that schools need substitute teachers has escalated the problems where they are worst for other reasons.
A small number of simultaneous causes are conspiring to make things dangerous during the Spring of 2016, the most serious is the complete cluelessness of the top administration at the nation's third largest school system. Having replaced experienced educators with corporate and City Hall hacks (Barbara Byrd Bennett and Jean-Claude Brizard are best described as "corporate hacks," courtesy of the Broad Foundation; Forrest Claypool is a City Hall Hack; none of them knows much -- if anything -- about the complexity of Chicago's public schools...), Mayor Rahm Emamuel then encourages the "head in the sand" approach to real problems. This is done by substituting lurid fetishes for reality. The most obvious of the fetishes is "data", and the fallacy of so-called "data driven management."