What went 'down' but really went up at Chicago Public Schools? Forrest Claypool added another million dollars worth of bureaucrats from among his outside cronies on Octobter 28, and the Board members voted to approve it all!...
George N. Schmidt - November 03, 2015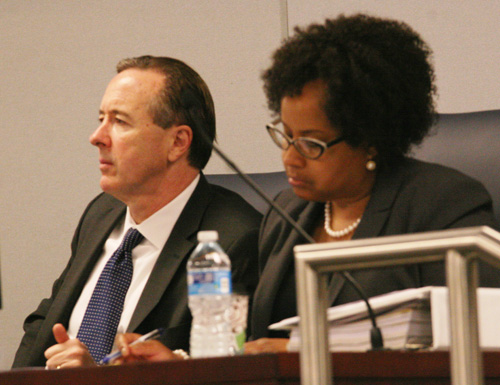 During the public meeting of the Chicago Board of Education on October 28, 2015, "Chief Executive Officer" Forrest Claypool (above left) sat with "Acting General Counsel" Cheryl Colson (above right). By the time the meeting was officially adjourned, Claypool had replaced Colson, a veteran of CPS and an expert on school law, with a crony from years past, Ronald Marmer, a corporate lawyer with no experience in the complex realities of school law in Illinois or Chicago. Substance photo by David Vance.Anyone who has been trying to pay attention to the statements by the mayor's office and Chicago Public School officials about the current state of Chicago's school finances might believe that the only way CPS can save the schools (and the "children") is by everybody going to Springfield and getting state lawmakers to approve another $480 million for Chicago's schools. According to the official CPS narrative, that's the "budget hole" that the city's public schools are facing this fiscal year (which began July 1 and ends June 30) unless the state ponies up. Forrest Claypool, the transit expert who was appointed by Rahm Emanuel to run the city's schools on July 1, 2015, told the world as much in an Op Ed published by the Chicago Tribune this week.
But while Claypool and Chicago Mayor Rahm Emanuel (who appointed Claypool and the current seven members of the Board of Education under his power because of mayoral control of Chicago's schools) claim they keep reducing "administration" and "bureaucracy," at every meeting of the Chicago Board of Eduction, they are actually increasing it.
Take the October 28, 2015 Board meeting.
None of them were on the agenda, but four Board Reports that became public later added another million dollars (probably a little more, if you include benefits and "staff") to the top ranks of Chicago schools executives.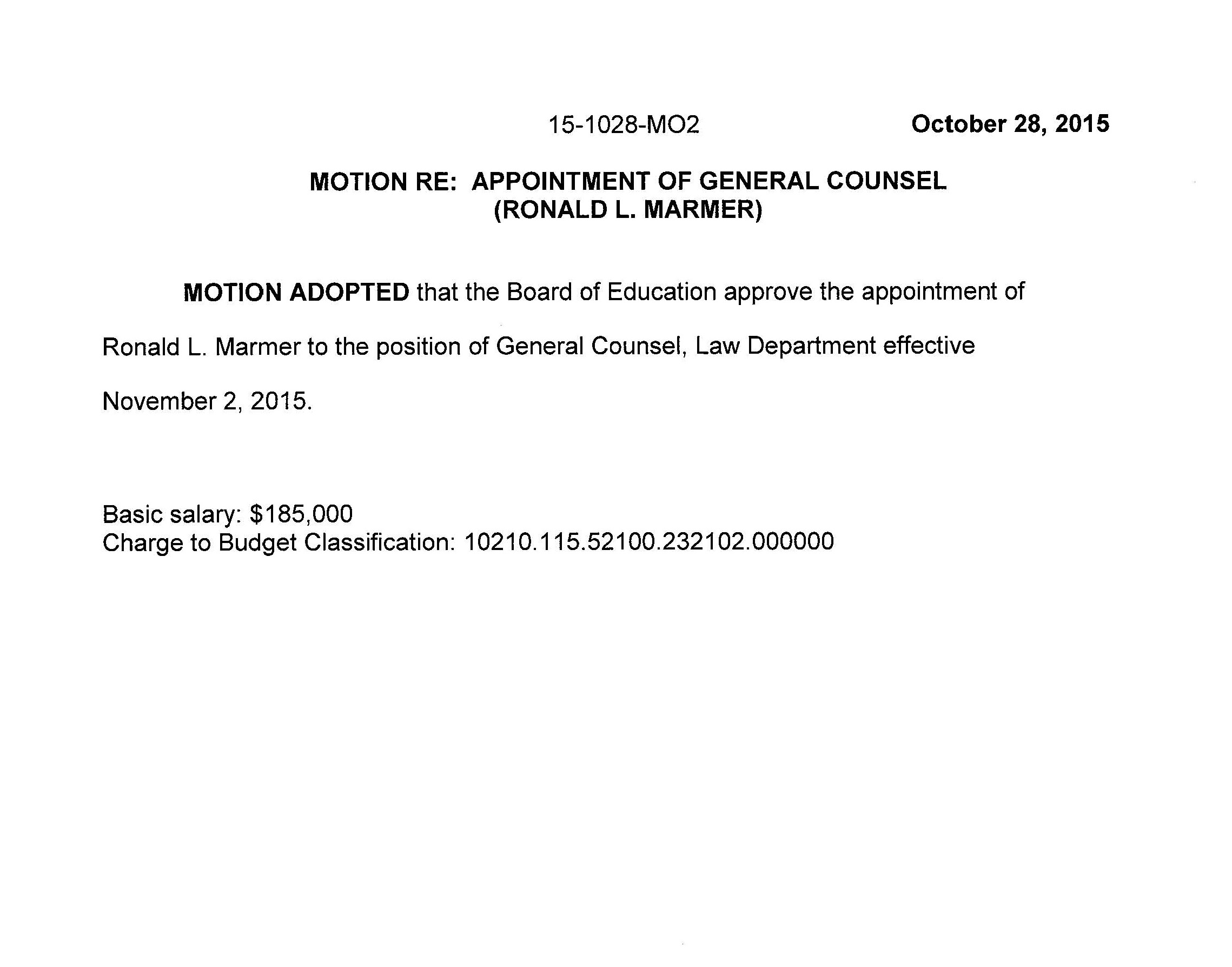 Despite the fact that the Chicago Board of Education had a General Counsel ("acting, her name was Cherly Colson) with vast experience in school law and knowledge of CPS, the members of the Board of Education voted to hire an outside friend of Forrest Claypool for the job at its October 28 meeting. Claypool and others have admitted that Ronald Marmer has no experience in school law.According to one Board Report, CPS now has a new "General Counsel." Although it wasn't on the public agenda released 48 hours prior to the October 28 Board meeting, the "Action Agenda" published two days after the vote shows the following:
Board Report 15-1028-MO2. MOTION RE: Appointment of General Counsel (Ronald L. Marmer).
MOTION ADOPTED that the Board of Education approve the appointment of Ronald L. Marmer to the position of General Counsel, Law department, effective November 2, 2015. Basic Salary: $185,000.
What is always left out of these Board Reports is the cost of the additional staff that the new executives hire after they are hired.
Claypool's hiring of Marmer was not the only addition to the bureaucracy that Claypool and the mayor always claim is being cut while in fact they are adding to it. At the same Board meeting, Claypool presented the Board with a proposal (Board Report) that they hired a new "Chief Officer for Strategic Planning and Communications" at an annual salary of $160,000. Haley Match Meadvin was approved without discussion or debate by a vote of the Board. Like the new General Counsel, she is a "New Employee."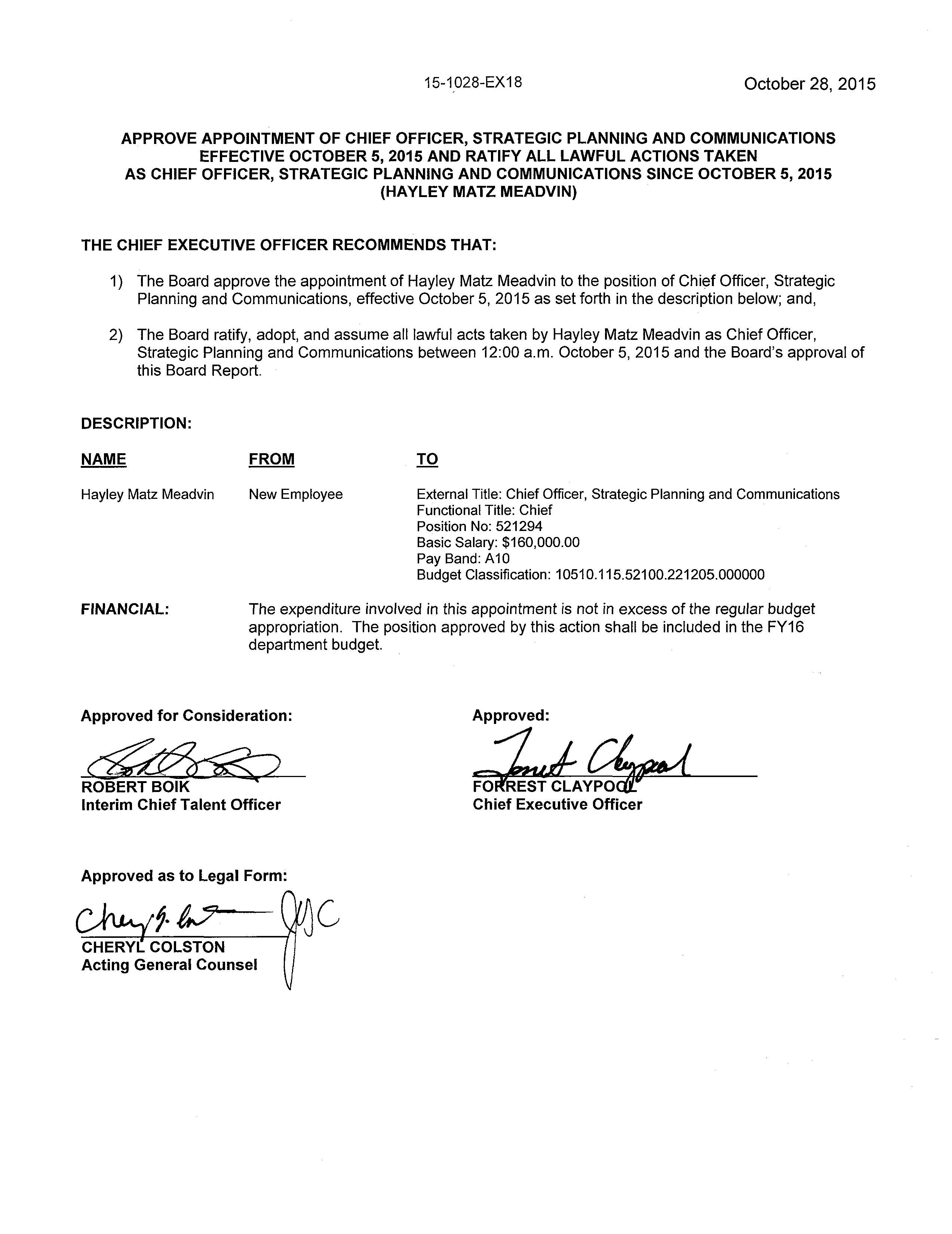 In addition to a "Chief Communications Officer", the Board of Education now has a "Chief Officer for Strategic Planning and Communications" (at an annual salary of $160,000 per year). The members of the Board voted unanimously and without debate to approve this Board Report without asking what experience this "New Employee" had to working in the nation's third largest public school system.As those who closely watch the activities of the central offices of the Board of Education know, CPS already has a large Communications Department, headed by a "Chief Officer for Communications." Apparently, the Board and the latest CEO (Claypool is the fourth since Rahm Emanuel began his work as mayor in May 2011) realized that in addition to a "Chief Communications Officer" the Board also needed a "Chief Officer for Strategic Communication."
By the time the Board members went home on October 28, they had also added two others to the bureaucracy that they will continue to claim they are "reducing."
Voting to approve a Board Report appointing a new "Chief Administrative Officer" at an annual salary of $195,000 per year, the Board also approved the bureaucrat with the longest name in CPS history. Jose Alfonso de Hoyos-Acosta apparently replaces Tim Cawley in that position, although there is no record yet that Cawley is no longer being paid his $210,000 per year salary by CPS. Nothing on the public record indicates what qualifications Jose Alfonso de Hoyos-Acosta has for this job.
The Board also voted to approve a Board Report creating another new "Chief of Schools" at an annual salary of $151,000 per year. According to Board Report 15-1028-EX19, Megan Houfard is being promoted from a position as "Deputy Chief of Schools" (at an annual salary of $122,400) to the position of "Chief of Schools" at an annual salary of $151,131.43.
Generally, when CPS hires new six-figure bureaucrats, there are also hirings of those with lesser salaries to become staff members in those offices. It's now nationally known that when Barbara Byrd Bennett became "Chief Executive Officer" of CPS in October 2012, she began important her cronies from Cleveland and elsewhere into highly paid positions. On November 3, 2015, the Chicago Sun-Times reported that two of those, Sherry Ulery and Tracy Martin are being investigated for taking part in what is alleged to be crooked awarding of textbook contracts by Byrd Bennett when they all worked in Detroit's public schools. So far, Byrd Bennett is the only one among these who has pleaded guilty to federal criminal chargers. Like Claypool's cronies in October 2015, Byrd Bennett's cronies hired between December 2012 and March 2013 did not get any scrutiny from the members of the Board of Education. (Only two Board members from that time, Jesse Ruiz and Mahailia Hines, are still on the Board).
Since the Chicago Teachers Union began saying that the Board's version of the budget for the 2015 - 2016 school year meant that the Board is "Broke on Purpose," the Board, Mayor Emanuel, and others have simply told the union, protesting parents and students, and others objecting to the plans to cut thousands of teachers, "Join us in Springfield." But during those months the CTU leadership refused to provide its members of the public with an analysis of the budget, basically joining Forrest Claypool in the dubious claim that the only way to improve CPS finances was to force the State of Illinois -- and none others -- to increase dollars to Chicago schools.