Dyett hunger strike officially ends with partial victory... 'The struggle continues...'
George N. Schmidt - September 21, 2015
The Hunger Strikers for Dyett High School declared an end to their action at PUSH on September 19, 2015. The hunger strike, wich lasted 34 days, was to get the Chicago Board of Education to keep Dyett High School open for the Bronzeville community. The hunger strikers were also seeking to have the school based around a theme of Green Technology and Global Leadership. The Board of Education will keep the school open, but not on the theme demanded by the hunger strikers.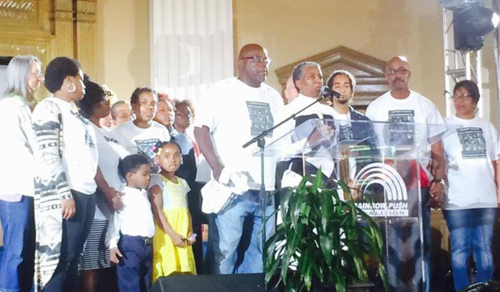 The hunger strikers announced the end of their hunger strike on September 19, 2015 at Operation PUSH. Photo courtesy of Teachers for Social Justice. The following account of the end of the hunger strike was posted September 20, 2015 by Teachers for Social Justice.
At Operation Push on September 19 [2015], the Dyett Hunger Strikers formally ended the hunger strike, with some major victories - but the fight for a sustainable community school with a focus on global leadership and green technology continues. The larger movement to re-open Dyett HS forced CPS to commit to re-open the school, and the hunger strike prevented Dyett from being a privately-run, contract school not open to the neighborhood. The school will be a publicly accountable, neighborhood high school-open to ALL students in the area. This was a tremendous accomplishment. However, the fight over curriculum, the vision, the principal, the local school council, and the real and sustained involvement of the parents/community is not over-the #FightForDyett continues.
That parents and supporters have to starve themselves for just education is a powerful indictment of the system of Chicago's mayor-controlled, privately run school system. It is for this and so many other reasons that we need an elected, representative school board, NOW, and we will use the energy, support, and enthusiasm generated by and for the hunger strike to fight for the ERSB and for a school district of ALL sustainable community schools.
Check out the TSJ webpage for daily summaries of the hunger strike, photos, #hashtags, how to donate, how to support, and more!
The struggle continues!