BUDGET WATCH 2015 III: Claypool and Clark may continue the 'rebranding' of Special Education in Chicago, but the gutting of services to Chicago's disabled poor children will continue as a national disgrace, example of Chicago hypocrisy...
George N. Schmidt - August 17, 2015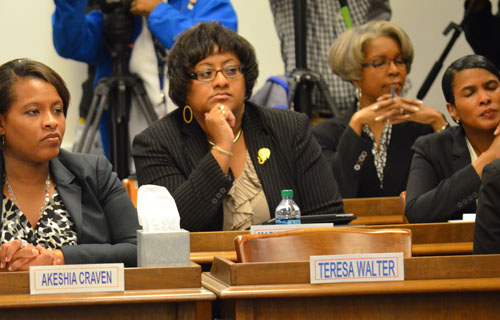 By the December 19, 2012 meeting of the Chicago Board of Education (above), Markay Winston, who had been brought to Chicago the previous summer from Ohio, was head of special education. Winston and the Board of Education had by that time already "rebranded" the department, so that Chicago became the only major school district in the USA that didn't have a major special ed department, calling it instead the New Age neologism "Office of Diverse Learners Support Services" (OODLSS). Under Winston's leadership, and with the full and routine support of the members of the Board, CPS went out of its way to privatize special education services in the nation's third largest school district. One of the features of the movement of the Chicago Board of Education in the direction of cynical privatization can be seen in this photograph. Three of the four executives in the photo came to Chicago from out of town with no Chicago experience or concerns, all of them receiving extra money to come to Chicago. Above, left to right, Akeshia Craven (at the time, head of "Learning", whose qualifications seemed to be an MBA and who is now no longer with CPS), Winston (hired from Ohio at a cost of $170,000 per year, plus nearly $30,000 in additional costs for "relocation" and a "sing-on bonus"), Annette Gurley (who actually has taught in Chicago), and Tracy Martin Thompson (who had just been brought to Chicago from Ohio by Barbara Byrd Bennett, with the usual additional costs for "relocation"). Craven and Martin-Thompson are now gone from Chicago Public Schools, Martin Thompson being one of the cronies of Barbara Byrd Bennett who was forced to resign after she was reportedly called before a grand jury in the SUPES scandal. Substance photo by George N. Schmidt.Like so many bad ideas that began in Chicago, the attempt by Chicago's corporate reformers to "rebrand" special education services and call it "Diverse Learners" has not succeeded in any other city. But that hasn't stopped Chicago's latest group of school leaders (and the fourth "Chief Executive Officer" during the four-plus years since Rahm Emanuel took over the job of destabilizing the city's public schools and forcing massive privatization on America's third largest school system) from trying to get away with as much as possible.
And in the case of the vicious cuts to special education services in the summer of 2015, all the paid propagandists in the world can't hold the slipping fig leaf over Rahm's viciousness. When the schools begin in September, children in wheelchairs will have to wheel themselves to distant bus stops and get themselves out of burning buses in accidents. "Bus aides" have been eliminated by Forrest Claypool under the claim that CPS needs more "austerity." Special Education aides will be gone from classrooms, so that children who need their diapers changed will have to change them themselves. And that's only part of the scandal that will be protested by teachers, parents, and large numbers of advocates for the disabled on the anniversary of the Americans with Disabilities Act (ADA). That is, if the advocates can get signed up to speak to the Board of Education, and if no one is arrested during the budget hearings on August 18, 2015, when carefully rehearsed CPS executives (none of whom has ever taught) do the Power Point presentations at the annual budget hearings, telling those with questions "We'll get back to you" (which they never will).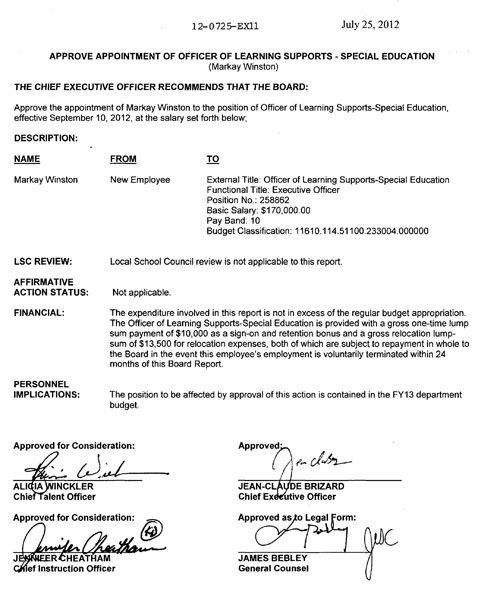 By July 2012, one year after Rahm Emanuel had appointed his first "Chief Executive Officer" for Chicago Public Schools, Jean Claude Brizard, the Board of Education had begun its policy of hiring out-of-town education executives for key positions. The Board's policies also began to include paying those people "sign-on" and/or "retention" bonuses, and "relocation expenses." When the Board of Education members voted unanimously and without debate to hire Markay Winston, from Cincinnati Ohio, to be the chief of special education at an annual salary of $170,000 a year. The Board members, led by Board President David Vitale and Board Vice President Jesse Ruiz, also voted to pay Winston a "sign-on bonus" of $10,000 and $13,500 in "relocation expenses." At no time as they continued hiring out-of-town people for key positions in Chicago did the members of the Board of Education have any public discussions of the expensive policies they were implementing, while simultaneously claiming the school system was facing a huge "deficit." Substance graphic from the Board of Education's "Action Agenda" for July 25, 2012, available at www.cps.edu.A few weeks after the world celebrated the "Special Olympics," Chicago continued cutting services to the city's most disabled children. Once again claiming that budget constraints required the elimination of bus aides and classroom special education attendants, CPS announced its Proposed Budget for the 2015 - 2016 school year. And once again, after another year of approving the privatization of special education services, the Board will be cutting the people who serve the needs of children with disabilities in Chicago's public schools.
Despite all the re-branding and convoluted rhetoric about services to special needs children in Chicago, the history of OODLSS clearly shows that under Markey Winston the department is rushing forward as quickly as possible to privatize virtually every service provided by the department. Many observers now believe that the hiring of Winston (out of Ohio) and dozens of others from outside Chicago, despite the expensive "relocation" costs, was deliberate. Under the Emanuel administration, most of the major departments at CPS are tasked with privatizing as many of the services as possible, despite the scandalous denial of federally mandated services that the confusion created by groups like the OODLSS leadership creates on a regular basis, behind ever more pompous pronouncements and the ubiquitous Power Point rationalizations of every destructive move.
The budget reductions to special education services are made clear in the summary provided in the Proposed Budget. The the Proposed Budget shows a massive cut in the number of professionals and PSRPs providing services to special education children in the schools and classrooms. What is not shown in the document is that every few months throughout the school year, OODLSS has added a new layer of privatization of special education services, at a cost much greater than providing those services at the schools using teachers, nurses, clinicians, and trained PSRPs to provide for children whose needs in some cases are heartbreaking, but whose legal right to these services is clear.
What the chart accompanying the Proposed Budget section for OODLSS shows is that the Board, when it approves this budget, will have cut an additional 625 people from the local schools's services to children with special needs. Those being cut are people providing special education services that are needed by some of the most severely disabled children in the city, from classroom teachers to clinicians and bus aides. Among the dangers now facing children with disabilities is that fact that the only adult on the buses with children in wheelchairs will be the bus driver ("bus aides", those who handled the children bound to the chairs, have all been eliminated in the Proposed Budget and have already received their termination notices).
But the current version of reality presented by OODLSS to the public, according to the Proposed Budget, ignores these realities, and proclaims instead a "mission" that is, like the "Mission Accomplished" of a former president, doing fine.
The 'Mission Statement' provided by OODLSS in the Proposed Budget needs to be read by everyone who values the continuation of public education services in public schools for the city's children with disabilities:
MISSION... The Office of Diverse Learner Supports and Services (ODLSS) provides high-quality and speciallydesigned instructional supports and services for all diverse learners within their least restrictive environments. ODLSS works collaboratively with schools, networks, students, families, and other external stakeholders to prepare diverse learners for college and career success. This team provides the tools, guidance, supports, and services necessary to ensure that all diverse learners receive meaningful and relevant access to grade-level core instruction within their neighborhood school, school of choice, or the school closest to their residence.
By the time Markay Winston presented the Power Point outlining the supposed work of OODLSS to the Chicago Board of Education, the Board members, as usual, had no critical questions. Among the other facts they deliberately ignored was that the majority of the people in charge of the ODDLSS departments had no classroom experience teaching children with special needs. Combined with the rebranding of special education services in Chicago as "diverse learners," the Orwellian transformation of this key reality for some of the nation's most needy children was almost complete. All that was needed was the juggernaut of privatization initiatives that came in the succeeding year, while the Board of Education routinely and without discussion or debate voted in favor of each of them, despite increasing public opposition and a growing number of scandals.MAJOR PROGRAMS... Specially-Designed Instruction: Specially-Designed Instruction provides direct services to students with visual or hearing disabilities and students who are homebound or in hospital settings. This program also provides consultative and coaching supports to Learning Behavior Specialists (teachers), and creates professional development resources and activities around key CPS and ODLSS initiatives.
Pupil Personnel Services: Pupil Personnel Services provides services for special education and limited general health requirements, including medical compliance and Response to Intervention, managing a team of over 1,400 related-service professionals. Services are offered in seven related service disciplines: Nursing, Psychology, Social Work, Speech-Language Pathology, Occupational Therapy, Audiology, and Physical Therapy.
Access and Opportunities: Access and Opportunities delivers secondary-transition supports, services, and experiences and provides Extended School Year and other summer programming services for students with Individualized Education Programs (IEPs). This area also identifies school locations to meet the needs of diverse learners, and supports students who require assistive technology tools that mitigate visual-, physical-, and curricular-access barriers.
Early Childhood Special Education: Early Childhood Special Education assigns and manages all citywide itinerant teachers and provides for the transition, enrollment, and support of students moving from Early Intervention, community-based Head Start programs into CPS schools. This team conducts developmental screenings for children from birth to five-years old, delivers technical assistance to schools and teachers that provide early childhood special education services, and conducts compliance monitoring for Illinois state performance plan indicators.
Charter/Contract/Private School Supports: As the Local Educational Agency for charter and contract schools, CPS provides instructional guidance and professional development to Case Managers and Learning Behavior Specialists to ensure compliance with IEPs, 504 Plans, and other legal mandates. Similarly, equitable Proportionate Share supports and services are provided for parentally-placed private school children with disabilities in Chicago.
Procedural Safeguards and Parental Supports: Procedural Safeguards and Parental Supports represents CPS in due-process hearings and mediations, coordinates the investigation of state complaints, helps resolve school disputes, provides technical legal assistance to parents and school personnel, and supports parental participation in education.