CORE meeting Monday, August 24, at Letter Carriers union hall, 39th and Wabash, at 4:30 p.m...
George N. Schmidt - August 14, 2015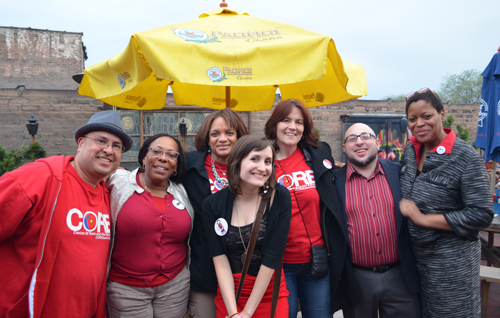 Some of the leaders of CORE celebrating the caucus's 2013 election victory on May 17, 2013. CORE, which was first elected in June 2010 and which lead the Chicago Teachers Union on the Chicago Teachers Strike of 2012, was re-elected to the leadership of the second largest pre-k to 12 local in the American Federation of Teachers in the May 2013 election. CORE's reelection, which returned the officers (Karen Lewis, Jesse Sharkey, Kristine Mayle, and Michael Brunson) to power ended speculation in some places that CORE would follow the previous union "reform" caucus, PACT (headed by Debby Lynch) into one-term oblivion. Substance photo by George N. Schmidt.Amid growing questions among rank-and-file Chicago Teachers Union members about the status of the current contract negotiations and conflicting statements by union leaders about the union's positions, especially on the attempt by the Chicago Board of Education to take away the so-called "pension pickup," CORE has called for a general membership meeting on Monday, August 24, at 4:30 p.m.
The announcement went up on the CORE website early in the morning on August 14, 2015.
Come join in on the discussions about our fight for a fair contract and the upcoming annual convention!
Letter Carriers Hall Aug 24th @4:30, 3850 S Wabash , Dinner and Childcare will be provided.