MOODY'S IGNORES THE 'MANUFACTURED CRISIS' AT CPS... Hysterical headlines ignore the destabilization campaign against CPS... How many 'CEOs' and 'CFOs' has CPS had since Rahm began in 2011? The sabotage of CPS administration has been the signal project of the reign of Rahm since May 2011...
George N. Schmidt - June 09, 2015
When Moody's investors Services proclaimed recently that the bond rating of Chicago Public Schools had reached "junk" status, the headlines repeated the usual claims about the so-called "crisis." In addition to ignoring the fact that the CPS and Chicago leadership had been undermining the city's real public schools for a decade or more, Moody's chose to act as if things had just erupted, even to the point of blaming the Illinois Supreme Court for upholding the Illinois Constitution.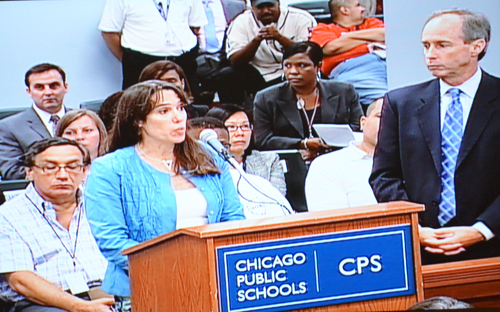 On August 28, 2013 Ginger Ostro for the first time presented the meeting of the Chicago Board of Education with the "final budget" for the 2013 - 2014 school year. Above, Ostro, who remains the system's top budget official, presented the budget while "Chief Administrative Officer" Tim Cawley carefully supervised. Substance photo by George N. Schmidt.But as those of us who worked on the CPS budget more than a quarter century earlier, the investment rating services wanted assurance that the school system could maintain stable leadership and an accurate version of the system's financial situation. But beginning at the end of the administration of Richard M. Daley, the destabilization began to escalate. And once Rahm Emanuel appointed David Vitale President of the Chicago Board of Education and Jean-Claude Brizard was Rahm's first "Chief Executive Officer" in May 2011, the nation's third largest school system was subjected to an escalating campaign of internal sabotage.
Not only would CPS have four CEOs in four years, but the top financial officials of the school system would be rotated in what can only be called a game of "management musical chairs." And one of the main things that bond rating agencies demanded was stable -- not routinely disrupted -- leadership.
The names have receded into history:
Pedro Martinez...
Diana Ferguson...
Peter Rodgers....
Ginger Ostro...
Despite the obvious need for an institution managing an operational budget in excess of $6 billion to have stable management, David Vitale, the members of the Board of Education, and the Mayor of Chicago created the opposite. Routinely the leader of the city's financial offices was changed, with one barely becoming visible when he (most were males) would disappear and another take the place.