RAHMWATCH: 'The number you have reached has been disconnected or is no longer in service...' The Star 69 call said after I received a call from Rahm's people on March 7... Is Rahm's GOTV phone operation fraudulent -- as this morning's rude interruption at our home shows....
George N. Schmidt - March 07, 2015
On Saturday, March 7, 2015, we received a phone call at our home asking me whether we were going to vote for Rahm Emanuel on April 7 (now one month away). But the phone call was not from the "Rahm for Mayor" campaign office, or from anything or anyone identified with Rahm. Instead, our Caller ID said it was some group calling for "Student Loan Justice." So I answered, and a nice sounding young man after introducing himself said, "Are you intending to vote for Rahm Emanuel on April 7?"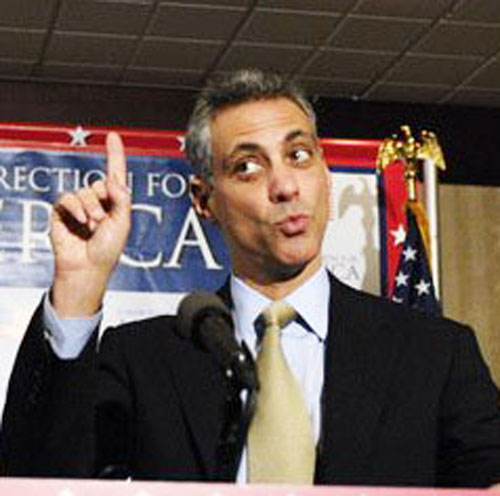 Chicago Mayor Rahm Emanuel's re-election campaign is getting desperate, calling voters from non-existent phones that mask the fact that Rahm is behind the calls...I began to ask him who he was and what the call was about. He kept repeating the question on his script, rather than say where he was calling from or how I could call him back. I asked him what number he was calling from and he finally said, "I don't know."
Finally, I began my Churchillian answer: "If Lucifer came up from Hell and was running for Mayor of Chicago against Rahm Emanuel I would vote for the devil himself rather than.."
At some point the call was terminated.
So then I went to "Star 69" and was told by the phone company that the phone call had come from 312 - 647 - 2906.
But when I called 312 - 647 - 2906 I got the following message: "The number you have reached has been disconnected or is no longer in service..."
Does this mean that the phone company realizes that Rahm is already "not in service"? We can only hope. But I am keeping careful notes about all of these events, since Rahm's duplicity is not limited to the libelous mailings we began receiving two months ago from Rahm, from "Chicago Forward," from "Democrats for Education Reform" (DFER) and others. I suspect by the time Rahm's desperation reaches its hysterical peaks within the next month, we will be getting "personal" calls from Rahm's ruling class fans, ranging from Robert Redford and Rahm's Hollywood friends to the President of the United States.