Whence and where the PARCC in Chicago? CPS will test all students at '66 schools' on the PARCC, but the names of the schools are still Top Secret! Details of testing plans show, again, how CPS administration is now clueless about grassroots realities in Chicago
George N. Schmidt - January 25, 2015
The Chicago Board of Education last week denied a Freedom of Information Act (FOIA) request for the names of the schools that will be testing using the PARCC test this school year. The request was made to CPS following the announcement by Barbara Byrd Bennett, CPS CEO, that the PARCC would not be used in all schools -- but only in "ten percent." The question reasonably asked then was who was in the ten percent.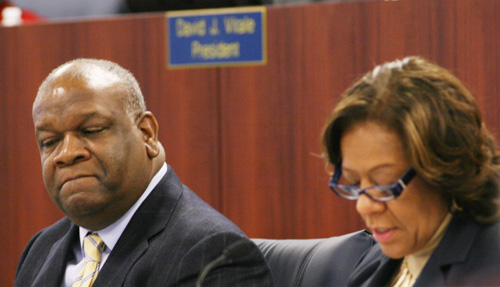 Chicago Public Schools 'Chief Executive Officer' Barbara Byrd Bennett (above right) and legal chief James Bebley (above left) at the December 17, 2014 Board of Education meeting. Substance photo by David Vance.The CPS FOIA office denied the request, saying that there Board of Education had "no documents responsive to the request at this time..." Whether the school system will announce the names of the schools at the Board of Education meeting on January 28, 2015 is not known at this time.
As principals and other administrators share the confusions of the CPS administration with Substance, it becomes more and more clear that the loading up of the central office with bureaucrats from out of town with no Chicago roots, certification or experience leads to a Mad Hatter's Tea Party when confronted with planning for the real schools of Chicago. CPS administration is now clueless about grassroots realities in Chicago, with more than half of the school system's top administrators, beginning with Barbara Byrd Bennett, being from outside Chicago (and a small subset of that group being cronies and friends of BBB from Ohio).
Meanwhile, though, CPS has told principals and administrators what will be happening -- but not yet to whom it will be happening. What follows is a recent rendition of information that is being dribbled out from those who are being paid big bucks to run the nation's third larges school system:
SUMMARY OF INFORMATION PROVIDED OFF THE RECORD BY CPS PRINCIPALS AND OTHER ADMINISTRATORS [AS OF JANUARY 24, 2015]....
PARCC Assessment - What We Know Now
- 66 CPS schools across the city will be tested (no word yet on which schools) -100% of students will be tested in these 66 schools (CPS concerns: Timing schedule, and length of test).
*Grades 3-5 will take paper based test only
*Grade 6-8th online except those students with paper accommodations
*HS: English I, Algebra I, Integrated Math I
- PARCC is available in braille, paper based, large print, human reader or signer for ELA
- Teachers will only tests 2 units per day; each unit must be completed within a single sitting - Units must be administered in sequential order with the exception of make-up testing
Time on Test
ELA: 60 - 90 min (varies depending on test given)
Math: 75 - 90 min (varies depending on test given)
*If parents waived ESL service, test cannot be omitted: ELLs in first year are excluded.
Suggestions made to principals...
- Teachers should become familiar with Practice Tests, Sample Tests, Reference Sheets, Content "Deep Dive" Slides
- Administrators should be familiar with Calculator Policy, Accessibility features and accommodations guidance, testing schedule
*Note: There is a possibility that the High School(s) may have to do a late start due to scheduling issues/concerns [when some high school students are being tested, what do the rest do?]
Technology Requirements
50 kbps (compared to NWEA's 250 kbps)
*External Keyboards needed for IPADS, headphones, ear buds needed; students can bring their own
*http://systemchecktool
Test security has not yet been outlined, as in the past students have utilized cell phones to share test information across the city...
More information is supposed to be available to the public by Wednesday, January 28, 2015...