Of course, the most dangerous AUSL fraud is still Chicago Board of Education President... One among many Chicago frauds, 'Doctor' Terrence Carter gets back into the news by suing New London because it fired him when his frauds were revealed
George N. Schmidt - November 21, 2014
Thanks to Fred Klonsky for staying on top of this story, which we had stopped reporting (because, to be honest, we thought it was over when the New London school board dumped Carter following the exposure of his lies and frauds).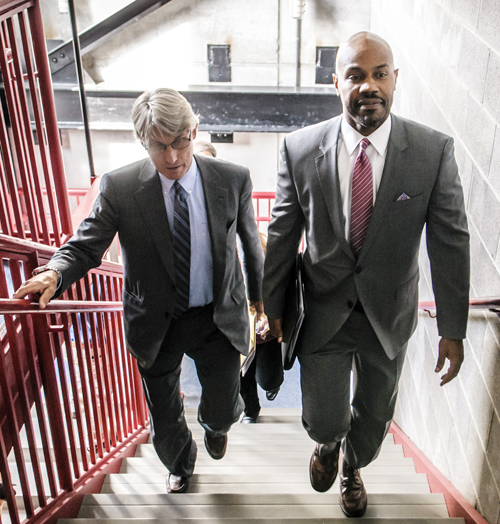 Terrence Carter (above right) never apologized for his numerous frauds in his resume and records as they were disclosed by investigative reporters for the Hartford Courant.Klonsky wrote yesterday on his blog: "He was star in Chicago corporate school reform who was almost hired by the New London, Connecticut school district as its superintendent. Then the Hartford Courant started digging and discovered Carter's resume was BS and that his claim of a PhD from Stanford - and then other universities - were totally bogus.
"Carter is back in the Connecticut news because he has filed a law suit.
"Carter is seeking more than $15,000 in damages for 'economic loss,' claiming that he resigned his job with the Chicago Public School system, put his Chicago real estate on the market for sale, relocated to New London with a partner, and contracted and purchased real estate in New London.
"Carter, a highly touted Chicago education administrator, had been selected as superintendent by the board in June, but the board postponed a vote on awarding him an employment contract in late July in the aftermath of revelations in The Courant that he had been using "Ph.D." and "Dr." without a doctorate from an accredited college. Later, The Day of New London reported that large portions of his New London job application essay were identical to language in documents written by others and available on the Internet.
"Even in Connecticut they would call that chutzpah.
"Carter straight up lied on his resume and now is suing the board for damages.
"That is like the old joke about the guy who kills his parents and then asks the judge for mercy because he is an orphan.
"What is no joke is that there has never been an explanation by anyone in Chicago, like from Carter's employer here - the Academy for Urban School Leadership and CPS - about how he went undetected for so long.
"AUSL is also who gave us board president David Vitale. He is now caught up in the scandal over stock swaps. A deal he negotiated.
[Fred Klonsky | November 20, 2014 at 7:36 am | Categories: Uncategorized | URL: http://wp.me/p4C3g-a2Y]