Second City benefit tradition continues as CORE takes over the annual event from Substance
George N. Schmidt - November 11, 2014
The annual tradition of a benefit at the world famous Second City comedy theater continued on November 10, 2014, as more than 200 CTU members and supporters showed up for the event, now sponsored by CORE as an annual fundraiser. As usual, everyone had praises for the show, which has been part of the annual calendar of the various groups within the Chicago Teachers Union since it began in the late 1970s, when Second City founder Joyce Sloan worked with this reporter on the planning for each year's event.
This year, the event returned to the traditional night (the eve of Veterans Day), which was originally chosen because Substance was begun following the ending of the Vietnam War by a number of people who had been activists against the war, some of whom were veterans of combat in Vietnam. [Disclosure: This reporter was not present for the 2014 Second City event because of serious health issues but had pioneered the events while with Substance as early as the late 1970s].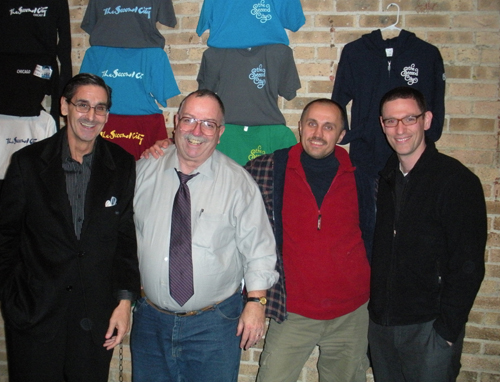 On November 16, 2008, the even of Veterans Day that year, a group of Chicago Teachers Union activists lined up in front of the Second City wall: Left to right: (then) Chicago Teachers Union Vice President Ted Dallas; Substance Editor George Schmidt; Hyde Park High School delegate and shop teacher John Kugler; and Senn High School delegate and social studies teacher Jesse Sharkey. Substance photo by Sharon Schmidt.The 2014 event featured the regular Second City performance. Introductions were given by CORE co-chairs Nate Goldbaum and Sarah Chambers, and remarks by Chicago Teachers Union Acting President Jesse Sharkey.
Estimates of the number in attendance ranged from 150 to 200, in a house that had previously held as many as 300 for these events.