Now that 'ABB!!' had failed as a strategy, why are some CTU leaders screaming GRR!!! and thinking it makes sense?
George N. Schmidt - November 06, 2014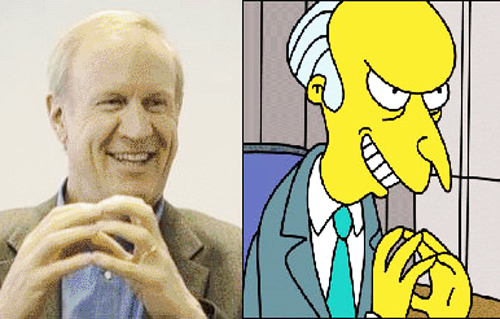 Brunce Rauner will soon be spending more and more of his time in Springfield. CTUnet graphic.Everyone who cares about democracy and using our votes to get power to offset the oligarchs and plutocrats has to sit back and think today in Illinois. For the past six months or so, some very nice and usually smart people -- including leaders of the Chicago Teachers Union and Illinois Federation of Teachers -- have been wasting our time and money on an election strategy that has to be called ABB!! -- Anybody but Bruce. Under ABB!!, union leaders convinced some intelligent union members to pull a Republican ballot in the primary and vote for Kirk Routherford, or was it Dan Dillars? Anyway, you know, we want ABB!!
How was that working out for you? People wound up helping one reactionary Republican with a union busting and anti pension voting record get good numbers, sort of. The main result of those delusions was that a lot of people (including some with whom I am very close) began hearing from the Republicans by every means necessary -- telephone, email, U. S. Mail, etc. Even while it didn't help Dan Routherford or Kirk Dillard become the Republican candidate for Governor of Illinois, it did add to the spam people who went along with ABB!! have been receiving.
So now, in the same mindless panic, some of the leaders of the Chicago Teachers Union have decided that the union's strategy should go from ABB!! to GRR!!!
GRR!!! means 'GET RID OF RAHM!"
Primal screams are not a policy nor a strategy. The only way to evaluate an incumbent is based on her or his actual voting record on legislation and issues that we have made a clear position on. So the irony of ABB!! was that some usually smart people voted for our enemies even though their records were clear going back years of decades in Springfield. While Bruce Rauner will doubtless do some reactionary governing in Illinois, he wasn't the ALEC waterboy for years, or an outspoken basher of public school teachers and unions.
For this evening, the question is why anyone would begin pushing GRR!!! before we even know who the candidates are who are on the ballot for the February 2014 municipal election. Substance will be reporting on all that in the weeks, months and (sigh) probably years ahead.