CPS Budget: Chicago Teachers Union is not the only group setting the record straight on the lies of the CPS administration about the FY 2015 budget... Hearing dates not yet scheduled, but three hearings are likely before the July 23 Board of Ed meeting...
George N. Schmidt - July 04, 2014
It's great not to be lonely in analyzing the massive budget of Chicago Public Schools. While there have always been a few people going through the budget and then bringing their findings to the public, since the 2010 election of the CORE slate to the CTU leadership the union has done more and more work exposing the lies from the Emanuel administration. But the CTU is not alone, as the report below from Raise Your Hand shows:
FROM RAISE YOUR HAND: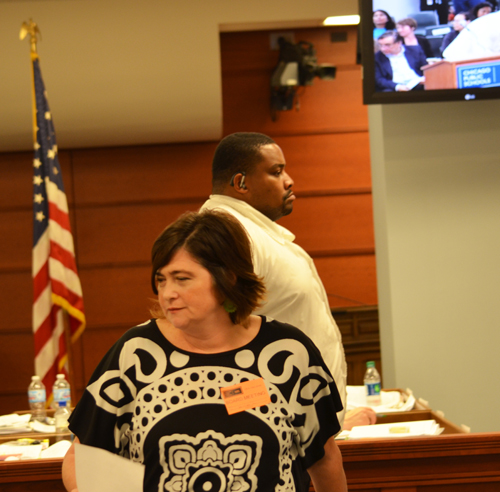 Wendy Katten of Raise Your Hand is shown above walking away from the podium at the June 25, 2014 meeting of the Chicago Board of Education. A few seconds earlier, Katten had become the latest of more than 30 Chicago parents and community leaders who were forceably snatched away from the microphone by CPS security on orders from Board of Education President David Vitale. The police state atmosphere escalates at each Board meeting, with parents like Wendy Katten being removed from speaking after less than two minutes, while others (like parent and activist Rousemary Vega) being dragged out of the Board meeting room and escorted out to the street, with a warning they will be arrested if they try to return to the public meeting. Substance photo by George N. Schmidt. CPS Releases Proposed FY2015 Budget
Despite claims of "keeping cuts away from the classroom" CPS neighborhood high schools will see big cuts to their budgets next fall. In addition, Catalyst reports that "welcoming" schools will see an average 5% cut and charters will see a gain of $43 million as the district continues to open more charter schools in the fall.
CPS will be voting on this budget on July 23rd and will have budget hearings (which they haven't announced yet) sometime before this date.
RYH will be having a budget training in the next few weeks. Stay tuned for more info.
WBEZ: Neighborhood high schools again take hit in new CPS budget
Catalyst: Big budget cuts hit high schools, welcoming schools
Tribune CPS issues preliminary $5.8 billion budget
Sun Times editorial:CPS budgets for another bare bones year
The CPS budget can be found at www.cps.edu/budget. Have a lovely holiday weekend.