Police state at CPS tigthens its grip... Board's 'democracy' pretense exposed again, as time runs out to sign up to speak at the May 28 Board of Education meeting shortly after nine in the morning -- on May 19, 2014
George N. Schmidt - May 19, 2014
At 8:52 a.m. on the morning of May 19, 2014, there were only five "slots" -- out of 60 -- in case you wanted to sign up to speak at the May 28, meeting of the school board of the third largest school system in the United States of America. And by nine o'clock, it was too late.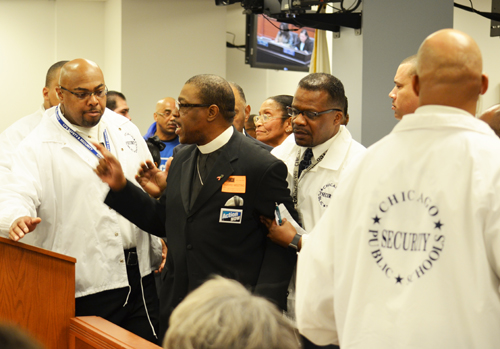 David Vitale and Barbara Byrd Bennett deploy that "bunch of very large brothers" (as one speaker put it during the April 23, 2014 meeting of the Chicago Board of Education) to silence one of the many speakers who criticized the Board's plan to subject Gresham Elementary School to "reconstitution" and then award a million dollar a year "consulting" contract to the controversial "Academy For Urban School Leadership" (AUSL) to do a "turnaround" on the school. Substance photo by George N. Schmidt.In other words, anyone who wanted to try and talk to the Chicago Board of Education at its brief monthly meeting during the brief two minutes allocated for each "speaker" was out of luck nearly two hours before the city's public libraries opened and most poor people were able to get on to the Internet to go to the Board's website (www.cps.edu) and try to find their way to the portal that would let them "register" to speak. And if a person who missed the slot opening decided to try and speak anyway, as happens just about every meeting, then there will be at least six or seven very large security guards to pull the microphone away from them and if necessary drag them away from the podium while the Board members yawn and review their notes on what they will say later to justify their latest craven submission to Chicago's imperial mayor and Chicago's billionaires.
At every meeting of the Chicago Board of Education, each of the seven members of the Board, along with their highly paid executives, tries to claim they are somehow committed to "listening" to the public. But over time, just about everyone who watches them in action knows that their "listening" is never to be confused with actually hearing what people are talking about, let alone defying the orders they cravenly follow from Mayor Rahm Emanuel.
At the same time, however, they can't get away with doing all their dirty work behind closed doors. They may ignore the Freedom of Information Act (FOIA) and submit every FOIA from the supposedly independent "Chicago Public Schools" to City Hall. And they may hang out with the city's plundering plutocrats and ignore just about everybody else. But at least once a month, they make a flimsy pretense of doing something in public.