Board of Education still has openings for March 24, 2014 'public participation' testimony after a full day of sign-up time for the first time since Vitale changed the guidelines in January 2013
George N. Schmidt - March 18, 2014
Apparently between St. Patrick's Day (March 17, 2014) and election day (March 18, 2014) Chicago activists were so busy that few signed up to speak at the monthly meeting of the Board of Education. As a result, as the polls opened at six in the morning on March 18, there were still 20 openings for people who wanted to sign up to speak at the Board meeting.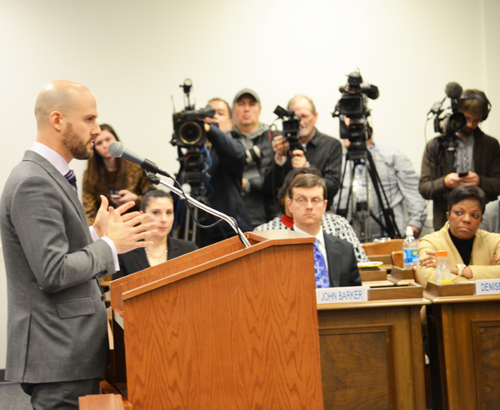 One of the ways the Chicago Board of Education stalls so as not to have to listen to complaints and comments from Chicago parents and others is to schedule long-winded Power Point presentations for each Board meeting. Usually, as at the January 22, 2014 Board meeting, those presentations go on for more than an hour and are given by administrators hired from out of town at six-fugure salaries. Above, Jack Elsey was one of three out-of-town administrators who presented prior to the public participation at the January 22, 2014 Board meeting. Elsey, who was hired from Michigan to become the world's first education executive holding the title of "Chief Officer for Incubation and Innovation," presented on charter schools. (Elsey was hired by a vote of the Board at its December 2012 meeting at an annual salary of $165,000 per year with an additional "relocation allowance" of $7,500 so he could move to Chicago from out of town). Other out of town administrators who presented at that meeting were the head of physical education (who, for the first time in Chicago history, is not a veteran physical education teacher and coach) and the head of arts education. Substance photo by George N. Schmidt. This hasn't happened in the 15 months since the Board decided to limit the maximum number of speakers to 60, based on the faulty logic that each speaker has two minutes and that so-called "public participation" should last no more than two hours. The regular meeting of the Board is scheduled to begin at 10:30 a.m. on March 24, 2014. Usually, Board President David Vitale and Board "Chief Executive Officer" Barbar Byrd Bennett figure out ways to utilize as many hours as possible before, finally, listening to the "public" speak about public issues.
At some recent meetings, the Board has devoted more than an hour listening to an endless procession of administrators (all of them from out of town; most "qualified" to be public education administrators at six-figure salaries because they hold MBA degrees and have not Chicago teaching experience or credentials), the result being that the parents, teachers and others who wait to speak to the Board don't even get to begin until 12:30 -- two hours after the public is supposed to begin speaking. The result, which is obviously what Barbara Byrd Bennett (imported from Detroit two years ago this month) and millionaire banker Vitale want, is that as many as half the people who have signed up to speak have been forced to leave before they are called on.
Substance has reported on the Board meetings monthly and in detail for years, and we will be reporting on the March 24 Board meeting beginning early on March 25. We look forward to hearing from our readers on that coverage, or on any coverage we have done (the most extensive in Chicago media) of past meetings. To get to our past coverages, to to "Back Issues" on the menu, select the month you wish, and then scroll.