Grade changing and attendance data doctoring ignored by Chicago's Inspector General... Duncan's Potemkin Village challenged by the facts of Chicago's Juarez High School
George N. Schmidt - December 19, 2013
Former Chicago Public Schools "Chief Executive Officer" Arne Duncan's return to Chicago in December 2013 was a typical performance, well known to those who had covered Duncan for the years (2001 - 2009) he was in Chicago. But apparently the pressure on former White House Chief of Staff Rahm Emanuel to change the narrative after his closing of 50 of the city's real public schools in May 2013 caused a few Chicago-style favors to be called in, and the U.S. Secretary of Education came to his old home town to perform on the public stage and praise the reforms wrought by Rahm's regime.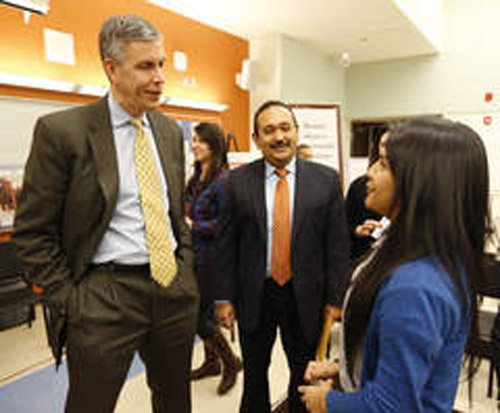 In a carefully scripted show at Chicago's Benito Juarez High School, U.S. Secretary of Education Arne Duncan walked through a TV photo op talking with selected students and teachers and hearing praises for the Juarez miracle from selected teachers and students. The secretary's return visit to Chicago was kept from most of the media by the Chicago Public Schools "Communications Department," while only a handful of reporters and videographers, considered reliable by the government, were told about a major public event by a national government official at a public school. Sun-Times photo. "It was a good show, but it was a lie," one Juarez teacher who asked to remain anonymous told Substance. "Every piece of it was a lie -- the attendance data are rigged, and the grades are changed by administration so that more and more kids are passing classes..."
It was at Benito Juarez High School that the return Duncan show took place.
Less than a month earlier, teachers had asked the Board of Education's Inspector General to investigate charges that the Juarez administration had been doctoring the school's all-important "matrices" of data to show a large improvement in students passing classes and attending both classes and schools. The data, not the underlying reality, was, as usual, the key.
There were other props for the show, too, including a joint Op Ed in the Chicago Tribune from Rahm Emanuel and Barbara Byrd Bennett, who was Duncan's most recent successor (although there had been four or five, depending upon the count of an "interim CEO"), since Duncan had left town to join Barack Obama's Cabinet in January 2009.