Diane Ravitch in major Chicago appearance next Wednesday, November 13, at Ashland Ave. church
George N. Schmidt - November 04, 2013
Best selling author Diane Ravitch will be at a major Chicago appearance on the evening of Wednesday, November 13, 2013, at 7:30 p.m. It will be at the First Free Church, 5255 N. Ashland. Diane Ravitch's latest book, "Reign of Error. The Hoax of the Privatization Movement and the Danger to America's Public Schools," has been drawing national attention since its publication. Recently, she appeared on The Daily Show With Jon Stewart to discuss the book.
Seats have to be reserved at ctunet.com/diane.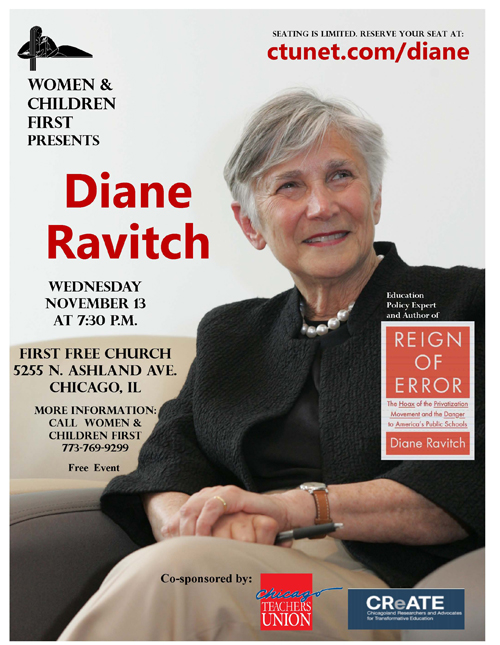 The event is co-sponsored by the Chicago Teachers Union and CReATE.Ravitch's book, which has been steadily selling since its September publication, is being picked up by a growing number of teachers for "study groups" or (in Chicago, "Book Clubs") has compiled what amounts to the indictment against the lies and half-truths of corporate school reform.