BOARDWATCH: Does 'STEM' mean that Chicago schools will feature 'bookless' libraries soon? Parent charges that Earle Elementary School is being decimated by CPS, and 'interim' principal
George N. Schmidt - October 24, 2013
In Chicago, all public schools are equal, but, it may be said, some are more equal than others. Mayor Rahm Emanuel recently announced the public money was found to add space at Payton High School, which serves the most wealthy community in Chicago (the Gold Coast) while in other parts of town, it's time for more austerity. One example brought to the attention of the members of the Board of Education (all appointed by Rahm) was Earle Elementary School, in the Englewood community.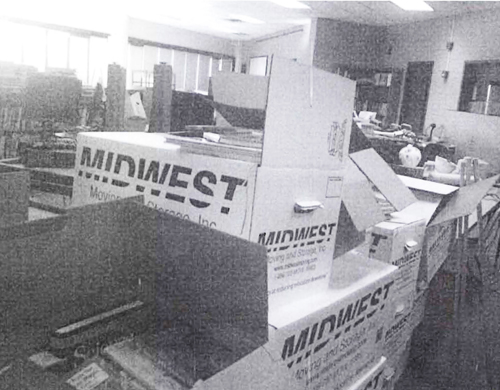 Apparently, the CPS administration doesn't believe that a STEM "Welcoming School" should have a library that allows children to read books and other print media. Above, during the first weeks of October 2013, when this photo was taken, the library at the Earle "STEM Academy" in Chicago's Englewood Community was being used as a storage room. Parents charged at the October 23, 2013, meeting of the Chicago Board of Education that Earle was supposed be become a "bookless" library. Substance photo.While Chicago Public Schools lurches in the claim that the future of education is in what Mayor Rahm Emanuel calls "STEM" -- Science, Technology, Engineering, and Math -- one South Side elementary school is beset with problems despite all the talk. And the problems are getting worse as the administration of Emanuel's appointed "Chief Executive Officer" Barbara Byrd Bennett ignores the parents, teachers, children and community whose complaints from Earle Elementary School have been growing, supported by scandalous depictions of the mess inside the school.
AT THE OCTOBER 23, 2013 MEETING OF THE CHICAGO BOARD OF EDUCATION, BETTY PHILLIPS GAVE THE FOLLOWING STATEMENT LIMITED ONLY BY THE TWO MINUTES THAT THE BOARD ALLOWS:
From: Mrs. Betty Deer, Parent, Earle STEM Academy
Re: Chicago Board of Education Monthly Meeting -- October 2013. Welcoming School's Treatment of Parents and Students
On behalf of my children and the children of the Englewood Community, I stand before you as a parent determined that Earle STEM Academy will become a Welcoming School for students, parents and the community, and demand that the present interim principal, Katesha Melendez, be removed.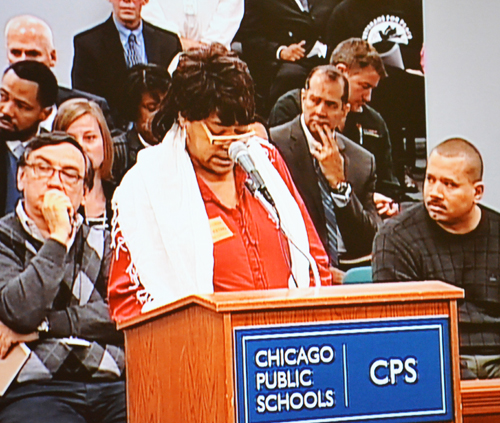 Betty Hughes, who told the Board that she has both children and grandchildren at Earle Elementary School, expressed her disappointment that CPS officials, including Denise Little and Adrian Willis (both "Chiefs") had failed to deal with the parental complaints about the situations at Earle. Substance photo by George N. Schmidt.When Elaine Goodlow Magnet School closed, we were told that the New Earle STEM Academy, the Welcoming School, would give our children a better education in a safe learning environment. However, since the first day of school, parents have been told by the interim principal Ketesha Melendez and her security staff that parents are not welcome in her building. In addition, the Earle STEM Academy does not have a functioning library nor a library teacher as promised.
In less than two months, Mrs. Melendez's ability to lead a school has been questions by many complaints that parents have filed against her. The fact that she is an interim, and is not qualified for the position of principal, says it all, but to go further, in Lincoln Park or Hyde Park there would never have been a three year without a contract unqualified interim principal running a school.
Under her leadership, my child All Deer along with other children has been subjected to corporal punishment. Yet, it's unbelievable to that after the investigation into corporal punishment, we are still being asked to work with Mrs. Melendez as if she is what is important and not our children!
Is it because we are Englewood that we have unqualified leadership in our school? Is it because we are Englewood that you think it's okay for our children to come to school under feat of being bullied, harassed, or verbally abused by the leadership and security team of Earle STEM Academy?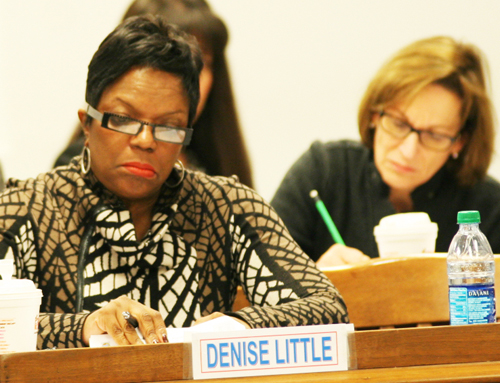 Earle Elementary parents have tried to get relief from the school's problems this year from "Chief of Chiefs" Denise Little (above at the October 23 meeting) to no avail. "Chief" Adrian Willis has also failed to deal with the growing scandals at "Earle STEM Academy." Substance photo by David Vance.Is it because we are Englewood that we must take our fight beyond this Board meeting today; to the press in order to have a qualified principal with excellent leadership skills that is willing to work with our parents, children and community?
AFTER HER REMARKS TO THE BOARD, MRS. DEER PRESENT A LENGTHY LETTER DATED OCTOBER 18, 2013 TO THE BOARD AS WELL. THAT LETTER WAS NOT READ TO THE PUBLIC MEETING OF THE BAORD ON OCTOBER 23. SINCE THE LETTER IS LENGTHY AND CONTAINS REFERENCES TO ACTIONS BY VARIOUS STAFF MEMBERS, IT IS NOT INCLUDED HERE.