RAHM'S PSEUDO NEWS: August 29 reminds public of the importance of India corporations to Chicagio
George N. Schmidt - August 30, 2013
The Safe Passages routes may already be collapsing and the Chicago Police Dept. is trying to explain the continued presence of the Gangster Disciples street gang on the city's far north side (Ashland and Farwell), but Chicago Mayor Rahm's Emanuel's "Mayor's Press Office," funded by taxpayers, gave the press a chance to do a story without doing the story by providing the complete story along with the photograph to the press corps on August 29, 2013.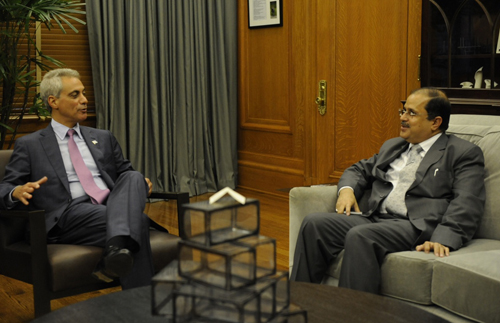 The photograph supplied by the "Mayor's Press Office" to go with the August 29, 2013 story about Rahm's love of India. The official suggestion for the caption was supposed to be: Photo Caption: Mayor Emanuel Welcomes Dr. Ausaf Sayeed, the Consul General of India to Chicago. Photo Credit: Patrick Pyszka, City of Chicago.BELOW IS THE MAOR'S PRESS STORY FROM AUGUST 29:
MAYOR RAHM EMANUEL WELCOMES INDIA'S CONSUL GENERAL TO CHICAGO AUSAF SAYEED
Mayor Rahm Emanuel and Indian Consul General Ausaf Sayeed Meet to Discuss Growing Global Relationship and Economic Development Between Sister Cities
Mayor Rahm Emanuel welcomed Ausaf Sayeed, the Consul General of India to Chicago today. Mayor Emanuel and Dr. Sayeed discussed their ongoing commitment to promote economic development between Chicago and India and finding new ways to strengthen ties with Delhi, Chicago's Sister City since 2001.
"I am pleased to welcome Ausaf Sayeed to Chicago," said Mayor Rahm Emanuel. "Dr. Sayeed and I had a productive meeting centered on expanding our partnership and building upon opportunities for greater economic growth. This partnership will not only fuel bilateral economic development but adds to Chicago's place as a center of the global economy."
Consul General Ausuf Sayeed recently assumed charge as Consul General of India in August 2013. A previous Ambassador of India in Yemen, he has also held various diplomatic assignments in Egypt, Saudi Arabia, Qatar, and Denmark.
There are some 30 India based companies in Chicago. Additionally, more than 25,000 Indians live within the City of Chicago and many own companies in the Chicago area, which include C-SAM, mobile payment technology, CyberTech, and Infosys Technologies. Two years ago, the first annual Eye on India festival took place in Chicago gaining numerous partners including the Chicago Department of Cultural Affairs and Special Events.
###
Photo Caption: Mayor Emanuel Welcomes Dr. Ausaf Sayeed, the Consul General of India to Chicago. Photo Credit: Patrick Pyszka // City of Chicago
This e-mail, and any attachments thereto, is intended only for use by the addressee(s) named herein and may contain legally privileged and/or confidential information. If you are not the intended recipient of this e-mail (or the person responsible for delivering this document to the intended recipient), you are hereby notified that any dissemination, distribution, printing or copying of this e-mail, and any attachment thereto, is strictly prohibited. If you have received this e-mail in error, please respond to the individual sending the message, and permanently delete the original and any copy of any e-mail and printout thereof.