Reporter Glen Greenwald electrifies Chicago 'Socialism 2013' conference via Skype -- instead of in person -- because of U.S. attacks on his reporting in The Guardian
George N. Schmidt - July 01, 2013
Reporter, author, and critic Glen Greenwald, who worked to bring the stories about PRISM and the massive NSA spying to the world thanks to the whistle blowing of Edward Snowden, spoke to the Socialism 2013 conference in Chicago on June 29, 2013. Greenwald electrified the crowd during his nearly one hour presentation. But because of the Obama administration's attacks on Snowden and those who brought out the NSA revelations, instead of being in Chicago for the conference, Greenwald spoke via Skype.
While a complete transcript of Greewald's remarks is not yet available, the URL for the 54-minute You Tube video is: http://www.youtube.com/watch?v=Uulv4ve6RJ8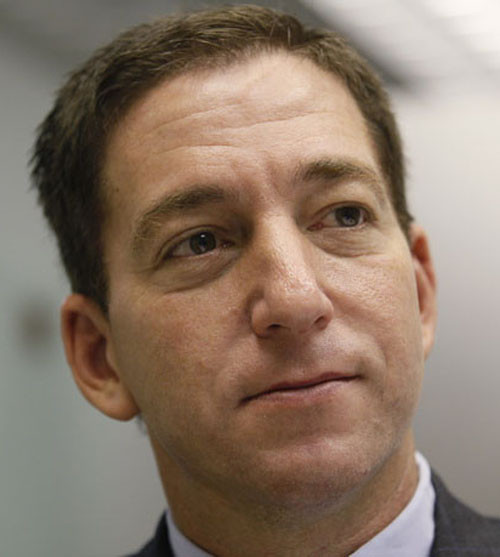 Glenn Greenwald.Substance will publish a complete transcript of the report as soon as it is available.
One report so far is up, published by Adam Horowitz at
"Courage is Contagious": Glenn Greenwald electrifies Chicago crowd speaking on Snowden, journalism and the NSA by Adam Horowitz on June 29, 2013
Friday night in Chicago Glenn Greenwald addressed the Socialism 2013 conference live via Skype and reflected for the first time on what the past month has been like for him in the wake of his interview with Edward Snowden, and subsequent disclosures regarding the National Security Agency's spying on American citizens.
Greenwald had been scheduled to address the conference live, but instead chose to appear via Skype out of fear of attempting to enter the United States following calls for his arrest. Greenwald appeared relaxed and gave the capacity crowd in attendance, in addition to countless viewers online, a rousing call to action in addition to revealing some soon to be published new leaks from the Snowden files.
The evening began with an impassioned introduction from journalist Jeremy Scahill who called Greenwald the "conscience of America" and took direct aim at Greenwald's attackers in the press. Most notably Schahill commented on recent smear jobs against Greenwald in the New York Daily News and on BuzzFeed. With the crowd cheering Scahill ended, "To the dingbat factory that's constantly attacking Glenn Greenwald -- I stand with Glenn Greenwald!"
Greenwald then took over with a surprising amount of humor and candor. The first part of his talk was a personal reflection on how he came to meet Edward Snowden and how the episode has changed him. The title of this post comes from a conclusion Greenwald repeated throughout his talk in several ways - courage is contagious, the acts of one whisleblower leads to similarly brave acts from others. Greenwald spoke of being inspired by Snowden's choice to come forward and his willingness to sacrfice whatever possibility he would have for a normal, secure life.
Greenwald also had a nugget to share with the rapt audience, a coming attraction of an upcoming report. He said that the NSA has new technology that enables it to redirect 1 billion cell phone calls a day into its database for collection and analysis. He promised there were many more disclosures to come.
GREENWALD DEFENDED AGAINST ATTACKS BY FORBES BLOGGER!
Why Glenn Greenwald Drives The Media Crazy
Critics keep questioning Glenn Greenwald's bona fides as a journalist because he is a polemicist with very strong views about the dangers of government power, and eager to engage and/or condemn any and all who disagree. David Gregory raised his doubts on Meet the Press and Andrew Ross Sorkin did it on CNBC's Squawk Box (later retracting and apologizing), questioning whether Greenwald somehow helped NSA leaker Edward Snowden to break the law. Paul Farhi of the Washington Post wondered if he was acting as a journalist or something else.
In the Wall Street Journal, Edward Jay Epstein takes it a step further, suggesting Greenwald and Snowden may have had some sort of active collaboration to steal secrets:
This orchestration did not occur in a vacuum. Airfares, hotel bills and other expenses over this period had to be paid. A safe house had to be secured in Hong Kong. Lawyers had to be retained, and safe passage to Moscow—a trip on which Mr. Snowden was accompanied by WikiLeaks' Sarah Harrison—had to be organized.
Felix Salmon argues that this type of inquiry is healthy: we need to ask questions about the legally murky relationship between confidential sources and journalists. I agree with the general point, but I don't think that's what this piece, or the more general skepticism about Greenwald, is really about.
Epstein isn't asking questions about journalism, weighing a difficult issue. Basically, his piece is idle speculation. With no evidence (and apparently unaware that Greenwald had already rebutted some of his main points) he intimates Greenwald and documentary producer Laura Poitras committed crimes. (Jeff Jarvis had a nice Twitter colloquy on this.)
Curiously, the piece does not mention Bart Gellman, who also had Snowden as a source and broke the NSA stories in the Washington Post more or less simultaneously with Greenwald in the Guardian. (Poitras shared bylines in both publications.) Does this mean Epstein has examined Gellman's actions and cleared him of wrongdoing somehow? I have no idea! But obviously Gellman is an old-school Pulitzer Prize-winning investigative journalist, not a "blogger" or a documentarian or an advocate. (Though last week the NSA's former general counsel claimed he was practicing advocacy; Gellman said OK, sure: journalists are advocates for discussing secret government powers.)
So maybe Gellman gets a pass in Epstein's book, and Greenwald and Poitras get indicted, not by virtue of what they wrote or did to write it, but because of what they are.
"Who is a journalist" is a question that won't go away in a time when anybody can publish anything, and a site purporting to practice journalism can publish outright historical fantasies and other distortions. The New York Times, for example, has to figure out who to label a journalist, or not, in its news stories, and what the Times calls them matters, because it's the Times.
But "who is a journalist" is, in my opinion, a tiresome question. Asking "is so-and-so really a journalist?" is often not a sincere inquiry but a way of intimating so-and-so isn't one and a prelude to delegitimizing their work and what they have to say. It quickly devolves to tribalism.
If your main concern is that someone who may not meet your criteria for being journalist gets prosecuted for bringing new information to light, just what are you trying to accomplish? You can be a journalist who is an advocate and advances a political point of view. Or one who remains politically agnostic. Both are legitimate. But what really matters is the information that enters the public sphere, its validity, how it is presented, and any debate it provokes. Not who put it there in the first place, or even why they did it.