'Toilet paper protest' greets Barbara Byrd-Bennett at Chase Bank outside a Chicago Tribune 'conversation' about Chicago schools
David R. Stone - June 19, 2013
Toilet paper or teachers? Or maybe a shortage of both — that could be the result of drastic cuts to schools' budgets next year, according to Chicago Public Schools students, parents, employees and supporters at a protest held at JP Morgan Chase Bank's headquarters in downtown Chicago on the evening of Tuesday, June 18, 2013.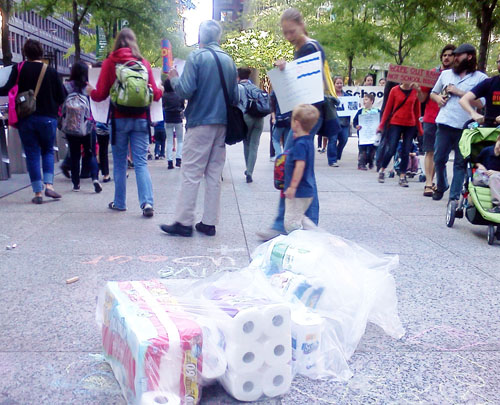 Toilet paper rolls collected at a protest on Tuesday, June 18, 2013 in downtown Chicago may be needed to supplement the supplies eliminated by budget cuts at schools all across the city next year. While Barbara Byrd-Bennett, CEO of the Chicago Public Schools, was in an auditorium inside the main Chase bank building defending her austerity budget and other union-busting actions, protesters outside supplemented their usual slogans such as, "Education is a right" with new words, such as, "Toilet paper is a right." Substance photo by David R. StonePrompted by a public appearance by CPS Chief Executive Officer (and chief apologist for school closings and budget cutting) Barbara Byrd-Bennett, a few dozen protesters collected toilet paper rolls, carried signs, and chanted slogans on the sidewalk outside the bank. Some other supporters paid the $20 admission fee to attend the event inside the Chase Auditorium in the bank's basement, where they hoped to ask tough questions of Byrd-Bennett. The occasion was billed as a "conversation" between Byrd-Bennett and Chicago Tribune Editorial Page Editor Bruce Dold. Along with Chase and the Tribune, another corporate sponsor of Byrd-Bennett's appearance was ComEd.
Protesters on the sidewalk explained to reporters and pedestrians that CPS's new "per pupil" funding formula for each school is cutting millions of dollars from the funds available at schools all across the city. This could force principals to choose between supplies such as toilet paper or salaries for teachers – and between highly qualified, experienced teachers, or inexperienced new hires who would earn lower salaries.
Dold's work on the "conversation" was in contrast with the Tribune event, nearly two years earlier, when the Tribune organized a conversation between the newly appointed CEO of Chicago Public Schools, then Jean-Claude Brizard, and Chicago Teachers Union President Karen Lewis. By June 18, 2013, the Tribune was not holding a dialogue where Karen Lewis could respond to the words of Byrd-Bennett. Critics also noted that the previous event had been held in a public building (the University of Illinois at Chicago) while the 2013 event was held inside a private corporate building.