OIC: CPS bureaucrats concoct a Pre-School registration process that will defy most people's attempts to register
George N. Schmidt - June 11, 2013
One of the results of leaving teachers, principals and most parents out of virtually all serious planning at Chicago Public Schools while involving some of the most expensive and incompetent consultants the world has to offer from the private sector (which by definition knows more about everything educational than any teacher or principal) is that from time to time CPS will create a true masterpiece of confusion.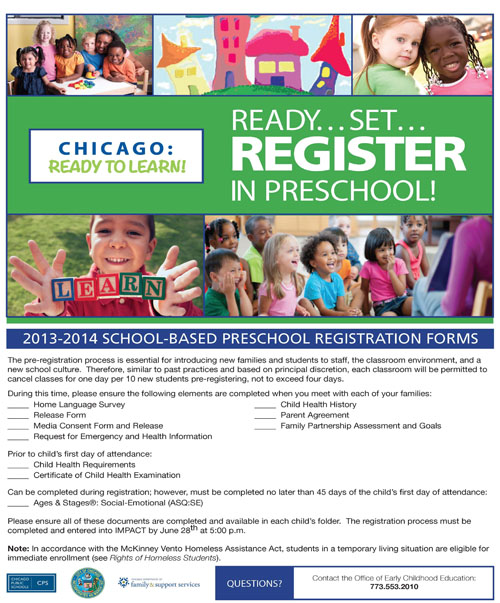 The first page of "Ready Set Register," one of the most bizarre documents ever produced by CPS.And so as schools scramble to end the year and Mayor Rahm Emanuel preens himself about expanding Pre-School programs, CPS has come up with a registration policy that makes it almost impossible to register unless you hire someone to help you.
The multi-page and multi-lingual registration packet provided on June 10 to schools requires on line registration for families that don't even have telephones or computers in a city where poor people can only get to computer during cut-back library hours, thanks to the same mayor who has been attacking teachers and real public schools since his May 2011 inauguration.
The document is available from CPS. Believe it or not, CPS seems proud of it.